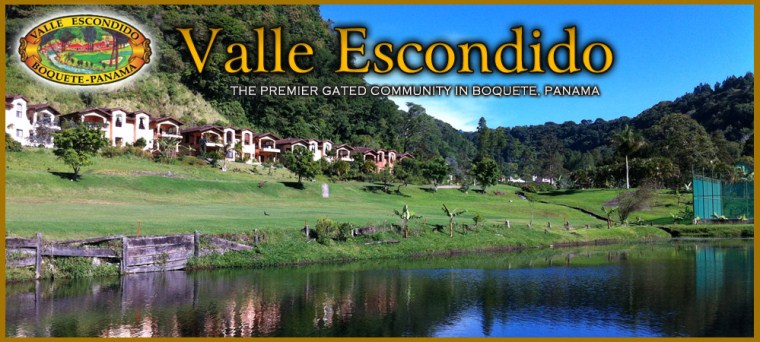 Valle Escondido, Boquete Panama – the Most Listings of Houses and Condos for Sale – Valle Escondido, Boquete Panamá – La Mayoría de los Listados de Casas y Condominios en Venta
Location
: Downtown Boquete, Boquete, Panama
Valle Escondido is the luxurious residential development credited as a major factor in starting the wave of expats coming to Panama for a better lifestyle. When AARP first announced that Boquete, Panama was one of the best places in the world to retire and the International Living organization declared that Boquete was the number 1 recommended retirement destination for expats, Valle Escondido was in the initial stages of construction and offered a prime lifestyle opportunity. Valle Escondido boasts a gorgeous mountain valley close to a sweet and friendly town center in a secure, amenity-rich setting.
Enjoy golf, tennis, a work-out in a quality gym, a swim in one of Valle's indoor or outdoor pools, or a spa treatment right there at the development.
Properties in Valle Escondido have been selling fast. Please call or email us or visit one of Casa Solution's Boquete offices on the Main Street in Boquete for more information on great Valle Escondido properties for sale.
Casa Solution has the most listings in Valle Escondido of any real estate agent or agency.
Please contact us to learn more or to schedule showings today.

Valle Escondido, Boquete Panamá – La Mayoría de los Listados de Casas y Condominios en Venta
Valle Escondido es el lujoso desarrollo residencial acreditado como un factor importante para comenzar la ola de expatriados que vienen a Panamá para un mejor estilo de vida. Cuando AARP anunció por primera vez que Boquete, Panamá era uno de los mejores lugares del mundo para retirarse y la organización International Living declaró que Boquete era el destino de retiro recomendado número 1 para los expatriados, Valle Escondido se encontraba en las etapas iniciales de construcción y ofreció un excelente oportunidad de estilo de vida Valle Escondido cuenta con un hermoso valle de montaña cerca de un dulce y acogedor centro de la ciudad en un entorno seguro y lleno de comodidades.
Disfrute del golf, el tenis, ejercítese en un gimnasio de calidad, nade en una de las piscinas cubiertas o al aire libre de Valle o disfrute de un tratamiento de spa en el desarrollo.
Las propiedades en Valle Escondido se han vendido rápidamente. Llámenos o envíenos un correo electrónico o visite una de las oficinas de Casa Solution en Boquete en la calle principal de Boquete para obtener más información sobre las excelentes propiedades de Valle Escondido en venta.
Haga clic aquí para ver algunos de los condominios, casas y casas adosadas de Valle Escondido que actualmente están disponibles en Casa Solution en Valle Escondido.
Casa Solution tiene la mayoría de los listados en Valle Escondido de cualquier agente o agencia de bienes raíces.
Por favor comuníquese con Casa Solution si desea visitar esta propiedad o si tiene preguntas acerca de Casas y Condominios en Venta, Valle Escondido, Boquete Panamá