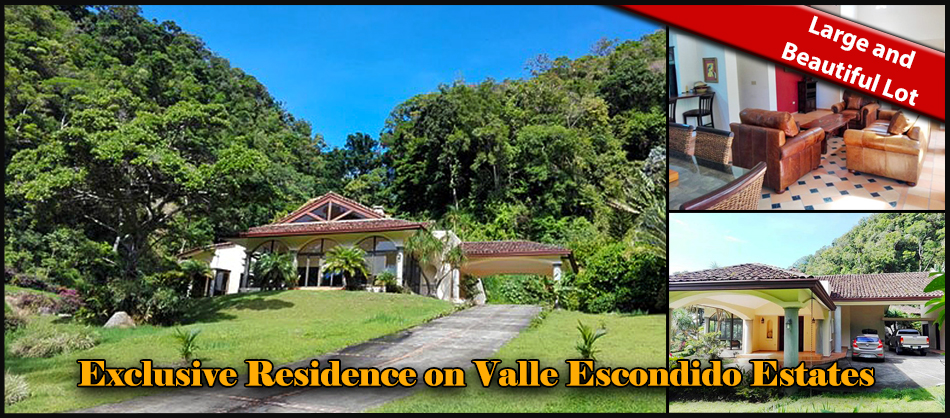 Valle Escondido Estates Exclusive Residence on Large, Beautiful Lot – Residencia Grande y Hermosa en Valle Escondido, Boquete
House Size
: 4,925.00 Sq.Ft
457.55 Sq.M
Lot Size
: 4,416 Sq.M
1.09 Acres
Location
: Downtown Boquete, Boquete, Panama
This fine residence for sale in Valle Escondido, Boquete, Panama is sited on a large, beautiful lot in the exclusive Estates section of the community.
The home is elevated from the road in a position that provides great views of the pretty tropical valley.  As you drive up to the home, you see the small year-round stream running through the gardens to one side.  The stream is a great water feature.  Parking, you come to an ample covered area.
Entering the house, you find a high-ceilinged great room that provides spacious living areas.  There is lots of light brought in through the large windows above and the bright integrated sun room.
It is natural to be drawn into that large sun room which has taken the large open floor plan and expanded it into what was previously a big terrace.   The sun room is bright and cheery with super views of the surrounding hillsides and large homes of the Estates section.
Coming back into the great room, you see the big kitchen in front of you through the living room.  It has custom cabinetry and lots of room for the gourmet chef in you.  A sweeping bar counter is a comfortable spot for those socializing with the chef and integrating the room.   A large island provides more kitchen versatility.
The three huge bedrooms are in one wing of the house.  They are set more private than usual from the entertaining areas.  You go down a hallway to the large rooms that each enjoy an en suite bath.
The master bedroom also has its own individual private terrace for intimate enjoyment of the pretty surroundings.  The master bathroom is quite large with a unique dome feature inside.
Most home site lots in Valle Escondido are roughly a half acre, sometimes smaller.  In the Estates section, the lots are much larger providing flowing gardens as well as plenty of space between the homes.
This house has over an acre of land and is positioned well away from the valley's steeper gradients.
This is a wonderful home in Valle Escondido with all its super amenities.
Please contact Casa Solution for more information or to view this Valle Escondido Estates Home for Sale on a Large, Beautiful Lot in Panama.
More about Valle Escondido
Valle Escondido is the luxurious residential development credited as a major factor in starting the wave of expats coming to Panama for a better lifestyle. When AARP first announced that Boquete, Panama was one of the best places in the world to retire and the International Living organization declared that Boquete was the number 1 recommended retirement destination for expats, Valle Escondido was in the initial stages of construction and offered a prime lifestyle opportunity.
Valle Escondido boasts a gorgeous mountain valley close to a sweet and friendly town center in a secure, amenity-rich setting.
Enjoy golf, tennis, a work-out in a quality gym, a swim in one of Valle's indoor or outdoor pools, or a spa treatment right there at the development.
Amenities include a nine hole executive golf course, pro-shop, hotel, state of the art fitness center, amphitheater, indoor heated swimming/lap pool, outdoor solar heated swimming/wade pools at the hotel, locker/shower rooms with Turkish steam bath, Swedish sauna and Jacuzzi, lounge and bar with game room including billiards and card tables, wedding chapel event room for parties and meetings, miniature golf, racquetball court and tennis court.
***********
Residencia Grande y Hermosa en Valle Escondido, Boquete
Al entrar en la casa, encontrará una gran sala de techos altos que ofrece amplias salas de estar, la cocina es grande ya que tiene gabinetes a medida y mucho espacio en esta area, las tres enormes habitaciones están en un ala de la casa. El dormitorio principal tiene su propia terraza privada entre otras cosas que caracterizan a esta propiedad.