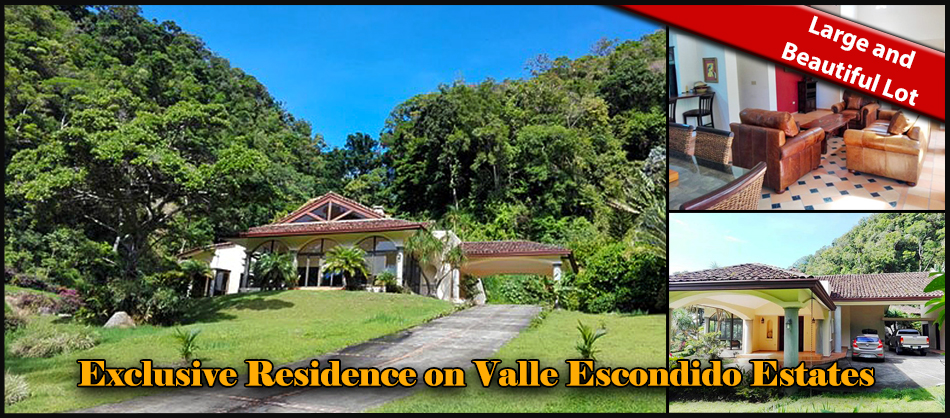 Valle Escondido Estates Exclusive Residence on Large, Beautiful Lot – Exclusiva Residencia en Hermoso y Grande Lote en Valle Escondido
House Size
: 4,925.00 Sq.Ft
457.55 Sq.M
Lot Size
: 4,416 Sq.M
1.09 Acres
Location
: Downtown Boquete, Boquete, Panama
This fine residence for sale in Valle Escondido, Boquete, Panama is sited on a large, beautiful lot in the exclusive Estates section of the community.
The home is elevated from the road in a position that provides great views of the pretty tropical valley.  As you drive up to the home, you see the small year-round stream running through the gardens to one side.  The stream is a great water feature.  Parking, you come to an ample covered area.
Entering the house, you find a high-ceilinged great room that provides spacious living areas.  There is lots of light brought in through the large windows above and the bright integrated sun room.
It is natural to be drawn into that large sun room which has taken the large open floor plan and expanded it into what was previously a big terrace.   The sun room is bright and cheery with super views of the surrounding hillsides and large homes of the Estates section.
Coming back into the great room, you see the big kitchen in front of you through the living room.  It has custom cabinetry and lots of room for the gourmet chef in you.  A sweeping bar counter is a comfortable spot for those socializing with the chef and integrating the room.   A large island provides more kitchen versatility.
The three huge bedrooms are in one wing of the house.  They are set more private than usual from the entertaining areas.  You go down a hallway to the large rooms that each enjoy an en suite bath.
The master bedroom also has its own individual private terrace for intimate enjoyment of the pretty surroundings.  The master bathroom is quite large with a unique dome feature inside.
Most home site lots in Valle Escondido are roughly a half acre, sometimes smaller.  In the Estates section, the lots are much larger providing flowing gardens as well as plenty of space between the homes.
This house has over an acre of land and is positioned well away from the valley's steeper gradients.
This is a wonderful home in Valle Escondido with all its super amenities.
Please contact Casa Solution for more information or to view this Valle Escondido Estates Home for Sale on a Large, Beautiful Lot in Panama.
More about Valle Escondido
Valle Escondido is the luxurious residential development credited as a major factor in starting the wave of expats coming to Panama for a better lifestyle. When AARP first announced that Boquete, Panama was one of the best places in the world to retire and the International Living organization declared that Boquete was the number 1 recommended retirement destination for expats, Valle Escondido was in the initial stages of construction and offered a prime lifestyle opportunity.
Valle Escondido boasts a gorgeous mountain valley close to a sweet and friendly town center in a secure, amenity-rich setting.
Enjoy golf, tennis, a work-out in a quality gym, a swim in one of Valle's indoor or outdoor pools, or a spa treatment right there at the development.
Amenities include a nine hole executive golf course, pro-shop, hotel, state of the art fitness center, amphitheater, indoor heated swimming/lap pool, outdoor solar heated swimming/wade pools at the hotel, locker/shower rooms with Turkish steam bath, Swedish sauna and Jacuzzi, lounge and bar with game room including billiards and card tables, wedding chapel event room for parties and meetings, miniature golf, racquetball court and tennis court.
***********
Exclusiva Residencia en Hermoso y Grande Lote en Valle Escondido
Esta excelente residencia en venta en Valle Escondido, Boquete, Panamá, está ubicada en un lote grande y hermoso en la sección exclusiva de la comunidad.
La casa se eleva desde la carretera en una posición que ofrece excelentes vistas del hermoso valle tropical.  Mientras conduces hacia la casa, ves un pequeño arroyo que corre todo el año a través de los jardines a un lado.  La corriente es una gran característica del agua. Estacionamiento, se llega a una amplia área cubierta.
Al ingresar a la casa, se encuentra una gran sala de techo alto que ofrece amplias salas de estar.  Se entra mucha luz a través de los grandes ventanales de arriba y la luminosa sala de sol integrada.
Es natural que te atraigan a esa gran sala de sol que ha tomado el gran plano de planta abierto y lo ha expandido a lo que anteriormente era una gran terraza.  La sala de sol es luminosa y alegre con súper vistas de las laderas circundantes y las grandes casas de la sección de fincas.
Al volver a la gran sala, ves la gran cocina frente a ti a través de la sala de estar.  Tiene gabinetes personalizados y mucho espacio para el chef gourmet que llevas dentro.  Una barra de bar es un lugar cómodo para aquellos que socializan con el chef e integran la sala.  Una isla grande proporciona más versatilidad en la cocina.
Las tres habitaciones enormes están en un ala de la casa.  Se establecen más privados de lo habitual en las áreas de entretenimiento.  Vas por un pasillo a las grandes habitaciones, cada una de las cuales disfruta de un baño en suite.
El dormitorio principal también tiene su propia terraza privada individual para el disfrute íntimo de los hermosos alrededores.  El baño principal es bastante grande con una característica de domo única en su interior.
La mayoría de los lotes de terrenos en Valle Escondido son de aproximadamente medio acre, a veces más pequeños.  En la sección de propiedades, los lotes son mucho más grandes y ofrecen jardines que fluyen, así como mucho espacio entre las casas.
Esta casa tiene más de un acre de tierra y está bien ubicada lejos de las pendientes más pronunciadas del valle.
Esta es una casa maravillosa en Valle Escondido con todas sus excelentes comodidades.
Comuníquese con Casa Solution para obtener más información o para ver esta casa en la Exclusiva área Residencial de Valle Escondido en venta en un lote grande y hermoso en Panamá.
Más acerca de Valle Escondido
Valle Escondido es el lujoso desarrollo residencial acreditado como un factor importante para comenzar la ola de expatriados que vienen a Panamá para un mejor estilo de vida. Cuando AARP anunció por primera vez que Boquete, Panamá era uno de los mejores lugares del mundo para retirarse y la organización International Living declaró que Boquete era el destino de retiro recomendado número 1 para los expatriados, Valle Escondido se encontraba en las etapas iniciales de construcción y ofreció un excelente oportunidad de estilo de vida
Valle Escondido cuenta con un hermoso valle de montaña cerca de un dulce y acogedor centro de la ciudad en un entorno seguro y lleno de comodidades.
Disfrute del golf, el tenis, ejercítese en un gimnasio de calidad, nade en una de las piscinas cubiertas o al aire libre de Valle o disfrute de un tratamiento de spa en el desarrollo.
Las comodidades incluyen un campo de golf ejecutivo de nueve hoyos, tienda de golf, hotel, gimnasio de última generación, anfiteatro, piscina cubierta climatizada / piscina de natación, piscinas al aire libre climatizadas con energía solar / piscinas de agua en el hotel, vestuarios / duchas con baño turco , sauna y jacuzzi sueco, salón y bar con sala de juegos que incluye billar y mesas de juego, sala de eventos para bodas y capilla para fiestas y reuniones, minigolf, cancha de racquetball y cancha de tenis.
Por favor comuníquese con Casa Solution si desea visitar esta propiedad o si tiene preguntas acerca de Exclusiva  Residencia en Hermoso y Grande Lote en  Valle Escondido en Boquete, Panamá