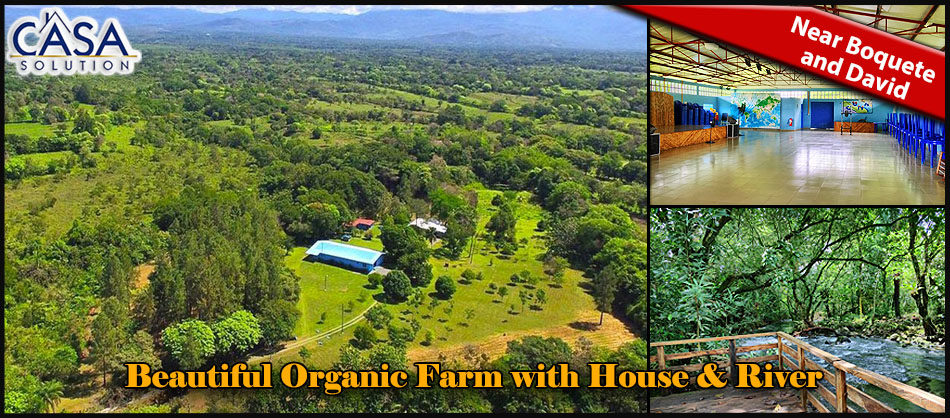 Price Reduction! Very Beautiful 13 Plus Acre Organic Farm with House & River on Paved Road Near Boquete and David – Muy Hermosa Granja Orgánica de 13 Acres con Casa y Río en Carretera Pavimentada Cerca de Boquete y David
House Size
: 1,775.00 Sq.Ft
164.90 Sq.M
Lot Size
: 55,000 Sq.M
13.59 Acres
Location
: Dolega, Boquete, Panama
This is a truly great property and outstanding opportunity.
This 5.5 hectares – 13.5 plus acres paradise is just perfect for a sustainable development farm, a community center or a little piece of heaven, close to everything and very private and secure at the same time.
Main features
Easy access with paved road, public transportation right at the gate, and a 5-min walk to downtown Dolega (10  minute drive to David, only 20 minutes to  Boquete).
Over 1,000 Feet of riverfront, with several swimming holes. There are views of Volcan Baru and the central mountain range.
The property has an organic farm with many crops and a private irrigation culvert. The farm has over ten years of zero chemical use on the entire property. There are two aquaculture fish tanks. There are several sources of excellent quality water: a well, the river, and two municipal water lines.
There are several picnic and barbecue areas, lots of fruit trees, wood trees, and diverse terrain: some flat areas and some other with more rolling terrain and excellent drainage.
The house was built 8 years ago. The size is 165 square meters (1776 square feet).
The main bedroom is 32 square meters, the other two bedrooms are 22 square meters each. Each room has air conditioning.
The house has a kitchen, dining room, living room. It has gypsum ceilings and metal roof, with waterproofing paint.
It has its own water reserve tank, pump and filtration system.
The windows have security bars.
The road has paved road frontage. All the services are available: electricity, water, phone, internet, good cell phone signal. There is a double wide gate and a two lane driveway.
Ideal temperature: cool at night and warm during the day
There are several buildings in the Finca:
A 365 m2 events center with a large parking lot. The building has washrooms, a stage, a kitchen with a long bar, and a wide open floor.
A 165 m2 house, with three bedrooms (each one of them with air conditioning), kitchen, living room and dining room with ceiling fans. There is a water reservoir tank and a complete filtering system.
A caretaker house with kitchen, bathroom and two bedrooms.
A 240 m2 slab with posts ready for remodeling.
A 20 m2 deposit.
The events center is actively being rented out on a short term basis for camping activities.
Please contact Casa Solution to view or for more information about  this Very Beautiful 13 Plus Acre Organic Farm with House & River on Paved Road Near Boquete and David for sale in Panama.
****************
Muy Hermosa Granja Orgánica de 13 Acres con Casa y Río en Carretera Pavimentada cerca de Boquete y David
Esta es una gran propiedad y excelente oportunidad.
Este paraíso de 5.5 hectáreas – más de 13.5 acres es perfecto para una granja de desarrollo sostenible, un centro comunitario o un pedacito de cielo, cerca de todo y muy privado y seguro al mismo tiempo.
Principales características
Fácil acceso con camino pavimentado, transporte público justo en la puerta y una caminata de 5 minutos al centro de Dolega (10 minutos en coche de David, a solo 20 minutos de Boquete).
Más de 1,000 pies de ribera, con varias pozas.  Hay vistas de Volcán Barú y la cordillera central.
La propiedad tiene una granja orgánica con muchos cultivos y una alcantarilla de riego privada.  La granja tiene más de diez años de cero usos de químicos en toda la propiedad. Hay dos acuarios de acuicultura.  Existen varias fuentes de agua de excelente calidad: un pozo, el río y dos líneas de agua municipales.
Hay varias áreas de picnic y barbacoa, muchos árboles frutales, árboles de madera y terreno diverso: algunas áreas planas y otras con más terreno ondulado y excelente drenaje.
La casa fue construida hace 8 años. El tamaño es de 165 metros cuadrados (1776 pies cuadrados).
El dormitorio principal es de 32 metros cuadrados, los otros dos dormitorios son de 22 metros cuadrados cada uno.  Cada habitación tiene aire acondicionado.
La casa cuenta con cocina, comedor, sala de estar.  Tiene techos de yeso y techo de metal, con pintura impermeabilizante.
Tiene su propio tanque de reserva de agua, bomba y sistema de filtración.
Las ventanas tienen rejas de seguridad.
El camino tiene pavimentado frente a la carretera.  Todos los servicios están disponibles: electricidad, agua, teléfono, internet, buena señal de celular.  Hay una puerta de doble ancho y un camino de entrada de dos carriles.
Temperatura ideal: fresca por la noche y cálida durante el día.
Hay varios edificios en la Finca:
Un centro de eventos de 365 m2 con un amplio estacionamiento.  El edificio cuenta con baños, un escenario, una cocina con una barra larga y un piso abierto.
Una casa de 165 m2, con tres habitaciones (cada una con aire acondicionado), cocina, sala y comedor con ventiladores de techo.  Hay un tanque de reserva de agua y un sistema de filtrado completo.Una casa de cuidado con cocina, baño y dos dormitorios.
Una losa de 240 m2 con postes listos para remodelar.
Un depósito de 20 m2.
El centro de eventos se alquila activamente a corto plazo para actividades de campamento.
Por favor comuníquese con Casa Solution si desea visitar esta propiedad o si tiene preguntas acerca de esta Hermosa Granja Orgánica de 13 Acres con Casa y Río Cerca de Boquete y David para la Venta en Panamá.