Major New Resort Announced for Bocas del Toro, Panama

Viceroy Hotels, a world-wide luxury travel brand known for distinctive hotel experiences, has announced they will build a major resort in Bocas del Toro, Panama.  Think Honeymoon Destination.
This will be big for Bocas.
The resort will have 186 guestrooms and residences and 42 private overwater villas on 457 acres.
Bocas del Toro has become an increasingly hot exotic travel destination as of late.  This next level resort development is a sign of things to come for the Caribbean paradise full of dolphin coves, huge starfish, intriguing island adventures and amazing snorkeling.  With three miles of beaches at the property, Viceroy is also touting surfing, hiking and sailing.
Bocas del Toro is accessible by plane from Panama City or San Jose, Costa Rica.  From Boquete, the launch point to Bocas' islands is only about three hours on paved roads.
"The location: exotic. The allure: intoxicating. On the crystal-blue Caribbean, in an archipelago of rainforest islands, just a short flight from Panama City, there unfolds a travel experience like no other. Viceroy Bocas del Toro Panama will feature 42 private overwater villas — a first-ever for the region and the pinnacle of what makes this destination truly extraordinary.
Relaxation comes easy when you're perched above coral reef-spangled waters. Indeed, the sheer natural beauty of this area, where an unspoiled jungle opens up to white sand beaches, is incomparable. 
With every crash of the waves, there's promise of adventure here at the edge of the world and forefront of luxury. Chase your every desire: sailing, paddle boarding, kayaking, snorkeling, surfing or just taking in the sunset. 
The destination will span 457 acres and include 186 guestrooms and residences. This epic locale is complemented by eight onsite restaurants and lounges, numerous pools, a spa, a fitness center and meditation rooms.
Beyond the doors, the surrounding area plays to your zest for exploration, starting with the adjacent San San Pond Sak wetlands, a habitat for water birds and endangered fauna. Take it in at your pace, or join resort-led guided eco-tours, bike rides and hiking excursions.
This is the Viceroy vibe, with a tropical twist."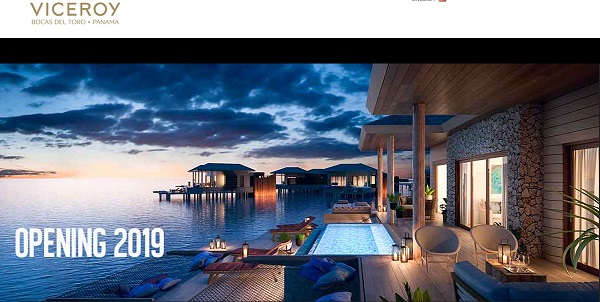 "FIRST LOOK AT A CARIBBEAN SENSATION: VICEROY HOTEL GROUP'S OVERWATER VILLAS IN BOCAS DEL TORO, PANAMA
An Unprecedented Hospitality Experience For The Region 
LOS ANGELES, CA — July 12, 2016 — Perched above crystal-blue Caribbean waters on the edge of the rainforest, a new luxury travel experience will soon come to life. Viceroy Hotel Group (VHG) has announced plans for Viceroy Bocas del Toro Panama, a resort and residences set to open in 2019. The destination will feature 186 modern guest rooms, including 42 overwater villas along 457 acres of coastline — with three miles of private white sand beaches, plus sailing, surfing and hiking adventures just beyond the door. 
OVERWATER VILLAS – A FIRST FOR THE REGION The 42 overwater villas will offer breathtaking vistas of the Caribbean coast and ocean, each with its own private plunge pool and direct access to the ocean by deck. Exclusivity is all part of the experience — the destination, while a quick trip from Panama City, is accessible only by boat, seaplane or helicopter. 
NATURAL SPLENDOR & EXHILARATING LOCAL ACTIVITIES Among the countless options for adventure are rainforest zip-lining, snorkeling, sailing, paddle boarding and deep sea fishing. The archipelago is also home to the San San Pond Sak wetlands, the most biologically diverse tropical coral reef in the region and the ultimate place for bird watching, bicycling and guided eco-hikes.  The eco-friendly destination of Viceroy Bocas del Toro Panama allows only electrical cars and sustainable technologies. Its outdoor design has been meticulously planned with indigenous plants and tropical specialties that will be used in the preparation of local cuisine.
 SIGNATURE AMENITIES, FLAVOR & STYLE Culinary options are also ripe for exploration: There will be eight restaurants and lounges, ranging from an elite fine-dining enclave to a relaxed beach grill. Also planned will be indoor meeting space, a fitness center, a cinema lounge, a library, and a spa featuring private rejuvenation pools tucked in blossoming pockets of the rainforest. Travelers attuned to Viceroy's unmistakable attention to style and hospitality can expect its signature programming and vibe, made possible through curated, authentic local partnerships."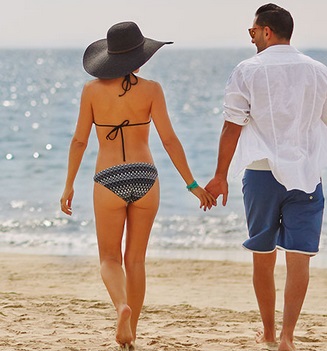 "Viceroy Hotels and Resorts deliver one-of-a-kind lifestyle experiences that bring together provocative design and intuitive service in some of the world's most sought-after destinations. Viceroy Hotels and Resorts redefine the very concept of boutique and luxury hospitality."
"What distinguishes Viceroy Hotel and Resort properties from other destinations on the hospitality map?
Legendary locations are just the beginning. From a chic suite in the city's center to a sumptuous villa on a secluded Caribbean beach, an urbane lounge for cocktails at dusk to a private cabana for a two-hour massage, every setting is one-of-a-kind. Viceroy reinterprets today's sense of history, modernity, tradition and innovation in a uniquely timeless way.
Yet within each very individual environment, certain qualities are welcomingly consistent. Creativity, comfort and advanced service are the signatures of every Viceroy experience, with guest needs innovatively anticipated and graciously accommodated. Equally constant are the accolades our distinctive hotels earn on annual Condé Nast Traveler Gold Lists, Travel + Leisure Top 500 surveys, Departures Readers' picks, and in the pages of the New York Times, Gourmet and Vogue.
From arrival to departure and back again, it's this blend of the indispensable, unexpected and imperceptible that makes each Viceroy property a top choice among many—and a destination unto itself."