On Monday, we received an email notice from News Boquete that Myles and Martina had lost their parrot. They had raised it from near birth and now it was gone. Here's the notice: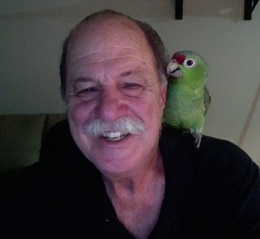 Lost Parrot
Area of Los Naranjos. If you see our parrot, please call Myles
We raised her from a baby.
Thanks for your help.
When I got the notice, my first thought was some sadness, then the next thought was something like – "looking for a parrot in Boquete is like looking for a pigeon in New York….uh…I don't think so."
But the next day….
"I would like to give a heartfelt thank you to Boquete News for existing (advertising to a wonderful community works!!), Bill Fox of Volcancito for his timely call to me, and my niece, Janet for her help.
Most of all, I could not have recovered her without the call from Bill Fox last night alerting me that she was in the area near his home. I went there early this morning. After about an hour of calling out for her and handing out flyers to the neighbors, I received a call from one of the agricultores (farmers) to whom I had spoken to an hour earlier, informing me that she was in a tree in the field. I drove back to the farm and walked into the field where the men were gathered pointing up in a tree. After only 2 minutes of loving coaxing she took flight. She stayed low, I continued calling to her sweetly…….like a movie, in front of all the workers, she flew in two large circles and came to me and perched as always on my finger. She is back home with a large appetite, and I think she is as happy as we are. Sometimes this life presents us with incredibly beautiful days!
Thanks again from Myles and Martina to a wonderful community for this great day !!"
Why do we have this in the newsletter? Because the story is a representative moment of life in Boquete. The community is caring, connected, and little miracles happen here every day. Congrats to Myles and Martina and to your pretty parrot.