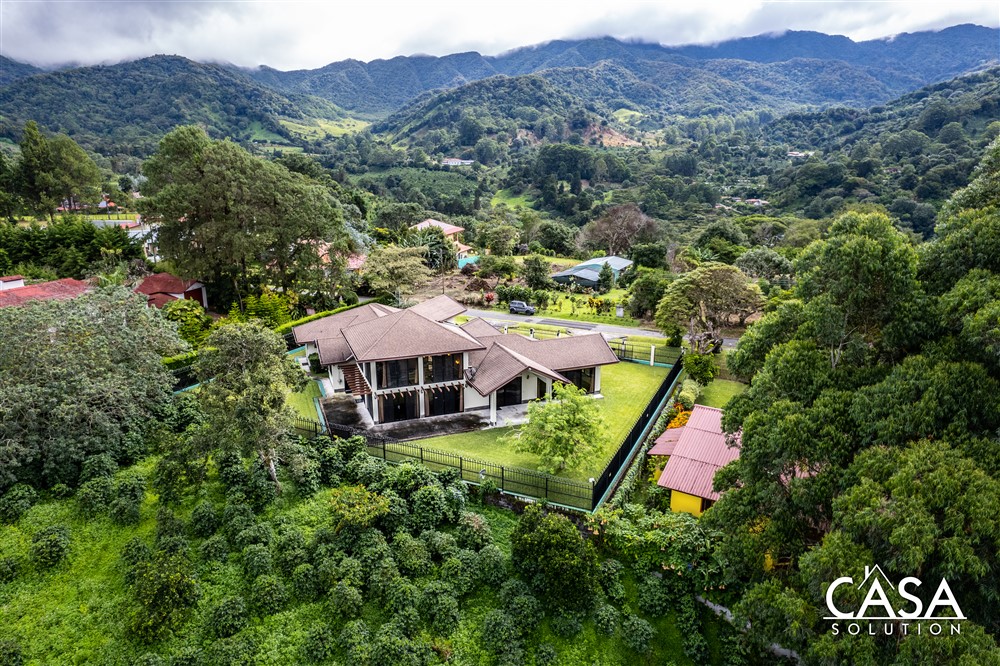 In western Panama there is a province bordering Costa Rica blessed with Panama's highest mountains, longest rivers, most picturesque mountain towns, untouched Pacific island beaches, nascent seaside resorts, and large protected rainforests.  The Chiriqui countryside is dotted with coffee and vegetable farms as well as cattle and livestock ranches making this province the breadbasket of Panama.  David, Panama's third largest city right on the Pan American highway is a focal point of Chiriqui providing the usual conveniences found in an up and coming medium size city. The expansion of Chiriqui's international airport in David heralds the anticipated influx of new visitors and residents to the province.
Chiriqui is a little known gem of the world.  Boquete, the breathtaking mountain town acclaimed by the world media and boasting a prize position as one of the world's most attractive retirement destinations is located here.  Thus far, Boquete has attracted the bulk of the spotlight and it is indeed a magnificent place, a favorite of most visitors. Yet Chiriqui is more than Boquete.
Chiriqui's appeal includes a massive 36,000 acre marine park along with extraordinary beaches on both the mainland and islands.  Some of the world's best sport-fishing is found just off the Chiriqui coast.  Beach area destinations are emerging here with places like Boca Chica, Puerto Armuelles, La Barqueta and Las Lajas leading the way.  Hotels and resorts are popping up providing comfort and delights amidst the waves, tropical fish and warm waters.
Mountain towns with their own unique appeal such as Volcan and Cerro Punta provide quieter alternatives to the relative bustle and rapid growth of Boquete. Eco tourism is thriving here with the Boquete and Volcan areas bordering the 1,000,000 plus acre La Amistad International Park, in a partnership with neighboring Costa Rica, reportedly the world's first bi-national biosphere reserve in the world. The park is an eco-wonder, home to an amazing array of bird and animal species.
For more information and available listings check out our Chiriqui Community page.
Boquete, a World-Class Destination
Nestled in a cool and verdant valley, Boquete in the Chiriqui Province of Panama is a deeply beautiful mountain community blessed with year-round spring-like weather, incredible views around every corner and warm people with a rich culture. Boquete boasts a growing number of amenities including excellent restaurants, spas, hotels, shops, supermarkets, gyms and endless opportunities to experience the natural wonder of the region.
Boquete is thought by many to be the best place to live in Panama. The unique and comfortable climate, natural beauty, many amenities, great local people and proximity to beaches as well as a medium sized city make Boquete a sought after international destination.
For more information and available listings check out our Boquete Community page.
David, given its thriving commerce and pivotal point in the province, has attracted commercial investment and new arrivals.  As in Panama City, construction is prevalent, though while Panama is awash in high rise condos, David's development is currently focused on commercial centers, new hotels and stand-alone homes rather than condos. David is a much lower cost option than Panama City. Many expats reside in David and the surrounding areas due to the appeal of the region coupled with the low cost of living. David is on the Pacific Ocean and enjoys a recently expanded international airport.  With Boquete a short distance away (less than ½ hour with the completion of the new highway), towns like Volcan just over an hour, and David's proximity to more expensive Costa Rica just down the road, the city has been attracting attention.  David has less traffic and activity than Panama City which makes it an appealing alternative for Panamanians and expats alike.  As Panama's economic success continues and David ultimately sees a higher profile, the city is poised for rapid growth.  For those seeking a new home, a business start-up destination or investment opportunity, David is a great choice.
For more information and available listings check out our David Community page.
Approximately 45 minutes from David, 1 hour and 20 minutes from Boquete on the Pan American highway and good roads,
Boca Chica is the launching point for many Pacific Island excursions into the Gulf of Chiriqui.  The best known beaches around Boca Chica are at sea on small islands where it is typical to find yourself soaking in the rays on white sand, swimming waters of perfect bath-like temperatures and snorkeling all day among scores of tropical fish species without seeing another soul on your little spot of paradise.  The area is a favorite of sport fishermen and occasionally you will see a fishing boat trolling in the distance. The mainland at Boca Chica has some great boutique hotels like Seagull Cove Lodge and the large island Boca Brava just off the coast has noteworthy hotels as well such as Cala Mia.
Boca Chica is an easy and fantasy-like island day trip from Boquete.  Either sign up for a tour with transportation with one of Boquete's many tour companies or get directions for the approximately one and a half hour scenic drive to the dock at Boca Chica.  Once there, hire a man with a boat for 4-6 hours who will take you to one of the spectacular island beaches.  After you hop out and pop on shore, he will anchor just past the waves and wait until you call him in to return.  The beaches on the islands a bit out to sea are a 20 minute to ½ hour boat ride that is a wonderful part of the experience.   Some of the beaches have amazing coral reefs boasting an impressive assortment of tropical fish.  At times, you might spot sea turtles, dolphins, flying fish, eels and rays during the visit.  Tour companies also offer options to see the islands further out on more sophisticated vessels.  Take a snorkeling and fishing visit to the Secas islands and still make it back to Boquete by nightfall. If you are feeling more adventurous, journey to Coiba, the massive island, former penal colony and now a nature preserve.
Boca Chica is the subject of much development speculation. The attractiveness of the Boca Chica region as a whole, the proximity to Costa Rica and so many unspoiled islands rich in picture postcard scenery have prompted new hotels and some residential development. There are rumors yet to be realized of bigger marina and resort development in the offing in nearby Tole.
Note: Boca Chica is used by many locally when referring to the entire area near Boca Chica including Playa Hermosa and Boca Brava island.
For more information and available listings check out our Boca Chica Community page.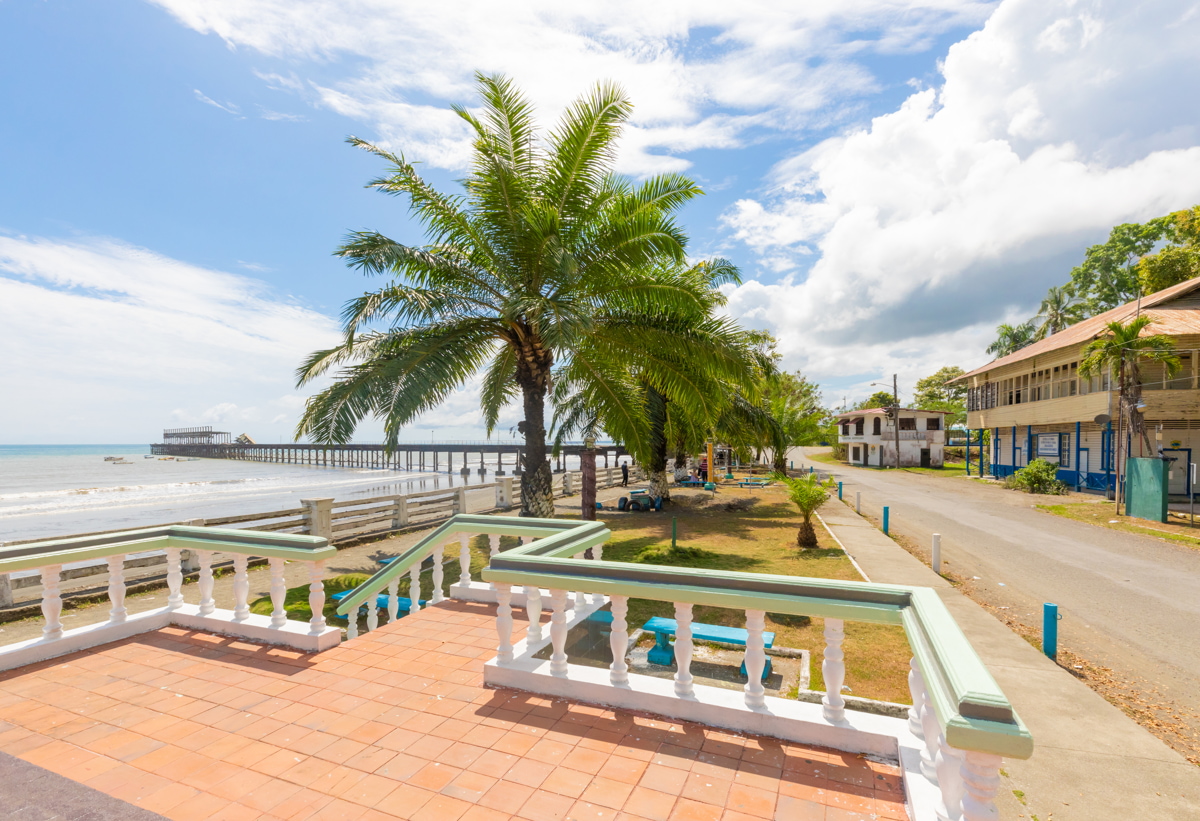 Puerto Armuelles, Panama is a charming and unique place to call home. Located on the Pacific coast of Panama, near the border with Costa Rica, the town is known for its laid-back Caribbean atmosphere and friendly locals.
One of the major benefits of living in Puerto Armuelles is the low cost of living. Expenses such as rent, groceries, and dining out are all very affordable, making it easy to live comfortably on a budget. Utilities are also inexpensive, and since everything is within walking distance, there's no need for a car.
The weather in Puerto Armuelles is perfect for beach lovers, with an average temperature of 79 degrees Fahrenheit (26 degrees Celsius) year-round and a refreshing breeze blowing through town. The town is also home to some of the most beautiful beaches in Panama, making it the perfect place to enjoy the sun and sand.
The people of Puerto Armuelles are some of the friendliest you will ever meet. Locals are always quick to help with directions or recommend their favorite restaurants, making it easy to feel like part of the community.
Real estate in Puerto Armuelles is also some of the most affordable in Panama, making it a great place to invest in property. Whether you're looking for a long-term rental or a place to call your own, Puerto Armuelles has plenty of options available.
For available listings check out our Puerto Armuelles Community page. 
Approximately 1 hour and 15 minutes from David, 1 hour and forty-five minutes from Boquete on the Pan American highway and good roads,
Las Lajas offers long stretches of beaches lined with tall palm and tropical trees.  The big waves roll in and the little fiddler crabs make designs in the broad beach sand.   Las Lajas is a great place for swimming in the ocean with dependable, yet usually manageable waves ripe for body surfing (rip currents are not considered an issue here, but caution is always still advised).  The beach seems to stretch forever, the palm trees waving gently in the mists produced by the ocean sometimes creating an almost mystical effect.  During some national Panamanian holidays, the area is a favorite for Chiricanos.  Otherwise, it is pretty quiet and a lovely setting that seems far away from the rest of the world.  It's truly a great beach for sunning and relaxation with few other people nearby.   Hotels like the Show Pony Beach Resort and the Las Lajas Beach Resort with a beachfront pool area and restaurant offer great bases from which to enjoy the sands.  Las Lajas is an easy day trip from David, Volcan or Boquete.
For more information and available listings check out our Las Lajas Community page. 
At 25 minutes from David, 1 hour from Boquete,
La Barqueta is the closest beach to David, Panama with easy beach access coupled with nice amenities.  While you needn't visit Las Olas to enjoy the beach at La Barqueta, Las Olas Beach Resort provides a great place from which to enjoy the sand and is the main attraction in the area.  The resort has a great restaurant and swimming pool right along the sand along with conference facilities.  Las Olas in La Barqueta is the best developed and most accessible beach area in Chiriqui with a hotel, many luxury beachfront homes and some beachfront condominiums.
For more information and available listings check out our Las Olas & La Barqueta Community page.