Main Content
The Springs Boquete
Authentic. Beautiful. Secure. Artistic. Serene. Convenient. Comfortable. Stimulating.
Like Living in a Landscape Painting ... The Springs Boquete is a breathtaking residential development that offers the finest home sites in Boquete. Located on the green side of town, this community has been carefully crafted to provide an environment filled with artistic pleasures, relaxing parks, and the full enjoyment of Boquete's natural beauty.
The community is less than 5 minutes to downtown and near La Amistad International Park as well as Boquete Tree Trek. It boasts an abundance of natural beauty including flowers, rainbow sightings, a wide range of bird and plant species, and breathtaking views of Volcan Baru and Kotowa coffee fields. Plus there are no time-to-build requirements making it a convenient option to choose.
The property features underground utilities, a community water system, electronic security gate, and paved roads. These provide secure, comfortable and convenient living for the inhabitants. Plus the property is fully private and gated, adding an extra layer of security for the residents.
The Springs Boquete is not just a collection of lots, it is a community that offers an authentic, beautiful, artistic, serene and stimulating environment. This is a must-see location for those considering building their new home in Boquete.
What are the possibilities for your dream house in The Springs? See the Into the Woods listing example below.
Imagine both passive and active solar energy to reduce your electricity bills.
Imagine a system to capture rainwater for a kitchen garden and fruit trees thus reducing your fresh food costs.
Imagine a reserve water tank and purification system to eliminate the need to buy water bottled in plastics.
Imagine the satisfaction of knowing you are part of the solution to create a healthier planet and a healthier you!
Built of steel and concrete with large expanses of operable windows, the two level, three bedroom/two bath home is nestled amid mature native trees and overlooks a stunning panorama.
From every room the views unfold to reveal a natural spring, a valley filled with coffee plantations, and forested hillsides climbing to the crest of formidable Volcan Baru, Panama´s highest peak.
For approximately $417,000 you can buy the property and build a 2,400 square feet or 223 square meter plush home right here in The Spring.
Check out our Boquete Residential Developments from Above Virtual Tour!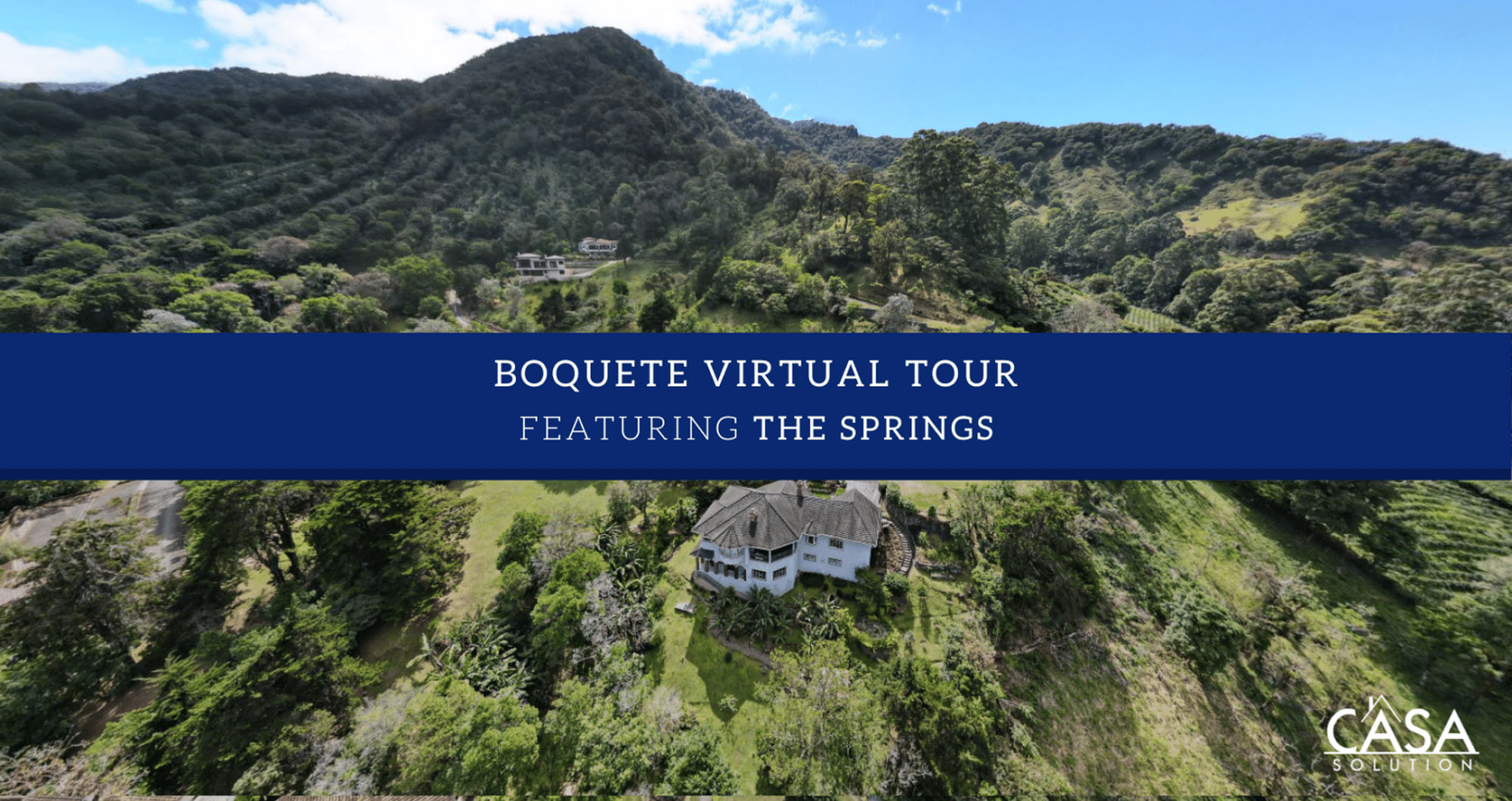 What To Love
Beautiful Natural Surroundings
Next to Kotowa Coffee Farm
Spectacular Unobstructed Views
Green All Year
Only 5 minutes to Downtown Boquete
Near La Amistad National Park
Like Living in a Landscape Painting
Questions? Contact Us
Please let us know of any questions or how we may be of service to you.