Main Content
Panamonte Estates
Downtown Boquete, Chiriqui
Panamonte Estates is a gorgeous gated community located next to the famous Panamonte Inn & Spa, known for its gracious hospitality, antique charm, and exquisite cuisine. The community is the closest development to the heart of downtown Boquete and is the perfect base for exploring the Chiriquí Highlands. The community has glorious gardens and mountain views. It is right next to the famous Panamonte Inn & Spa with its outstanding restaurant and is only a short stroll away from downtown Boquete's restaurant scene making it the ideal location for those looking to experience the best of tranquilty, convenience and genuine beauty.
The Panamonte Estates community is made up of just 20 homes, making it a tight-knit community where residents have the opportunity to make new friends quickly. Homes here are in high demand.
The community features two parks, one of which sits on the Caldera river, providing residents with the perfect place to relax and unwind. The parks are landscaped and have pathways that provide lovely strolling.
A gentle stream passes through the community providing a gracious water feature. Lots of flowering and tropical plants grace this wonderful community.
Panamonte Estates provides its residents with a sense of community, comfort, and security making it an attractive option for those looking to buy a property in Boquete.
More about the Hotel Panamonte also known as the Panamonte Inn & Spa
The Inn has a truly sublime restaurant with a classy, yet culturally appealing and historical setting, a must visit location that is wonderful to have right near your new home. The Panamonte also has a swanky bar, a great place to absorb the blessings of being in this truly special place to be.
The Panamonte Inn has a long and rich history, having hosted travelers and explorers from around the world since 1914. The Inn is owned and run by the Collins-Elliot family, who for over 60 years have blended their Scandinavian traditions with the friendliness and natural beauty of Boquete. The Panamonte is not just a hotel or a lodge, but the true definition of a country inn: a warm and friendly place for travelers seeking a comfortable ambiance and personalized attention, a home away from home.
From the Hotel: "Since 1914, Panamonte Hotel has been the Boquete hotel of choice for travelers from near and far. In the early part of the century, getting to Boquete was an adventure trek in its own right, involving ox carts, small rail trains, and horse drawn carriages. Today, national and international flights into David (approximately 45 minutes away from Boquete) and modern highways make the trip quick and easy.
The Collins-Elliot family, for more than 50 years, has blended their Old World Swedish traditions with the friendliness of Panama, in Boquete's extraordinary setting of natural beauty. They have created a destination luxury hotel that has become a tradition for many. Families from Panama City, the United States and Europe have been coming to The Panamonte for three generations to celebrate weddings, honeymoons, christenings, and family reunions—sometimes booking all of the hotels 25 rooms to accommodate their guests.
In 2008, The Panamonte Inn & Spa underwent extensive renovation. The Inn's original interior guest rooms that look out onto the courtyard were upgraded, retaining their old fashioned charm while benefiting from all new baths and conveniences. Luxurious and spacious Garden Junior Suites and Garden Terrace rooms were added, each with a private garden side patio or covered front terrace. The lovely old dining room received a facelift, making it even more welcoming and charming. The gardens, already fabulous, were expanded and became more so. The famous Fireside Lounge remains much as it always has been, and continues to draw people back, again and again. Today, The Panamonte Inn & Spa is truly the premier Boquete hotel—the place where travelers and old friends come (for timeless, country luxury with the most modern of amenities.
Located at an elevation of 1200 meters (or almost 4,000 feet) above sea level, the year round climate is cool and refreshing. Whether you visit during the Green Season of June through October, or during the High Season months of November through May, the breezes are cool, the bajareque mists cast rainbows over the mountain tops, and the people are welcoming. Some say it is always Spring in Boquete. Certainly, year round, the trees are green and the highland and tropical flowers are always in bloom.
Boquete rests in a valley beneath the towering Volcan Baru, a sleeping giant—Panama's highest peak at 3,475 meters. It provides the perfect gateway to explore the highland cloud forests. The Panamonte Inn & Spa specializes in organizing outings for guests, no matter what their preference. Whether you want to soak in hot volcanic springs, tour an orchid farm, visit a world class coffee finca, raft a Class 4 or 5 white water river, take a day trip to a near by Pacific beach, or travel by zip line through the rainforest canopy, The Panamonte can arrange the eco-adventures you and your family are craving. Wind down your day with a cocktail in the garden or by a crackling fire in the Fireside lounge, followed by dinner in the calm and elegant dining room, where your culinary experience is guided by the internationally renowned chef/owner, Charlie Collins.
Only a five minute walk from town, The Panamonte Inn & Spa is the ideal spot from which to base your vacation or family event, and is perfectly located to enjoy any of Boquete's Annual Festivals, such as the Feria de Las Flores y Café (January) or the Feria de Las Orquideas (April). Plan your vacation getaway now—come to Panama, come to Boquete, come to the Panamonte Inn & Spa for an unparalleled experience of relaxed, unpretentious luxury in one of Central America's most beautiful highland cloud forests."
Check out our Boquete Residential Developments from Above Virtual Tour!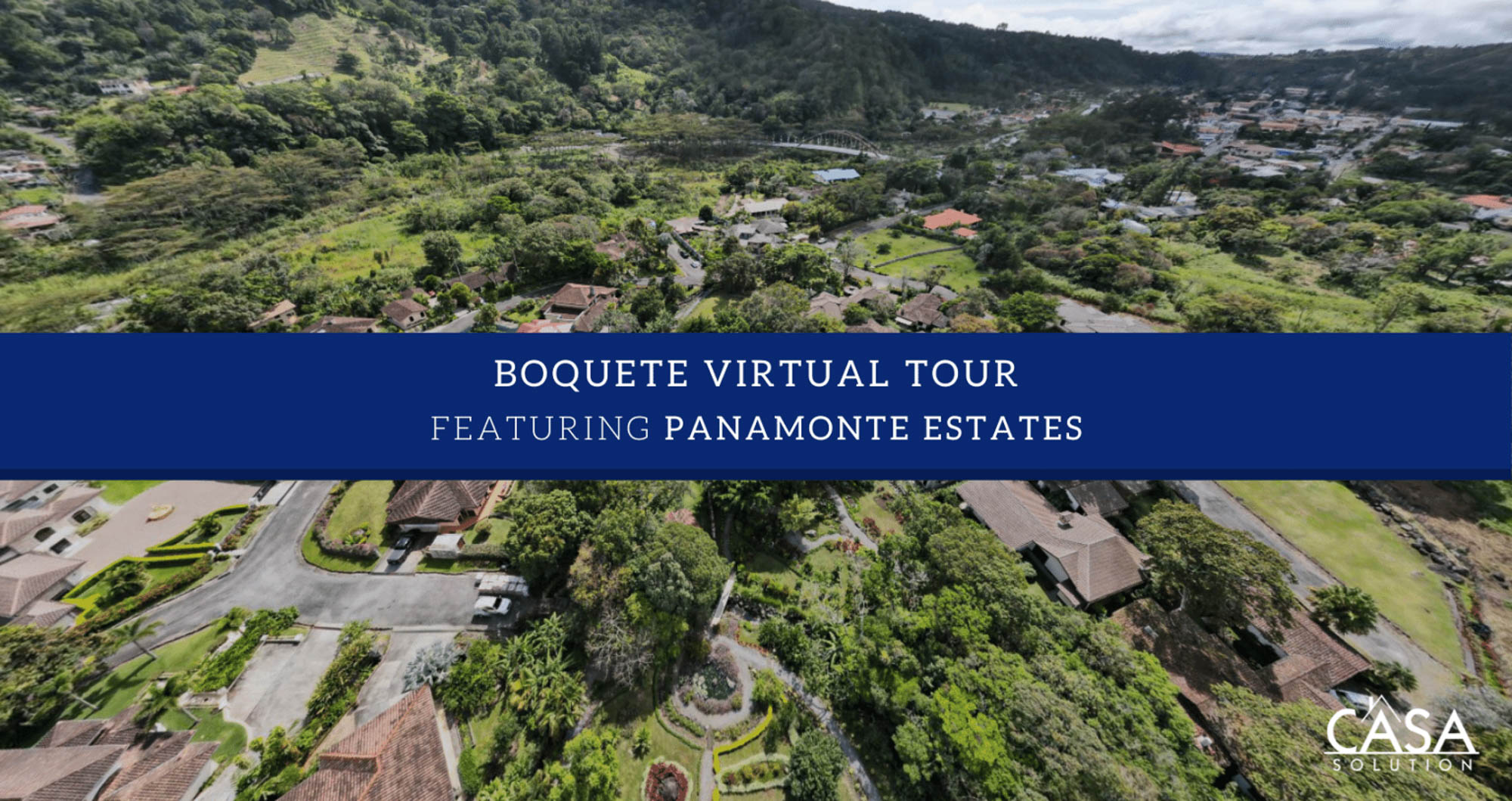 What To Love
Stunning Natural Beauty
Super Convenient Location
Next to the Panamonte Inn
Lovely Community and Green Areas
Next to Fine Dining Experiences
Questions? Contact Us
Please let us know of any questions or how we may be of service to you.