Main Content
Valle Escondido
Valle Escondido is a luxurious residential development located in the heart of the picturesque town of Boquete, Panama. This development is credited as a major factor in the influx of expats coming to Panama for a better lifestyle. When AARP first announced that Boquete was one of the best places in the world to retire and the International Living organization declared that Boquete was the number 1 recommended retirement destination for expats, Valle Escondido was in the initial stages of construction and offered a prime lifestyle opportunity.
Valle Escondido boasts a gorgeous mountain valley close to a sweet and friendly town center in a secure, amenity-rich setting. The development offers a wide range of amenities including a nine-hole executive golf course, pro-shop, hotel, state of the art fitness center, amphitheater, indoor heated swimming/lap pool, an outdoor solar heated swimming pool at the hotel, locker/shower rooms with Turkish steam bath, Swedish sauna, and Jacuzzi, lounge, and bar with game room including billiards and card tables, wedding chapel event room for parties and meetings, miniature golf, racquetball court, and tennis court.
The golf course at Valle Escondido is a real highlight, with the premium nine-hole executive course providing a great challenge for golfers of all levels. The course boasts beautiful views of the surrounding mountains, and is perfect for a round of golf in the crisp mountain air. The Quebrada Grande Country Club has Panama's only course that enjoys the brisk climate at 1,000m (3,200ft), making playing a pleasure all day long. For golf that the whole family can enjoy, there's also a putt-putt course on site. The complex also has tennis courts and racquetball courts.
The fitness center at Valle Escondido is state-of-the-art, with all the equipment you need to stay in shape. The fitness center offers a variety of exercise machines, weights and cardio equipment, as well as a sauna and steam room to relax after your workout. The indoor pool and outdoor solar heated pool, as well as the Turkish steam bath and Swedish sauna, are also perfect for relaxing and rejuvenating after a workout.
Valle Escondido also offers a spa, LaVida Health and Beauty Spa, which offers a variety of holistic therapies and traditional spa treatments in soothing environs, with the decor giving a nod to Panama's indigenous tribes. The spa has a sauna and steam bath, which are welcome on cool and rainy days.
Valle Escondido has its own town center called "El Pueblito," Spanish for "The Small Village." There are cobbled walkways connecting terra-cotta roofed villas. A beautiful mountain stream runs through El Pueblito and most of the community. It is a romantic setting.
The hotel here includes bungalows and suites, arranged like private villas through the heart of the property, There are several room configurations available, some perfect for couples and other designed to accommodate families. All are regally furnished with rich fabrics, stonework, and fine wood cabinetry. The rooms and little villas feature a beautiful blend of Mediterranean and local styles, with cobbled walkways connecting terra-cotta roofed villas with Moorish arches, Spanish patios and Santa Barbara-style silhouettes.
Properties in Valle Escondido are in high demand and have been selling fast with less homes, condominiums and villas on the market recently… so don't wait.
The location of Valle Escondido is truly unbeatable, the development sits in a peaceful mountain valley, with the Quebrada River running through it, providing the perfect tranquil setting for your new home. The lush, volcanic Chiriquí Mountains are the perfect backdrop for this luxury development, and the local flora and fauna will take your breath away. The cool, misty highlands of Boquete, the "City of Flowers," have long been famed for their exquisite coffee and spring-like climate, making it an ideal place to call home.
The town of Boquete, just a short walk from Valle Escondido, is a charming and friendly place, with a strong sense of community. The town offers a wide range of amenities, including shops, restaurants, and supermarkets, as well as a variety of recreational activities, such as hiking and rafting. The town also has a number of schools and healthcare facilities, making it a wonderful place to raise a family.
The Valle Escondido residents take great pride in their homes and the development. It's typical to see people out and about, enjoying the development's amenities, and socializing with each other.
Valle Escondido offers an unbeatable combination of luxury living, breathtaking natural beauty, and a friendly community. Whether you're looking for a vacation home, a full-time residence, or an investment property, Valle Escondido is the perfect place to call home. With its world-class amenities, tranquil setting, and close proximity to the charming town of Boquete, you're likely to love so much about your new home here.
Whether you're looking for a vacation home, a full-time residence, or an investment property, Valle Escondido has something for everyone. Don't miss out on this opportunity to own a piece of paradise in this stunning development.
Check out our Boquete Residential Developments from Above Virtual Tour!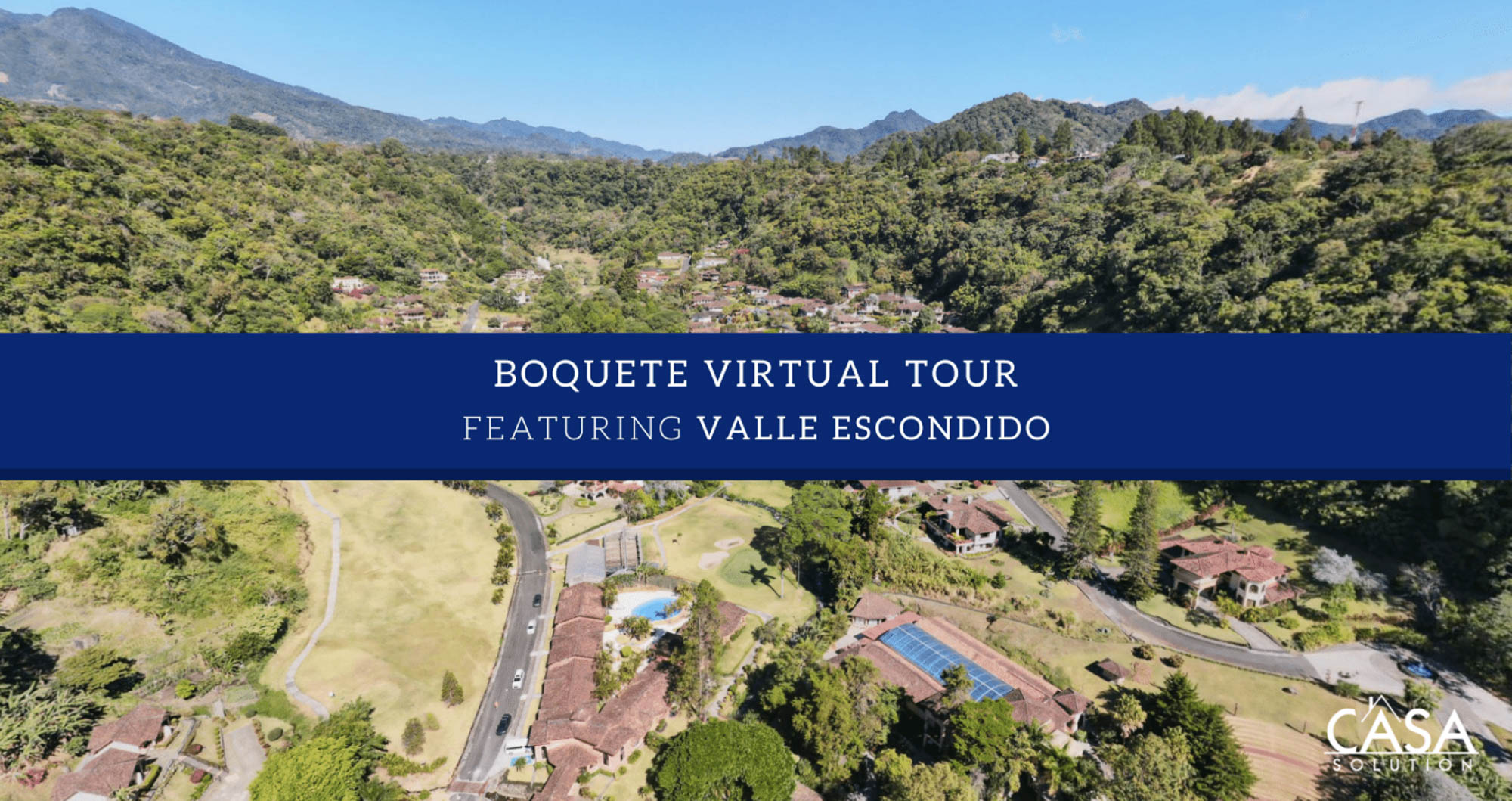 What To Love
Luxurious Living
Stunning Natural Beauty
Convenient Location
Strong Sense of Community
Wide Range of Amenities
Great Climate
Suitable for All Types of Buyers
Questions? Contact Us
Please let us know of any questions or how we may be of service to you.