What top news organizations have said about Boquete
New York Times Announces the Places to Go Worldwide in 2023 and Boquete Made the List!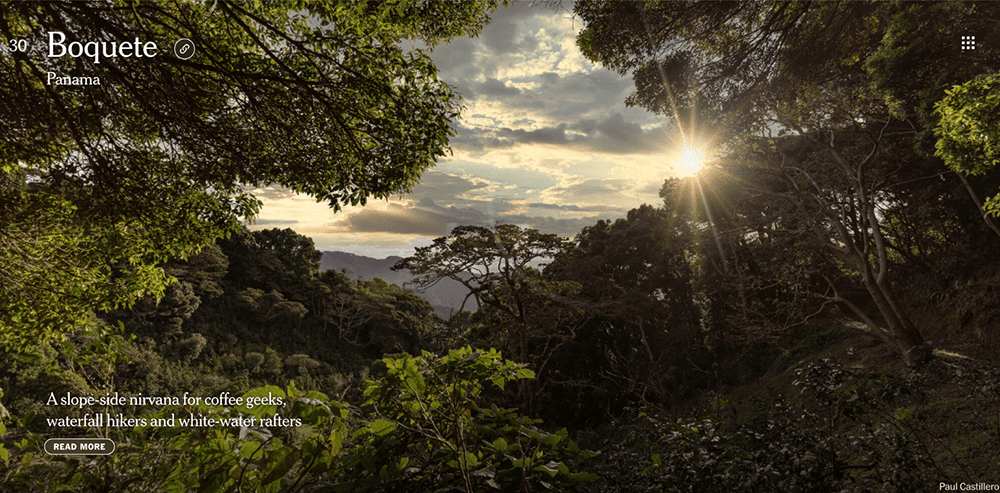 By The New York Times Jan. 12, 2023
Boquete, Panama has been named as one of the 52 Places to Visit in 2023 by The New York Times and we couldn't be more thrilled!
Among the deserts of Africa and the koala-laden trees of Australia, Boquete is a true hidden gem.  Described as a slope-side nirvana for coffee geeks, waterfall hikers, and white-water rafters, Boquete offers an unrivaled living experience that combines culture and nature at its best.  From world-renowned coffee grown on its slopes to hiking to cascading waterfalls, rafting through white-water rapids and more, Boquete is the perfect place to call home.  Take advantage of this opportunity and own a piece of this slope-side nirvana in 2023.
Excerpts:
"Geisha, among the world's most expensive coffee varietals, thrives on the slopes of the Barú Volcano, near Panama's western border.  In recent years, specialty coffee geeks the world over have gravitated here, encouraging coffee farms around the highland town of Boquete to act more like Bordeaux vineyards.  New cupping rooms and bodega tours have been added at farms like Lamastus Family Estates, Chevas Coffee Estate and Finca Altieri, while coffee-themed hotels — including Finca Lérida and Panamonte — have updated their facilities.
In Boquete's town center, which acts as a base for adventure activities like waterfall hikes and white-water rafting, the noted Panama City chef Mario Castrellón has opened a branch of the coffee roaster Café Unido, as well as a restaurant and bar with seasonal menus and Geisha-infused cocktails, in the new Selina hostel.  The bold, 60-room property straddles a small river, with rooms ranging from beds in concrete cylinders to luxe suites."
— Nicholas Gill
New York Times, Jan. 12,2022
---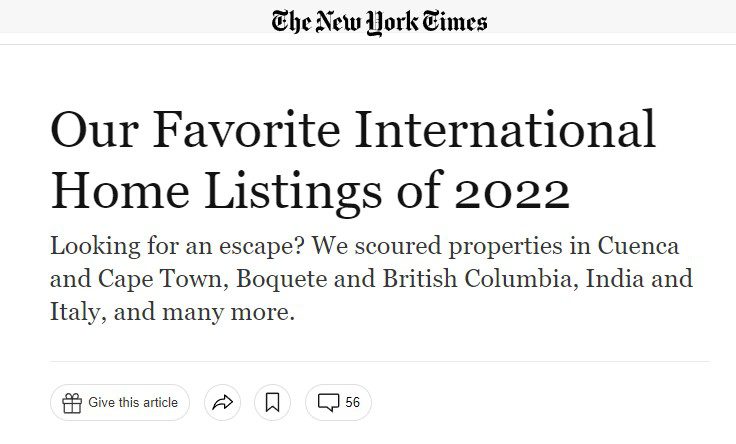 By The New York Times Dec. 7, 2022
Excerpts:  This six-bedroom Tuscan-style mansion is secluded between two hillsides in the exclusive estate section of Valle Escondido, a high-end community, resort and club close to downtown Boquete, the mountain town nestled in the Chiriquí Highlands of western Panama.
The 11,850-square-foot house, built on 1.3 acres in 2011, has a clay tile roof. Papaya, lemon, banana and avocado trees stand near a pond and a river edging one side of the property.
"You are looking over the valley," said Ryan Braasch, a sales associate at Casa Solution. "The views are nice, but what the seller was going for was serious privacy."
Congratulations, Ryan, on being the listing agent for this phenomenal property and for your hard work and dedication.
Thank you,  Marcelle Sussman Fischler, for your outstanding work – we are grateful for you.
The New York Times Dec. 7, 2022
---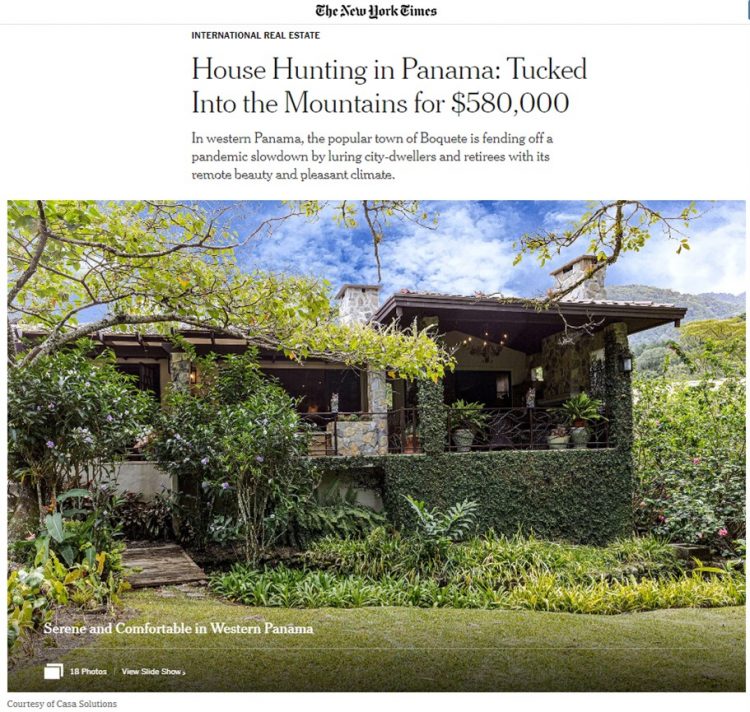 In western Panama, the popular town of Boquete is fending off a pandemic slowdown by luring city-dwellers and retirees with its remote beauty and pleasant climate.
Casa Solution was once again interviewed by the New York Times regarding real estate in Panama.
We are grateful to the outstanding writer, Marcelle Sussman Fischler, and are proud that this great listing and Casa Solution have been chosen to be featured in the article.
Excerpts:
"This three-bedroom house is a short walk from downtown Boquete, a mountain town in the fertile highlands of Panama's western Chiriquí province, known for its remote location, pleasant climate and popularity with expatriates.
The single-story house, which was remodeled and expanded to 2,450 square feet in 2017, is in Panamonte Estates, a 13-year-old gated community with 23 architecturally distinct homes. The community's land was purchased from the owners of the neighboring Panamonte Inn & Spa, a local landmark whose 1914 opening coincided with that of the Panama Canal, said Lauretta Bonfiglio, an agent with Casa Solution, which has the listing. Though not huge, "every house is individual," Ms. Bonfiglio said. "Even gated communities are not mass look-alike developments. That is what makes Boquete a unique community.
Wrought-iron gates open to a stone walkway traversing the lawn and a wood bridge with a decorative railing. Across a creek, the path resumes, leading to a glass-topped pergola at the front entrance. A second gate slightly farther down the road opens to a large carport.
The entrance hall, with wood-beam accents, leads to a great room with living and dining areas. The room has stone walls, a vaulted ceiling, and a floor-to-ceiling, double-sided stone fireplace. Porcelain tiles resembling wood cover the floors throughout. "
New York Times, November 4, 2020
---
 NBC Today Show Features Boquete, Panama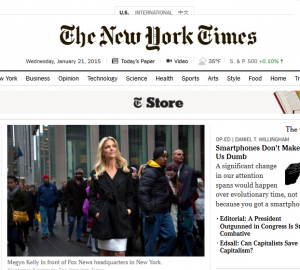 "… Near the Barú volcano and tucked into the highlands at about 3,900 feet, Boquete offers hiking, zip lines, coffee tours, white-water rafting, community theater, jazz and flower festivals and a plethora of restaurants. It has a springlike climate year round. The closest international airport, in the city of David, is around 25 minutes' drive.
MARKET OVERVIEW
The Panamanian market is "doing very well," said Jason Cohen, an owner with his wife, Stephanie, of Casa Solution Real Estate in Boquete. "We have had a steady influx of foreigners," including buyers looking for full- or part-time retirement homes and "others who are looking to live well on less money," Mr. Cohen said. The bulk of homes sell for between $200,000 and $700,000. There is a shortage of rentals.
Still, demand for high-quality houses is up, Mr. Cohen said. "If the market has changed at all, it's because there are more high-end sales" from $800,000 to $2 million, he said. "Some of the homes are fantastic."
WHO BUYS IN PANAMA
…. In addition to Americans, who make up 60 percent of buyers, the town is seeing Canadians, Venezuelans, Russians, Italians and French. While some Canadians are snowbirds, the majority of American buyers live in Boquete full time, moving from California, Texas, Kansas, New York, Florida, New Jersey and Pennsylvania. Wealthy Panamanians often buy second homes in Boquete, Mr. Cohen said.
New York Times, January 21, 2015
Boquete named one of the top 5 places to retire abroad in Sept. 2010 issue of AARP MAGAZINE.
"Imagine waking up under sunny skies in a Latin American paradise, in a spacious, open-terraced home, your backyard dotted with bougainvillea and palm trees. After a swim and a pitcher of fresh-squeezed orange juice, you greet your fellow expats at the plaza, take a short rain-forest hike, volunteer with the local kids, and in the evening savor a delicious dinner of grilled lobster and carne asada at a charming beachfront café—for $30 a couple.
Okay, life abroad is not all palm trees and grilled lobster. There can be restrictions and red tape, language problems and culture shock, distance and sometimes loneliness. But at a time when nest eggs are shrinking and Social Security looks less likely to cover basic expenses, living for less in a foreign locale can make good financial sense. There's also the prospect of adventure in a faraway land, the allure of the unknown, and the joy of serendipitous discoveries.
Intrigued? We thought you'd be. Which is why we investigated the overseas retirement scene, looking for mostly warm and sunny, attractively affordable locales with good-to-excellent health care that are hospitable to Americans of retirement age. What follows are snapshots of five great destinations that met our exacting criteria. Each has its own unique charms and pleasures, and all are safe and welcoming."
The mountain village of Boquete offers something close to heaven for American retirees.
Panama is a smart choice for retirees who want it all—in a country that really wants them. Not only does it feature attractive retirement destinations—sleek capital city, hot beach towns, cool mountain villages—but it also offers an unbeatable package of retiree benefits and discounts (and a currency tied to the U.S. dollar). Little wonder there has been a steady influx of expats in the past few years.
Many retirees have settled in Panama City, a fast-paced financial hub with a Latin/Miami vibe. Others have gravitated to the Pacific Coast towns west of Coronado and the Panamanian version of Key West, hip and laid-back Bocas del Toro on the Caribbean Coast. But if you want a temperate highlands retreat surrounded by unmatched natural splendor, the mountain town of Boquete, an hour's flight from Panama City, is close to heaven. Here expats settle amid rain forests, coffee plantations, burbling streams, and hummingbirds hovering over dazzling flowers.
Boquete is decidedly gringo-friendly, offering a wide range of back-home amenities, from a golf course to high-end gated communities. For some expats it also offers an opportunity for reinvention. Retired teachers Rich Lipner, 65, and his wife, Dee Harris, 61, moved from Berkeley, California, to Boquete, where in 2003 they bought a seven-acre organic coffee farm for $135,000. "Over the past seven years we've spent approximately $80,000 to build a new 1,000-square-foot guest house and restore the original 2,000-square-foot house," Lipner says. "We're living comfortably on our combined Social Security and teachers' retirement. We've begun a new and wondrous chapter in our lives."
Oh, about those discounts and benefits we mentioned earlier? They include 20 to 50 percent discounts on air, bus, and train fares, movies, concerts, restaurants, hospital bills, medical consultations, and more."
AARP Magazine, Sept / Oct, 2010
In Panama, a taste of the tropics and a new state of mind.
"A trip through the archipelago became a mix and mingle with Americans and other foreigners. Boquete and its surroundings are becoming destinations for visitors and expats drawn to its beauty and affordable adventures.
Racing through a Panamanian archipelago by sport boat, I couldn't help but feel like James Bond. It was just me and a mustachioed driver, speeding toward a remote island where I would spend a few decadent days at an eco-resort, hiking the rain forest, sunning myself by an infinity pool and sucking down rum cocktails to a soundtrack of rolling, tropical surf…. my trek of the Quetzal Trail, past corrugated metal lean-tos housing the indigenous workers who harvest the onions, corn, coffee beans and strawberries grown in this lush mountainous terrain, past howler monkeys and up toward an enormous waterfall where flocks of quetzals, the gorgeous, green-trailed birds, are known to fly.
…my trek of the Quetzal Trail, past corrugated metal lean-tos housing the indigenous workers who harvest the onions, corn, coffee beans and strawberries grown in this lush mountainous terrain, past howler monkeys and up toward an enormous waterfall where flocks of quetzals, the gorgeous, green-trailed birds, are known to fly."
Los Angeles Times, February 28, 2010
Boquete, Panama.
"Rural and idyllic, the highland town of Boquete is the place to base yourself if you like long walks in the verdant countryside, quiet evenings and fine coffee from the award-winning local plantations. Panamanians say Boquete has changed beyond all recognition in the past decade because of the influx of elderly Americans retiring there. But it's still a sleepy place and Spanish is, by far, the dominant language used on the streets."
The Sydney Morning Herald, January 17, 2010

Retirement: Why Panama Is the New Florida.Panama's quality health care, low costs, and proximity to the states are attracting American professionals as a retirement haven
"Prospective retirees: Panama wants you. The pitch? A plane ride just 2 and 1/2 hours from Miami enables the newly poor to swap a wretched retirement in the U.S. for one befitting a royal in the balmy Central American nation. Cash out! Emigrate! Feel rich! Panama-the new Florida.Spin aside, Panama is increasingly popular among retirement-age types looking to hedge against-or skip out on-the recession. The Migration Policy Institute, a Washington-based think tank that studies the movement of people around the world, says the chief factors prodding professional-class Americans to flock to Panama include its First World health care available at Third World prices and the country's pensioner program, which offers some of the deepest retiree discounts in Latin America. Seniors get up to half off on nearly everything, including movies, motels, doctors' visits, plane tickets, professional services, and electric bills. Expats also pay no tax in Panama on foreign income. Nor are they required to pay property tax for the first 20 years….But Panama isn't only about the beach. The Boquete region in the mountains-Panama's answer to Boulder, Colo.-boasts loads of U.S.-style gated retirement compounds. The big draws of the area are tennis and golf. For those who are more interested in urban amenities, Panama City, which is by the sea, is sprouting yoga studios, bohemian boutiques, health-food stores, and artsy coffee houses…."
BusinessWeek, July 2, 2009
Go Gourmet in Boquete, Panama
"Surprising place, Panama. In the middle of the day in the highland town of Boquete a misty rain descends from the skies. It's as slight as a hand held atomiser and it drops gently from the heavens just as the day threatens to become too warm.
Boquete is a charming two horse town of low buildings with tin roofs in blues, reds and rust. Set along the banks of the turbulent River Caldera it is surrounded by mountains whose flanks are lined with the straight lines of coffee plantations and peaks permanently wreathed in light clouds.
It's quite easy to get to – a fifty minute flight from Panama City to the town of David and a forty minute drive in gentle scenery punctuated with real estate signs advertising land for sale and des reses in gated communities.
Fortune magazine's Retirement Guide selected Boquete in 2005 as one of the five best places in the world to retire to along with Dubrovnik in Croatia, Bariloche in Argentina, Merida in Mexico and Phuket, Thailand."
The Times (London), May 26, 2009
Hats off to Panama – Adventure travel at its best
"You really don't hear about a lot of kayaking-only outfitters succeeding at something like this," Miller said. "So it just made sense for us to branch out and expand our offerings with things like the sport fishing, sea kayaking, backpacking and whitewater rafting day trips. The thing that really works the best for us is custom trips, where groups can pick and choose what they want to do."
Only slightly larger than Ireland, the narrow isthmus may qualify as North America's best-kept adventure-travel secret, unrivaled on our continent in its diversity. Despite being the thinnest landmass between the Atlantic and Pacific oceans, Panama contains about 480 rain-fed rivers tumbling from the flanks of countless mountains surrounding the high point of the dormant 11,400-foot Baru Volcano, just outside Boquete.
…The Caldera River(in Boquete) is a popular spot for whitewater kayakers visiting the adventure- travel destination. …
Referring to Boquete: "It's that diversity — going from the mountains to the beach in less than an hour — that makes this place so attractive and unique," Omer said. "And a lot of it still feels relatively untamed, wild, unexplored — at least relative to a place like Costa Rica. There are definitely some 'firsts' left here. You feel like a pioneer." The irony lies in BOA's geographic proximity (in Boquete) just more than an hour's drive from Costa Rica, a little less to Panama's third-largest city (David) and the Pacific Coast, and a few minutes from one of the nation's pre-eminent national parks (Volcan Baru), all on well-paved roads. Access to adventure is hardly an issue. "It all depends on how intense you want your adventure to be," Omer said. "But it's real easy to sample the whole gamut of what Panama has to offer.
Untamed land a draw – The country is home to 940 bird species, more than in all of North America, and its dense forests contain the greatest number of animal species of all the countries north of Colombia. There are 1,518 mapped islands off its coasts, where Panama lives up to its Indian name meaning "abundance of fish." Its Pacific waters lay claim to more deep-sea fishing records than anywhere in the world. The Caribbean is only a couple hours away by car."
The Denver Post, November 18, 2008

A detour-filled drive across Panama
"Panama's western highlands remained beyond the edge of development last century, when the United States built and operated the 48-mile Panama Canal that splits the country at its core. In the nine years since the canal came under local control, skyscrapers have spiked in Panama City, and upscale resorts have awakened sleepy beach towns an hour west of the capital. Venezuelans, Germans, Canadians and Americans have bought in. Tourism is an economic engine, with nearly $1.5 billion in annual revenue, more than is earned from tolls for the canal. The tourism ministry has launched a new campaign – "Panama – It will never leave you" – Nowhere is the investment as intimate as in the lush foothills of the 11,397-foot Baru volcano, where Americans retire in mass to the town of Boquete."
Seattle Times, August 17, 2008

In Panama, a Home in the Mountains
"Fast-growing Panama is generally considered an easy place for foreigners to buy property, compared with other countries. English is commonly spoken, the United States dollar is the accepted currency, there are no restrictions on owning land in most areas and the government offers a long list of friendly discounts for pensionados, expatriates who have settled in Panama. For the Smiths, Panama had an extra appeal — no hurricanes. "We were sick and tired of running from hurricanes," said Mrs. Smith, 52 … first showed the couple properties in beach resort areas, where a four-bedroom condo with 230 square meters (2,475 square feet) of living space sells for about $375,000. But then Mrs. Smith mentioned their love of birds. "That was it," Ms. Farrell said. "I knew they wanted the mountains. Mountain property in Panama is much less expensive than the coast and offers lush tropical landscapes, albeit without the sandy beaches. A new three-bedroom house with 225 square meters (2,400 square feet) of living space in Boquete, an area in the north popular with expatriates, sells for around $265,000."
New York Times, December 2007

Panama City an uplifting experience
"The tourism of Panama is centered not simply in Panama City, but to a far greater extent in the picture-perfect, uncrowded beaches (with several large resorts) just outside Panama City, and in the renowned San Blas Islands, Pearl Islands and Bocas del Toro offshore islands, as well as on the Gulf of Chiriqui. It's found in the mountain stretches of Boquete, housing rain forests, coffee plantations and Embera and Kuna Indians — a superb setting for tourism. Just as Americans began flocking to Costa Rica a decade ago, they're now going to what might become the new hot spot of Central America, Panama. You should consider a trip."
The Witchita Eagle, November 2007
Retirees seeking Shangri-la find Panama is close enough
"lush, birdsong-echoing mountains above the Pacific."
Dallas Morning News, September 2007
Panama Booms as retirement hot spot for Americans – South Floridians find haven from high prices and hurricanes
"More measured growth appeals to the bulk of Americans who are retiring or buying second homes outside the capital – by the many beaches or in the mountains approaching Costa Rica, especially in the coffee-growing highlands around the town of Boquete.
South Florida Sun-Sentinel, September 2007
The Costa Rica Experience Moves Next Door
"At midday, when the air is warm but crisp, a casual pace falls over the town. Crocs-wearing tourists mingle with old-timers, making fishing and hiking plans for the following morning. What feels at times like a newly minted resort town in New England or perhaps Southern California is actually the latest stop on Panama's growing tourist route. Tucked in the highlands near the Barú volcano, in the western Chiriquí region of Panama, Boquete is emerging as one of Central America's latest eco-tourism destinations. Surrounded by green mountains topped by misty, craggy peaks, Boquete offers plenty of outdoors adventure, like hiking, climbing, bird-watching and white-water rafting. And thanks to a 3,000-foot elevation, the area's microclimate deducts 10 crucial degrees from the incessant lowland heat. Wispy clouds meander overhead in the morning, but release their grip by midday.
But unlike most eco-tourist hot spots, Boquete draws people not just to its natural beauty, however lush it may be, but also to its snowbird enclave. In the last two decades, a thriving community of North American baby boomers have built homes in and around town. Attracted …by the Napa-like weather and low cost of living…
And while Boquete's real estate market was once dominated by porch-swinging retirees, the latest wave of arrivals tend to be younger couples in their 40s and 50s. Many are opening so-called hobby businesses — restaurants, touring companies, bed-and-breakfasts and wellness spas — geared for tourists. Boquete is capitalizing on its forests, rivers and abundant wildlife. Panama also offers magnificent bird-watching. The forests in and around Boquete are home to a dazzling array of quetzals, toucans and parrots….Then it's back to the hotel for a hot stone massage. And maybe a nice bottle of red wine with dinner. But you'll want to turn in early and sink into the crisp white sheets as a gentle mountain breeze lulls you to sleep. There's plenty to do in the morning."
New York Times, August 2007

Making fantasy real in Panama
HIGHLANDS: Coffee tasting is prime perk of misty region
"Boquete, a green jewel of a town nestled at the edge of a cloud forest in the western Panamanian highlands…After a mile or so, we found ourselves walking through climax cloud forest, lusher than anything we had experienced in our temperate-zone world, the rain forests of the Pacific Northwest included."
San Francisco Chronicle, May 2006
"…while the gleaming skyscrapers of the cosmopolitan capital Panama City are only a short flight from Miami, the city is too hot for most newcomers. Retirees are instead flocking to the area around Boquete, a cool mountain town famous for growing coffee and oranges, where small wooden houses are decked with tropical fruit and flowers year-round and old men play dominoes in the shade.
Reuters, May 2006

Panama is paradise for retirees
"Boquete sits in Panama's mountainous Chiriqui region at an elevation of about 3,500 feet. It's quiet, unspoiled, uncrowded. Mountains, rivers, waterfalls. Lush green hills and great masses of red and purple flowers. This is coffee country, and in harvest season the Indians come down from the hills to find work. The men call and sing to each other as they pick. Their children run through the fields and play in the streams.The climate in Boquete is ideal, spring like year-round with reasonable daytime temperatures, cool breezes, and chilly nights. Beachfront living is nice, but the mountains of Boquete are hard to beat. If you like Colorado, you'll love Boquete."
MSN Money, 2006
Boquete's deep green valley is spacious enough for exclusive subdivisions to remain safely aloof, and thus avoidable. The cool air is tantalizing and smoke-free: Chiriquí's electricity is tapped from its white-water rivers. The unfenced properties we saw, profuse with flowering foliage, left us discussing why we don't live here. The hotel we switched to convinced us at least to return. The Panamonte Inn & Spa, a grand wooden heirloom, dates to the canal's opening. Its floral curtains and framed engravings are the real thing, its rose and camellia gardens attest to decades of care. Dining here amid rich paneling, flanked by enormous stone fireplaces, is both dignified and worthy of its gourmet claims. That night our dreams reprised river trout broiled in olive oil and amazing pumpkin soup.
Conde Nast Traveler, February 2005
Fortune Magazine 2005 Retirement Guide Names Boquete as one of the top 5 places in the world to retire
Paradise Found: Where to Retire Abroad
"Paradise Found: With temperatures between 72 and 78 degrees Fahrenheit year round, homes don't need heat or air conditioning. Boquete has a large English-speaking community."
Fortune Magazine 2005
Retirees Find More for Less in Panama
About Boquete "Tax breaks, lower prices and laid-back lifestyle draw a growing community of Americans to one of the nation's small towns…the latest hot spot in Central America"
LA Times, February 2005
A Budding Affection for Boquete
"a Panamanian Shangri-La in the cool highlands of Chiriquí where there were rushing trout-filled streams, a lush mountain rain forest, abundant orange groves and coffee plantations, and a picture-postcard town chockablock with flower gardens….Initial excursions took us to flowers, flowers and more flowers…. Impatiens, in every shade of the impatiens rainbow, interspersed with frothy flings of blue forget-me-nots, blanketed hillsides. Aerial gardens of orchids, aroids and bromeliads nestled in the high branches of trees. Lacy tree ferns towered man-high; mosses muffled almost every available surface…. At dawn on our last day in Boquete, while the valley's surrounding mountains were still etched black against the departing night, we wandered out on our cottage deck, coffee cups in hand. Gradually a stain of pink appeared in the sky, turning golden as the sun made its way over the mountains, spotlighting first just one section of craggy peak, then another, until all of Boquete was bathed in gentle light. The call of one bird — more than seven dozen species have been spotted to date on the property — grew into a whistling, chirping, chiming morning chorus. Like Jane and Barry, we too had become smitten with the place.
LA Times, November 2002
| Back To Top |
Modern Maturity, American Association of Retired People, 2001
AARP's magazine named Boquete one of the four best locations in the world to live outside of the United States.
| Back To Top |