About Panama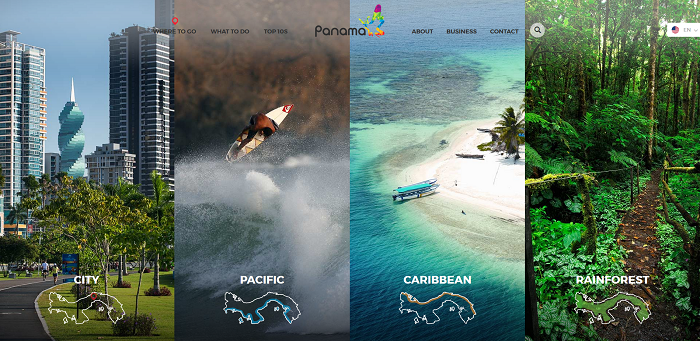 Gallup announces "Panama Leads the World in Well-being"
Panama came in first with a score 61 and the second place winner was far behind with 44.
Panama, a Country on the Move
Panama is known as the bridge to the Americas due to its geographic location linking North and South America.  The country enjoys a pivotal position in the affairs of world trade due to the Panama Canal and now is "on the move" raising eyebrows among potential new residents, investors, tourists and those in the know.
Listed number one on the New York Times' list "The 45 Places to Go in 2012," Panama has emerged as one of the prime up and coming tourist destinations in the world.  Cultural richness combined with natural wonders, rainforests, beautiful mountain communities, a thriving metropolis and long coastlines both Carribean and Pacific provide outstanding experiences for the traveler or new resident.  And the residents are pouring in whether they are employees of the scores of multinational companies setting up new regional headquarters or the many new retirees seeking an exciting life in a stable and gorgeous country eager to receive them.
Hundreds of new skyscrapers grace the capitol city while Panama enjoys a scorching economic growth rate of over projected to be at least 6.5% – 7% in 2014. And the trend is not fleeting. Panama is exhibiting a long-term sustained average annual growth rate of over 7% over the past 10 years despite the worldwide recession. Investor's rating services such as Moody's, Fitch and Standard and Poor's have taken note; all recently moved Panama's rating into "investment grade" status.  A new Free Trade Agreement with the United States that took effect in October, 2012 along with other trade agreements brighten the prospects further.  New airports and airport expansions, The Panama Canal $5 billion expansion, and countless infrastructure development projects have boosted Panama's status in the eyes of the world providing new opportunities and a better life for Panama's people.
And Panama's people are already among the world's happiest.  Gallup released the findings in December, 2012 –After surveys of over 1,000 people in each of 148 countries (approximately 150,000 people), Panamanians were been found to be the happiest people in the world.
And again… Gallup announces "Panama Leads the World in Well-being" in 2014. Panama came in first with a score 61 and the second place winner was far behind with 44.
For those considering relocation, retirement, or a second home in the tropics, Panama is a great option.  Citing great weather, low crime rates, retiree benefit discount programs, the low cost and high quality of living among other factors, a recent BusinessWeek cover article declared "Panama, the New Florida" (see an excerpt below).  Panama encourages investment from outside the country. Those interested in purchasing homes or property need not have any special visa or resident status and visitors from other countries who own property have the same property rights as Panamanians.
It's Amazing How Many #1 and Top Distinctions Panama Enjoys  – Click here for the list
From the New York Times article "The 45 Places to Go in 2012":
"It's been 12 years since Panama regained control of its canal, and the country's economy is booming. Cranes stalk the skyline of the capital, Panama City, where high-rises sprout one after the next and immigrants arrive daily from around the world. Among those who have landed en masse in recent years are American expatriates and investors, who have banked on Panamanian real estate by building hotels and buying retirement homes. The passage of the United States-Panama free trade agreement in October is expected to accelerate this international exchange of people and dollars (the countries use the same currency).
Among the notable development projects is the Panama Canal itself, which is in the early stages of a multibillion-dollar expansion. The project will widen and deepen the existing canal and add two locks, doubling the canal's cargo capacity. For those who want to see the waterway as it was originally designed, now is the time. The expansion is expected to be completed by 2014, the canal's 100-year anniversary.
Other high-profile projects include the construction of three firsts: The Panamera, the first Waldorf Astoria hotel in Latin America (set to open in June 2012); the Trump Ocean Club, the region's tallest building, which opened last summer; and Frank Gehry's first Latin American design, the BioMuseo, a natural history museum scheduled to open in early 2013. Even Panama City's famously dilapidated historic quarter, Casco Viejo, has been transformed. The neighborhood, a tangle of narrow streets, centuries-old houses and neo-colonial government buildings, was designated a Unesco World Heritage site in 1997 and is now a trendy arts district with galleries, coffeehouses, street musicians and some of the city's most stylish restaurants and boutique hotels…."
From the BusinessWeek, July 2009 Cover Story: "Retirement: Why Panama Is the New Florida"
"Prospective retirees: Panama wants you. The pitch? A plane ride just 21/2 hours from Miami enables the newly poor to swap a wretched retirement in the U.S. for one befitting a royal in the balmy Central American nation. Cash out! Emigrate! Feel rich! Panama—the new Florida. Spin aside, Panama is increasingly popular among retirement-age types looking to hedge against—or skip out on—the recession. The Migration Policy Institute, a Washington-based think tank that studies the movement of people around the world, says the chief factors prodding professional-class Americans to flock to Panama include its First World health care available at Third World prices and the country's pensioner program, which offers some of the deepest retiree discounts in Latin America. Seniors get up to half off on nearly everything, including movies, motels, doctors' visits, plane tickets, professional services, and electric bills. Expats also pay no tax in Panama on foreign income. Nor are they required to pay property tax for the first 20 years. The fact that a luxe beachfront manse can be had for the same price as a dump in Daytona doesn't hurt, either. "We would have been looking at $3 million in Miami," says Jon Nickel of his 3,000-square-foot oceanfront penthouse in Panama City. Nickel and his wife, Gretchen, bought the place in late 2007 for $250,000, right after Nickel retired from his corporate law job in Portland, Ore., and sold the family's mortgage-free home for $800,000.MORE BANG FOR THE BUCKThe skinny isthmus—nearly all coastline, with a mountain range slicing through the middle—boasts some of the best weather and lowest crime rates in Latin America. Other draws include guilt-free conspicuous consumption, with laughably low prices—by gringo standards—on splurges such as a day of beauty ($10) and a maid ($15 a day). A complete blood workup at Panama City's gleaming new Hospital Punta Pacifica, managed by Johns Hopkins Medicine International, is $36. A checkup with a physician is $50. Boomers who say they would have had to pay roughly $1,200 a month in the U.S. for health care say they are paying roughly $800 a year for coverage in Panama. Barbara Dove, a 66-year-old who suffers from Parkinson's disease, worried that she would eventually need in-home care if her condition deteriorates. Researching rates in Seattle, she found that nurses run $25 an hour. In Panama City, where she has lived since 2007, they cost $25 a day. Says Dove: "I didn't want my kids to have to worry about me." According to a 2006 report by the Migration Policy Institute, the number of Panama visas issued to U.S. citizens began to rise dramatically after 2003, and an estimated 25,000 U.S. expatriates live there today…But Panama isn't only about the beach. The Boquete region in the mountains—Panama's answer to Boulder, Colo.—boasts loads of U.S.-style gated retirement compounds."
More about Panama's incredible  GDP growth rate and Major Infrastructure Projects
Panama is currently enjoying an annual GDP growth rate of about 7% after years of sustained expansion.  The amazing results have been sustained even through the worst of the recent world-wide recession.
This incredible pace is expected to continue due to a variety of factors such as:
New major infrastructure projects such as:
Panama Canal $5 billion Expansion with projected completion in 2014 resulting in a surge of income for the country
International airport expansions in multiple areas of the country including David, Chiriqui near Boquete, Rio Hato at the Pacific Beaches and Tocumen in Panama City.
Major highway and road projects throughout the country creating improved transit and connectivity including new roads in Panama City, a $117 million road project linking David and Boquete, a recently completed highway linking Colon and Panama City and major highway improvements near the Pacific in Los Santos and Herrera.
New Large Hospital Project and other health center/hospital construction
Prison construction and big upgrades to Panama City's Sanitation and Water Main systems
Port construction expansion projects
The new Panama City Metro subway system (about $1 billion)
Key contributors such as:
continuing double digit annual increase of foreign direct investment (2011 estimated at 2.8 billion) According to the Panamanian government Foreign Minister, each of the last 2 years has seen an increase of 25% in foreign direct investment in the country and according to the Commerce Minister, in 2012, Panama has become the largest recipient of foreign direct investment in Latin America.
rapidly increasing tourism and visitor numbers and accessibility such as more flights to international destinations (a recent example is a new direct flight to Chicago), the expansion of the Tocumen airport in Panama City, and increased cruise ship visits.
the many multinational companies establishing regional headquarters in Panama City.
new free trade agreements recently signed with the United States and other countries.
banking center activities (Panama is a leading Latin America banking center with recently upgraded investment grades).
increasing use of the free trade zones.
mining activities (including a $5-6 billion mining project in Colon Province/Inmet Cobre mine) – a huge investment in the country.
continued residential development partially from the large number of expatriates pouring into the country (including wealthy newcomers escaping Venezuela).
the possibility of oil resource development especially in Darien province is being investigated. Initial studies show there may be substantial oil in the country.
expanding hydro energy plant development well underway with wind power projects in the works
continued high-rise construction, hotel building (thousands of new rooms already in construction) with tax incentives for hotel development and general construction activities
agricultural development
medical tourism including visits to the John Hopkins affiliated hospital at Punta Pacifica
Panama has tremendous further economic development potential. For a country with a population of just 3.5 million (a smaller population than the Philadelphia metro area), the transformation underway and current economic development is astounding.
Move Over Disneyland, Panama is the World's Happiest Place
Gallup, the respected international polling organization, recently interviewed 1,000 people in each of 148 countries throughout the world to measure people's happiness with the results released in December 2012. Panama incredibly earned the distinction of the number 1 happiest place in the world.
Panama's people have a wonderful outlook on life. Panamanians are, as a group, a happy people. The warm feelings and positive emotions toward life shared by the Panamanian people are reflected in their welcoming nature toward newcomers. This positive spirit and zest for life can't help but rub off on those living among the local people.  Primarily this is about the Panamanian culture; an intrinsic characteristic that supercedes economics.  However, there is also sense of optimism in Panama buoyed by the increasing good fortune of the Panamanian people.  With a booming economy, improvements in infrastructure, low unemployment and increasing wages, the people have additional reasons to feel good about their lives.  That forward motion can be felt throughout Panama and likely adds to the already good feelings.
Top image from VisitPanama.com