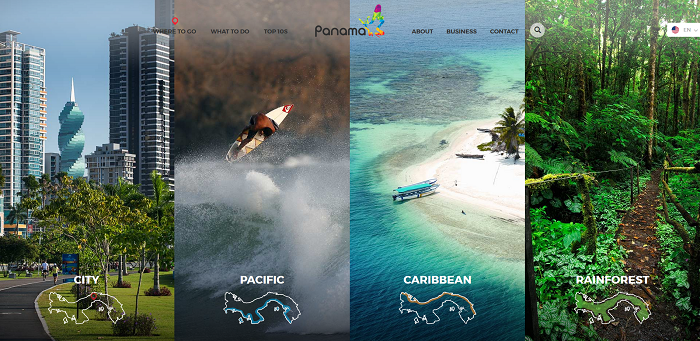 Gallup:"Panama Leads the World in Well-being"
Panama, a Country on the Move
Panama is known as the bridge to the Americas due to its geographic location linking North and South America. The country enjoys a pivotal position in the affairs of world trade due to the Panama Canal and now is "on the move" raising eyebrows among potential new residents, investors, tourists and those in the know.
Acclaimed as "the Place to Go" and consistently ranked a #1 destination by countless high-profile publications and organizations, Panama has emerged as one of the prime tourist, retiree and expat destinations in the world. Cultural richness combined with natural wonders, rainforests, beautiful mountain communities, a thriving metropolis and long coastlines both Carribean and Pacific provide outstanding experiences for the traveler or new resident. And the residents are pouring in whether they are employees of the scores of multinational companies setting up new regional headquarters or the many new retirees seeking an exciting life in a stable and gorgeous country eager to receive them.
Hundreds of new skyscrapers grace the capitol city while Panama continues to be one of the leading countries of Latin America in economic growth. From 2014 to 2019, Panama "was growing at four times the regional average" resulting in "high income status" according to the World Bank. "GDP grew by 15.3% in 2021" and Panama is poised to see continued economic strength with GDP growth "expected to stabilize at 5%." New airports and airport expansions, The Panama Canal's ongoing success after it's $5 billion expansion, and countless infrastructure development projects have boosted Panama's status in the eyes of the world providing new opportunities and a better life for Panama's people.
And Panama's people are already among the world's happiest. Gallup released the happy findings – After surveys of over 1,000 people in each of 148 countries (approximately 150,000 people), Panamanians were found to be the happiest people in the world.
For those considering relocation, retirement, or a second home in the tropics, Panama is a great option. Panama's great weather, excellent infrastructure, retiree benefit discount programs, the low cost and high quality of living among other factors make Panama an excellent choice; usually #1 in international rankings for expats. Panama encourages investment from outside the country. Those interested in purchasing homes or property need not have any special visa or resident status and visitors from other countries who own property have the same property rights as Panamanians.
Panama has tremendous further economic development potential. For a country with a population of just about 4 million, the transformation underway and current economic development is astounding.
So Many Lifestyle Options and Destinations
Panama is graced with many wonderful destination options for expats and investors.
Panama is a land of natural wonders and endless possibilities, where lush rainforests, pristine beaches, and the mighty Panama Canal come together to create a paradise for those looking to live, retire or invest. The tropical climate, with warm temperatures year-round, makes it an ideal destination for outdoor enthusiasts and nature lovers alike.
Panama City, the capital and largest city, is a modern metropolis that offers a growing expat community and an enormous range of amenities, nightlife, and tourist attractions next to the ocean. But it's not just the city that has something to offer, Panama boasts an abundance of natural wonders that are sure to take your breath away along with great places to call home. For example…
Boquete, a gorgeous mountain town in the Chiriquí province that is known for its year-round spring like weather, restaurant scene, specialty coffee that breaks auction world records, outdoor activities, and proximity to great beach destinations; where the lush green mountains and cascading waterfalls make it a hiker's paradise. The New York Times even named Boquete one of its 52 places to visit in the world for 2023. Boquete is known for its thriving expat community, sweet people, spas and spectacular scenery.
Volcan (& Cerro Punta), a charming mountain and farming community, next to the towering Volcan Baru and beautiful tropical forests. Volcan is known for its lower key expat community and often larger properties for the price. It is a popular destination for outdoor activities like hiking, bird watching and horseback riding.
Coronado  and the pacific beach areas near Panama City, now known as the Riviera Pacifica. The area is popular with retirees and those seeking its white sand resorts – many all-inclusive; where the warm sun and crystal-clear waters offer the perfect setting for an exciting and rejuvenating place to live. The area is within one and half hours from Panama City,
The Pacific Beaches of Chiriqui where you can choose from island paradises, long sandy beaches and sweet tranquility. Places like  Las Lajas, Boca Chica, Puerto Armuelles and the Las Olas Resort Community at La Barqueta have been attracting people from all over the world who seek less density and a variety of such pretty beach communities, each with its own special characteristics.
David, the capital of Chiriqui province, and Panama's third largest city. It is modern with a growing expat community, great healthcare facilities and a wide range of amenities. David's low cost of living, city resources and proximity to popular destinations like the Pacific beaches, Boquete and Volcan make it the option of choice for many.
The Azuero Pennisula, a rapidly growing region gaining worldwide attention known as a surfer's paradise and the place to be. Its stunning white sand beaches crystal clear waters have been bringing those seeking great waves and a laid-back vibe. Places like Cambutal, Pedasi and Playa Venao are leading the way.
Bocas del Toro, an archipelago of beautiful Caribbean islands, is a popular destination for expats looking for a tropical paradise. It's been called by some "Key West from the 50's." Known for its snorkeling, resorts and island adventures, Bocas del Toro is well established as a Caribbean wonderland.
These are just a few of the many spectacular places to choose from for your new home and lifestyle in Panama. Come take a look.
Move Over Disneyland, Panama is the World's Happiest Place
Gallup, the respected international polling organization, recently interviewed 1,000 people in each of 148 countries throughout the world to measure people's happiness. Panama incredibly earned the distinction of the number 1 happiest place in the world.
Panama's people have a wonderful outlook on life. Panamanians are, as a group, a happy people. The warm feelings and positive emotions toward life shared by the Panamanian people are reflected in their welcoming nature toward newcomers. This positive spirit and zest for life can't help but rub off on those living among the local people. Primarily this is about the Panamanian culture; an intrinsic characteristic that supercedes economics. However, there is also sense of optimism in Panama buoyed by the increasing good fortune of the Panamanian people. With a successful economy, improvements in infrastructure and increasing wages, the people have additional reasons to feel good about their lives. That forward motion can be felt throughout Panama and likely adds to the already good feelings.
Please consider Panama for your new home and investment. It is a blessed country with wonderful people; a great place to visit or call home. We would be happy to help make your purchase of a home, condominium or land in Panama a smooth and enjoyable experience. Please contact us today.