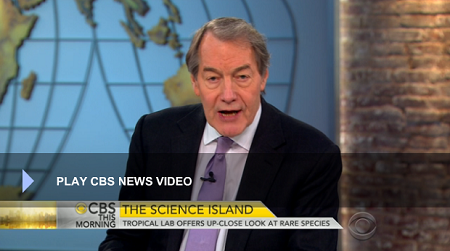 This is an example of the world just starting to discover Panama's tourist riches.
Expect to keep hearing quotes in the world media like this one this week on CBS: "On a recent trip to Panama with President Obama, we found something amazing, something the Smithsonian has been hiding in plain sight for almost 100 years… a scientific jewel of the Smithsonian Institution.
You can visit this marvel of preservation and knowledge in the middle of the Panama Canal's Gatun Lake. Tourists are welcome with advance reservations. Make reservations well ahead of your visit to the island as availability is limited and demand is high
While not far from Panama City, consider staying in magnificent Gamboa Rainforest resort for the night before your boat ride to the island.
When most of us think of the Smithsonian Institution, the first thing that comes to mind is not a Central American island reminiscent of "Jurassic Park."
But as CBS News correspondent Major Garrett reports, the Smithsonian's Barro Colorado, an island where thousands of birds, insects and amphibians are studied and preserved, has been hiding in plain sight for nearly 100 years.
Barro Colorado Island is one of the world's most important tropical research facilities and a scientific jewel of the Smithsonian Institution.
The island was created by manmade Gatun Lake, part of the water bridge between the Atlantic and Pacific Oceans in the Panama Canal. It has served no purpose other than research, attracting scientists since the first crude huts and labs were built in 1923. Nowhere on Earth is there more complete research data on tropical forests.
"You can go back into the literature and go back into the data collected by our scientific forefathers and foremothers and get the whole story," Smithsonian Tropical Research Institute director Matt Larsen said. "There are few places in the tropics that have been studied so long, so intensively."
There are howler monkeys and odd looking rodents called agoutis. In the thick forest of trees, lessons learned from the life-cycle of tree species and hillside water drainage have led to successful reforestation in other tropical forests.
It's home to trees and bees, like the electric green marvels known as euglossine orchid bees. The male variety pollinates tropical forest flowers and plants in the lower, leafy canopy. Researchers like Callum Kingwell study their mating habits by attracting males to a tea strainer filled with eucalyptus oil.
"These guys are trying to get perfume so that they can attract females, like covering yourself profusely with Axe body spray would be what these guys are trying to do," Kingwell said.
The island, only six square miles, is home to 1,400 plant species and more than 100 types of mammals.
There's also 1,400 visiting scientists and students who come each year from around the world, like Tom Bradfer Lawrence from the United Kingdom.
"What I do is I climb the tree and I survey the birds from the top of the tree," Lawrence, who researches avian habitats and behavior, said. "We see the rates at which the different types of species colonize the forest," Lawrence said.
The Smithsonian also conducts research in and around Panama City where there are sloths, giant lizards, nesting birds, butterflies and frogs — endangered frogs, threatened by a fungus that has eradicated dozens of frog species for the past 20 years. By isolating these frogs, scientists hope to rebuild their numbers and help them dodge extinction.
The Smithsonian has what scientists need: an untouched preserve with decades of continuous research — numbers, observations, measurements and a place to find answers.
"Understanding our environment is increasingly important because as humans dominate our planet, we need to be able to manage all of our resources," Larsen said."