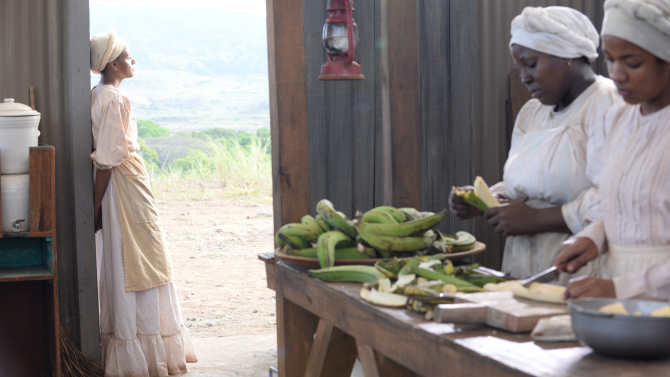 Panama's rapid development is not just economic. The modernization of Panama's rich culture is bringing Panama to the world. In this case, Panama's film industry is seeing a boost; this in terms of international visibility, appreciation for Panama's film festival, Panama as a great place to film TV shows and movies, and also now with a nod toward promising Panamanian film-makers. On a related note, Panama news reported that this past year showed a record surge in movie ticket sales in the country. Investments are also being made into incredible luxury theaters like those in the new Soho Mall.
Invasion,' 'Panama Canal Stories,' Primera Mirada winner 'Te Prometo Anarquia' play at the Cannes Film Market
Variety, May 17, 2015, by Christopher Pickard
Panamanians arrived in Cannes buoyed by the achievement of hosting the historic Summit of the Americas, the success of the 4th International Film Festival of Panama (IFF Panama), and real signs of growth in the country and the region's film industry. And now, for the first time, the festival is presenting three films in the Cannes Film Market with the support of the Panama Film Commission (DICINE), which is represented in Cannes by its director, Stephan Proaño.
The three films screening in the Palais over May 18-20 are "Invasion," which became Panama's first foreign-language Oscar submission: "Panama Canal Stories" ("Historias del Canal"); and "Te prometo anarquía" a film from Guatemalan director Julio Hernández-Cordón that won the IFF Panama's 1st Primera Mirada for works-in-progress.
"Invasion" and "Panama Canal Stories," along with "Breaking the Wave" ("Rompiendo la ola") and "Reinas," were the four local productions that made a mark commercially at the Panamanian box office in 2014. The films, according to the Panama Film Commission, are four of 13 features to be produced in Panama since 2012, and that compares with just three local productions completed between 2007 and 2012 and two between 2001 and 2007.
"Being able to take part in the Cannes, with the support of the Panama Film Commission, is a source of great satisfaction and is a sign of the growth of the film industry in our country," says Pituka Ortega Heilbron, director of IFF Panama, and one of the five directors of "Panama Canal Stories." "Above all, it also strengthens one of principal aims of our festival which is to make it the most important platform for films from Central America and the Caribbean."
According to Rentrak's managing director for Mexico, Caribbean, Central America, Colombia and Venezuela, Luis Vargas, Central America is a region that can be considered as one country. "One big country," Vargas explains. "It is a region that is growing very, very fast because of the amount of cinemas being developed. In the past three or four years, the percentage increase in new cinemas has been at least 5% per year. A very good number, especially if you consider this compared to other regions of the world. It tells you that as an economy, it is a region that has potential for the future due to investment and the possibilities in this market."
The region, which is estimated to have a combined population of around 43 million, 3.6 million of which are in Panama, is also undergoing consolidation and modernization, with old theaters making way for new, and many existing screens being digitalized and fitted with better, more modern and comfortable seats, all of which has helped the growth of admissions and grosses.
In 2014, according to Rentrak, Central American cinemas grossed $107,184,606, up from $104,553,755 in 2013 and $ 94,814,293 in 2012: growth of about 13% in two years. The three biggest markets in the region are currently Costa Rica, Panama and Guatemala. In terms of genre, the big three across the region remain comedy, family and action while, as in much of the rest of the world, demand for 3D is on the decline.
As far as IFF Panama is concerned, both Ortega Heilbron and Diana Sanchez, its artistic director, still regard the festival as a work in progress and say they are committed to keeping the friendly festival to a manageable size and length (just seven days) within the existing infrastructure of Panama City and the Casco Viejo, the city's old quarter
"When we reach a point of perfection with the existing festival structure, then we can consider growing," says Ortega Heilbron. "For now we wish to consolidate our position and build as a catalyst and a hub for the cinema of the region."
In April 2015 IFF Panama screened a total of 73 films across seven venues, which included three world premiers and ten Latin American premiers, and saw a 30% increase year-on-year in admission to 28,624 in 2015.
According to Sanchez, the Cannes screenings, and the participation of IFF Panama, is important. "It can help to turn international market eyes towards this new and rich cinema that the region produces, and towards this festival that promotes it," she says. "The positive effects will be felt shortly in the continuing development of the local film industry.""