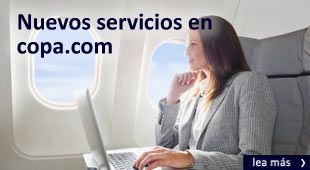 Another reason for Panamanians to be Happy.
The Panamanian airline is first in profitability among all major airlines worldwide. Have you flown Copa lately? It is a pleasure. More meals, new planes, comfortable seats, friendly flight attendants…. and the most profit? Expect this Panamanian airline to Panama to keep growing and growing. Also watch while they consistently add international flights to Panama. That new huge terminal under construction in Panama City will be full of planes in no time.
Panama's Copa, U.S.'s Spirit are most profitable airlines -magazine 9/22/14 by Jeffrey Dastin
(Reuters) – Panama's Copa Airlines and U.S. low-cost carriers Spirit and Allegiant are the three most profitable carriers in the world by operating margin, respectively, according to a ranking of 75 companies published Monday by Airline Weekly.
Budget carriers claimed six of the top 15 spots, which suggests that their no-frills strategy is paying off as travelers hunt for the lowest fares. U.S. legacy carriers all ranked in the top half, while a number of airlines in Asia had negative income and the poorest results.
Copa kept about $0.22 of every dollar of revenue for the year ending June 2014, according to the ranking. Spirit kept about $0.18 while Allegiant kept about $0.16 – both more than triple United Airline's margin of about $0.05, which stuck the carrier in 34th place.
Delta ranked 11th, Southwest came in at 14thand American – the world's largest airline by passenger traffic – ranked 15th. More at Reuters