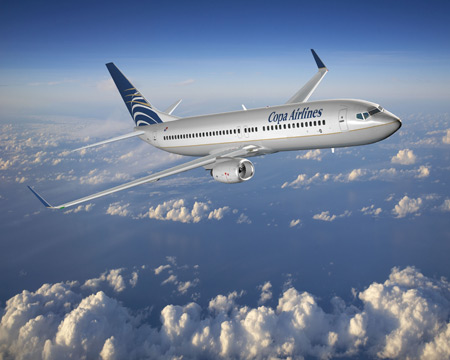 Now announced – Copa will start the flights  between
Panama City Tocumen and David, Panama on January 15, 2015. 
Schedule is:
Morning Flights
Panama City (Tocumen) to David         departs 7:55  am   arrives 8:59 am
David to Panama City (Tocumen) to David         departs 9:29 am   arrives 10:20 am
Afternoon Flights
Panama City (Tocumen) to David         departs 5:32 pm   arrives 6:36 pm
David to Panama City (Tocumen) to David         departs 7:06 pm   arrives 7:57 pm
Original Newsletter Notice sent to subscribers on
November 20, 2014:
Copa has requested approval for flights from the big international airport in Panama City, Tocumen to David. And they have asked for a whopping 14 flights a week.
The public notice is at the bottom of this page.
If approved, the result will be major for the real estate market throughout Chiriqui Province where David is located and even more powerful for high profile Boquete just 30 minutes from David.
We anticipate a successful approval as it is very unlikely that Copa would make this request without knowing the expected outcome in advance.
The real estate market in Boquete has been strong as of late. Every day, we get new clients seeking the Boquete mountain town lifestyle and the town is abuzz with foreigners from all over. Panamanians from all over the country also see Boquete as an exclusive and desirable vacation spot.  The market has been held back though due to the time and cost of reaching Boquete from the States, Canada or Europe. Most make the trip by air, but so far this has required leaving Tocumen Airport, crossing town by taxi to the smaller international airport (Marcos A. Gelabert at Albrook) and then checking in again for a short flight to David. Depending on when your international flight arrives in Tocumen sometimes it is not feasible to make a same day flight to Boquete. As a result, an overnight in Panama City can be required. In addition, there is the cost of the taxi ride plus the round trip flight to David from Albrook. Regardless, the Boquete market has done well.
Note: There has also been the less often utilized option of flying through San Jose, Costa Rica from where there are already direct flights to David and the inexpensive air conditioned buses from Panama City to David are a popular budget alternative.
Now imagine that you could buy one ticket and fly from your home city to David. You fly into Tocumen, transfer to another flight and take the half hour flight to David. Easy same day travel to Boquete achieved. Now many new buyers will have much easier access to all the wonders of Chiriqui; especially those desiring a second home or vacation residence or those who want to be able to come and go often with ease. More tourists will come too helping to fill hotels, restaurants, tours and attractions.
That makes now a great time to invest in the region.
Despite the enormous recent investment in upgrading David's international airport (over $27 million), we have long asserted that it would be a while before direct flights would come to David from the U.S. and other countries. This development is important and a key stepping stone to the inevitable.
For current flight options to 23+ destinations (mostly within Panama), check out Air Panama. Air Panama has made recent major upgrades to its fleet. Flights from David to Panama City are now only 35 minutes on Air Panama jets.