CS Recommends – Boquete Panama Hotels, Vacation Rentals & Boca Chica Too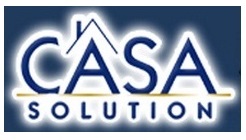 There are many more wonderful places to stay in the Boquete area. These are just a few good examples. If you have trouble reaching any of the below establishments, they are fully booked or you'd like other options, please let us know and we'll be pleased to assist you. The prices mentioned are estimates; please confirm them with the establishment.
Casa Solution specializes in the sale of homes and properties as well as long term rentals.   If you have questions about the area or you'd like to schedule a time to meet with one of our real estate consultants, please let us know or feel free to stop into one of our offices.
We would also be happy to assist you with booking any of the below accommodations for your convenience.  Just let us know your dates and preferences.
New from Casa Solution:

Highly Recommended Vacation Rental: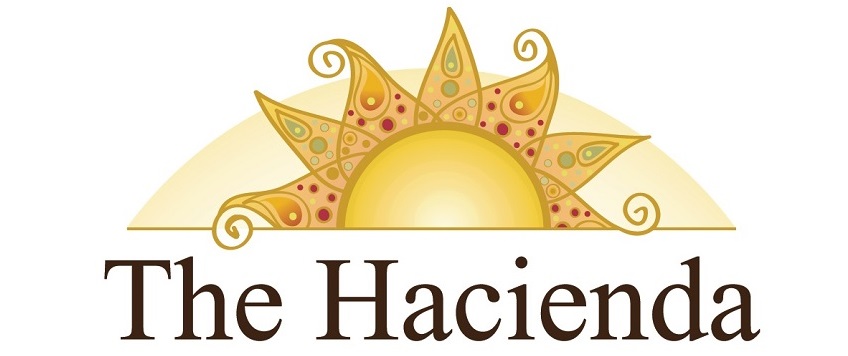 The owners are wonderful people and deeply knowledgeable about Boquete's attractions, activities, restaurants and amenities.
The Hacienda Vacation Rental – Boquete's Natural Beauty at Your Doorstep

This beautiful 3 bedroom, 3 ½ bath home is surrounded by beautiful lush gardens with ferns, orchids, bromeliads, cacti, succulents and hundreds of banana trees. There are magnificent views to the Volcan Baru and the Pacific Ocean that can be viewed from several decks and terraces.

Highly Recommended Downtown Boquete Hotel:
Hotel Ladera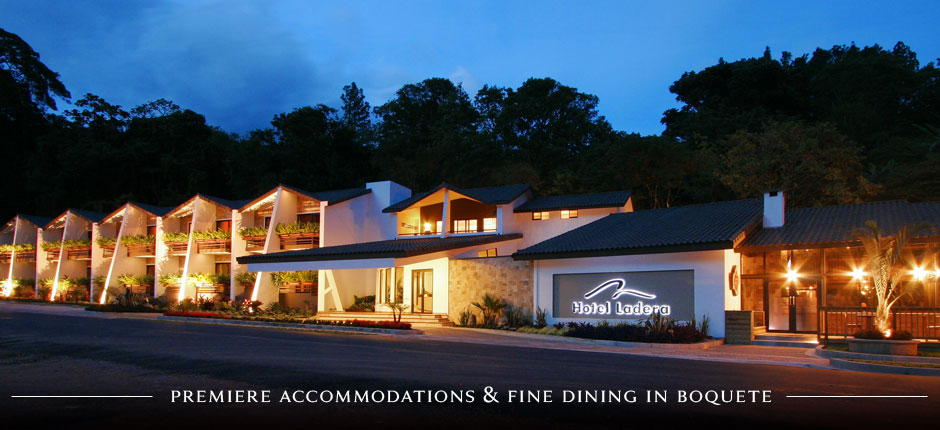 Hotel-Ladera.com
011 (507) 730-9000
www.hotel-ladera.com
Some of what we love most about Ladera Hotel in Boquete are the location, the high quality rooms, the affordability and the ambiance of the hotel.  Ladera is located a short distance from the Boquete fairgrounds making it about an easy walk into the center of downtown.  It's spot by the Palo Alto river is quiet, yet convenient.  The rooms are beautiful and very comfortable.  There is a good restaurant too.  This is a quality, affordable and convenient spot from which to enjoy Boquete.
from their website: "Hotel Ladera features a unique contemporary architecture that reflects comfort and relax. Our design does not compete with the natural environment of Boquete, but makes a contrast that highlights the best of the surrounding nature while emphasizing modern comfort."

Highly Recommended Downtown Boquete Hotel: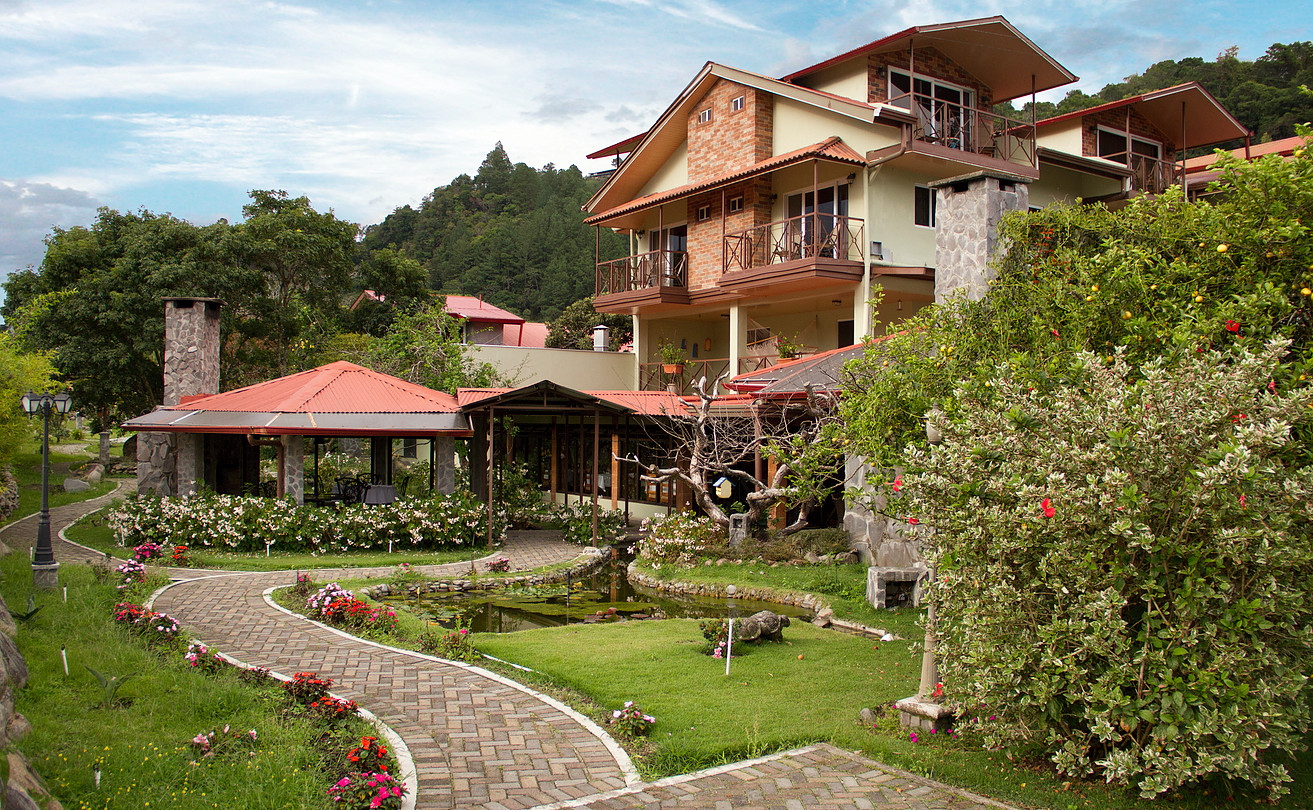 011 (507) 720-1586
On the Caldera river with a fantastic restaurant, a great value and a beautiful setting downtown next to downtown.  Less than a five minute walk to the center of downtown Boquete.
oasisboquete.com
Some of what we enjoy most about the Oasis Hotel in Boquete are the location, the beautiful, well-landscaped grounds and the amazing food in the hotel restaurant.
We recently chose to have a company dinner there.  The service is excellent.  The food quality excellent.
The Oasis provides a great value for the price.
from their website: "El Oasis Hotel & Restaurant: The Perfect Getaway in Boquete. We are El Oasis, a countryside styled hotel inspired in our mountain farm of the same name.
Our facilities have been recently upgraded and are located in the riverside of the Caldera River just 5 minutes away from downtown Boquete and next to the Fair of the Flowers and the Coffee. El Oasis offers comfortable rooms and suites for short and long stays, breathtaking views of our gardens and the mountain landscapes, and the attentive and personalized service that has made us the favorite destination of travelers seeking added value in their Boquete experience. When yo  u are back from your explorations and the many activities around Boquete, enjoy an exquisite dinner in our Restaurant in the riverside of the Caldera River."

Highly Recommended Vacation Suite Rentals: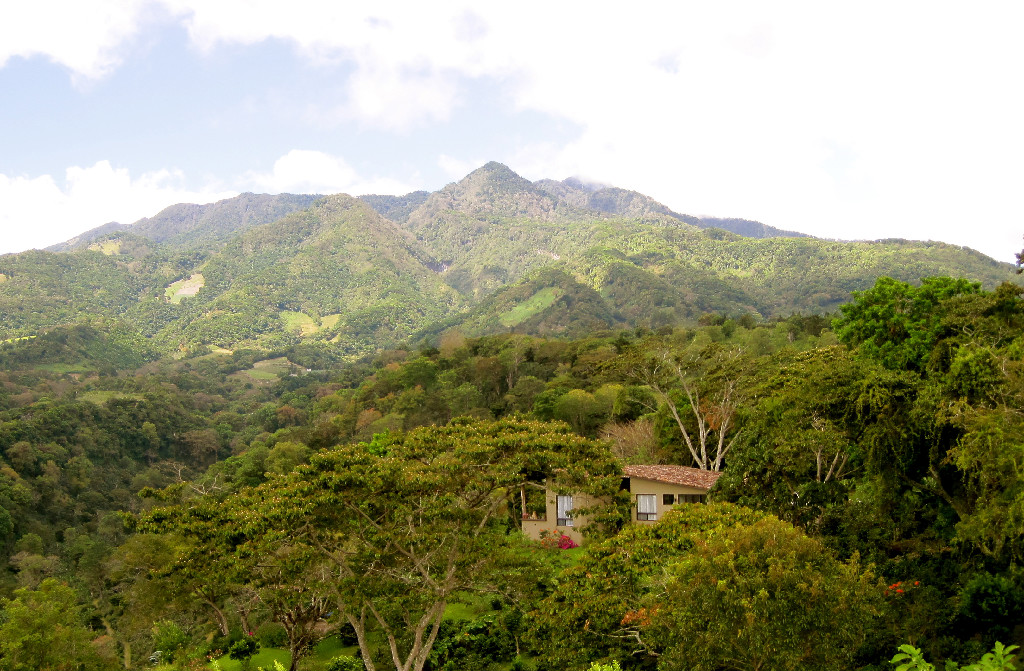 011-507-6423-2930
www.mananamadera.com
With rave reviews, only two deluxe suites and low relative pricing, book ahead for this special place to stay.  2 day minimum and 4 day maximum stay.  The place is scrumptious, gorgeous and on a quality boutique coffee farm.  The owner Randy acts like an ambassador to the area with great recommendations on regional activities for a wonderful experience.
from their website: "A Private, Serene Hideaway…Suite accommodations include peaceful, luxury room, large private bathroom with shower and spacious lounging/breakfast area, daily housekeeping, complimentary high-speed wireless internet, small fridge, coffee maker, DVD player and movie selection and exclusive use of the Ranchito. Guest Suite accommodations for two.  Rate includes a tasty, hot breakfast of your choice, prepared fresh by our chef.

Highly Recommended Boca Chica Hotel Bed and Breakfast: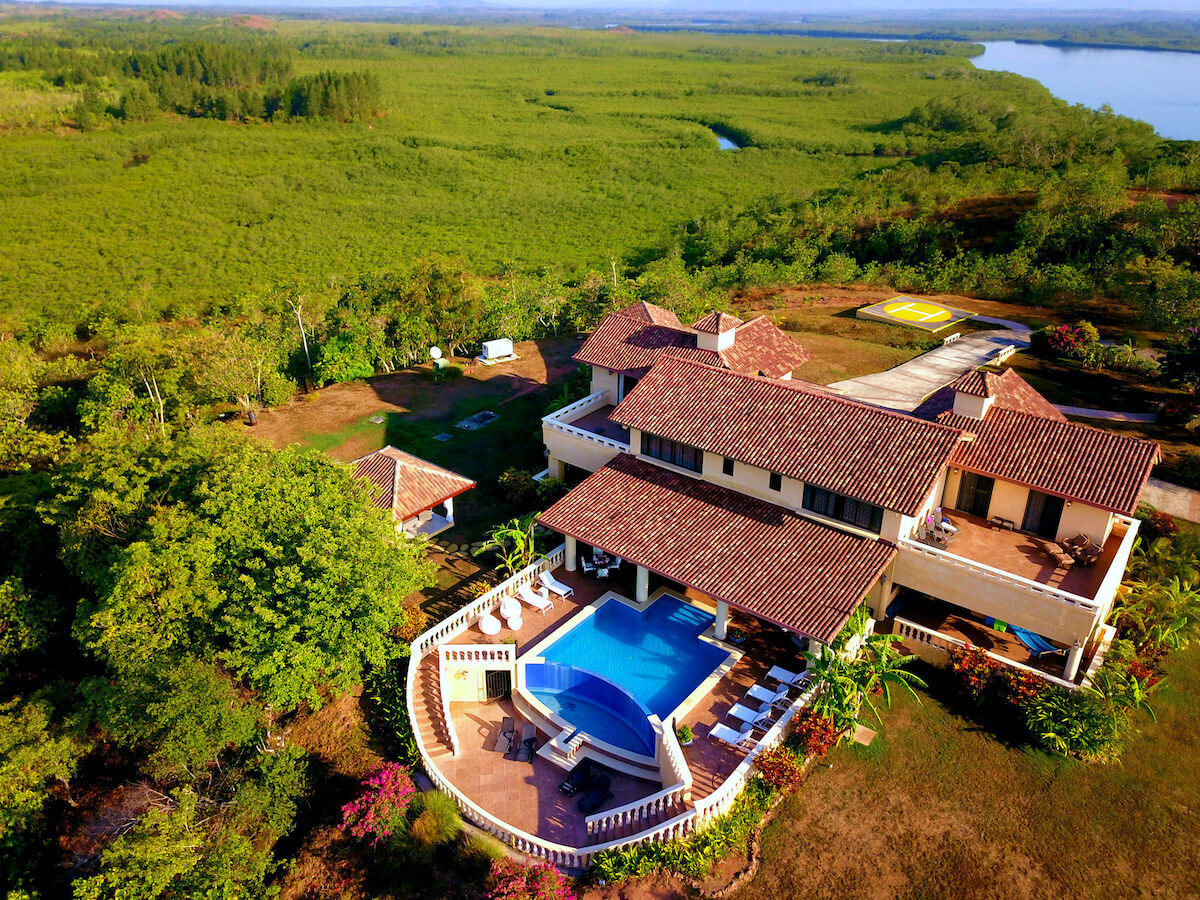 011-507-6442-7136
www.elregaloresort.com
A gorgeous place to stay and a super launching place for day trips to the private and beautiful Pacific islands.
from their website: "White and black sand beaches come together on our intimate, secluded property where the beach can be yours.  Nearby islands are perfect for exploration, picnics or a romantic escape.   … Whale watching … Our Head chef, Andre, goes out every morning to the best, fresh fish from the ocean for you to enjoy.  He and his team creates artful meals daily…. Complimentary breakfast.  El Regalo is located in the beautiful Boca Chica, Playa Hermosa area.  Located just a short 45 minutes drive from the airport in David or a 5 to 6 hour drive from Panama City where cars are easily rented."

Other Great Boquete Hotel Options: 
Downtown
Panamonte Inn and Spa
011 (507) 720-1324
http://panamonte.com
Great food and romantic setting, remodeled rooms, historic, a relaxing and classy bar, event destination
from their website: "Boquete's Host to World Travelers, Since 1914. The Panamonte Inn & Spa in Boquete is Panama's ONLY registered member of the prestigious and exclusive Small Luxury Hotels of the World. There is a good reason for this: The Panamonte Inn & Spa is a European style hotel where the ambience is elegant but unpretentious, the service is impeccable and personal, the accommodations are tasteful and comfortable, and the dining experience ranges from simply very good to fantastic. Whether you want to soak in hot volcanic springs, tour an orchid farm, visit a world class coffee finca, raft a Class 4 or 5 white water river, take a day trip to a nearby Pacific beach, or travel by zip line through the rainforest canopy, The Panamonte can arrange the eco-adventures you and your family are craving. Or, if pampering yourself with a luxurious spa experience is more to your liking, look no further than the upstairs suites, where massages, facials, and exotic and luscious skin treatments are all available, provided by The Haven Spa's professional staff. Wind down your day with a cocktail in the garden or by a crackling fire in the Fireside lounge, followed by dinner in the calm and elegant dining room, where your culinary experience is guided by the internationally renowned chef/owner, Charlie Collins."
Valle del Rio
011 (507) 720-2525
http://valledelrioboquete.com
Conventional-style high-quality hotel with restaurant along stream next to Valle Escondido resort
from their website: "Valle del Río is located in the lower part of Boquete just three minutes away from Downtown Main Street. It is the perfect place to enjoy nature, relax and still be connected to the world. Valle del Rio is the only mountain Hotel in Panama especially designed for you to enjoy the highest quality of comfort for all your business needs, living the real ecotourism or to simply relax during Holiday's. Come and enjoy delicious culinary experiences in our renowned Restaurant Café Pomodoro & The Wine Bar. Enjoy a nice bottle of wine on our beautiful Terrace in front of the River in the best Climate of Panama. Upon your arrival, you will know that you are in a very special place where you will feel at home."
A Short drive or longer walk to downtown
Casa Pedro
011 (507) 720-2402
011 (507) 6518-4378
http://www.casapedroboquete.com/
Great reviews on this home transformed into a bed and breakfast in a very beautiful location.
from their website: "Casa Pedro is a picturesque, small mid-range bed and breakfast, lodging and hostal accommodation on the outskirts of Boquete with an outdoor cottage. Situated in a picturesque plateau with stunning panoramic views of the hillside and surrounding valley, with abundant recreational and sightseeing opportunities nearby, the location of Casa Pedro is ideal for anyone looking at hostels in Panama to stay in for a great activity holiday in Boquete."
The Haven Spa
011 (507) 730-9345
http://boquetespa.com
Extensive spa, gym, racquetball and treatment rooms for massage, acupuncture on site, modern style facilities
from their website: "Our aim is to inspire health by creating a welcoming haven of beauty and tranquility that empowers you to achieve a healthier way of life. Boquete, land of fresh air, crystal mountain springs, the best coffee in the world, amazing flowers, incredible birds, beautiful rivers, and rainbows. We are a 10 minute walk from Boquete, yet set in a tranquil oasis. Relax, regenerate, get fit, have a treatment or take a coffee tour, white water rafting, mountain safari & so much more. The Haven is well known for its quality massages, deep tissue, relaxation, hot stone etc plus facials, wraps, products natural or organic from USA."
The Riverside Inn
011 (507) 720-1076
riversideinnboquete.com
High end accommodations by the Palo Alto river next to the popular The Rock restaurant
from their website: "For discerning travelers, The Riverside Inn in Boquete, offers that something special that only a personal attention to detail provides. Delight in the sounds of nature on the banks of the Palo Alto River, just minutes from the town of Boquete, Panama….Our largest and most luxurious suite offers a sophisticated luxury with fine linens and other amenities. Subtly decorated with calming colors and original works of art, you will instantly feel at home and ready to relax. The king-size canopy bed provide an incredible night's sleep on a quality Simmons mattress and 100% cotton high thread count sheets and duvet. Relax on your own private balcony that overlooks the river and has a stunning view up the valley. Enjoy the jacuzzi tub in the oversize bathroom. The Master Suite Orchidea offers and incredible river view"
Santuario Lodge Agro Hotel
011 (507) 6931-4840
Website for Santuario Lodge
On El Santuario, a sweet plateau in Boquete. Great views and a nice setting.  Very sweet staff.  A bit too far for most people to walk to town, but still close-by.
from their website: "Located in El Santuario Plateau, next to Baru Volcano, Santuario Lodge offers stunning valley views. It has both cottages and hotel rooms, all with cable TV and free Wi-Fi. The cottages each have a bedroom and a lounge, and some also have a private terrace or a kitchen. All rooms have private bathrooms with hot water. The Palo Alto River is just a couple of minutes away, while the town of Boquete can be reached in 5 a short minutes' drive."
Higher in the mountains or more remote but within 20 minute drive to downtown
Finca Lerida
011 (507) 720-2285
www.fincalerida.com
Coffee Estate and incredible forest, bird watching, Quetzal habitats, good road access, yummy breakfast, incredible views from the huge property coffee farm and forest hikes on site. A nature lover's choice. Great to visit even if you don't stay there.
from their website: "The trails of Finca Lerida are ecological paths that lead you through the coffee plantation and tropical forest of Boquete. This is the most accessible region of Chiriqui's High Lands where the beautiful Quetzal bird can be seen thanks to the conservation of the forest… At the heart of the coffee plantation, you'll find our restaurant complete with wooden deck and surrounding gardens. Imagine breakfast here…amidst flowers and hummingbirds, breathing in the fresh, clean morning air with the mountain range in the background…"
Boquete Tree Trek Mountain Resort – also known as Rio Cristal Mountain Lodge
011 (507) 720-1635
http://www.boquetetreetrek.com/
Feels remote, borders national park with dense forest, rougher road access, classy cabin style with modern amentities, jungle feel, next to zipline, with a full Kotowa coffee café in the woods, Great to visit even if you don't stay there.
from their website: "We have ensured that the accommodations here have been designed to perfectly blend with the rugged beauty of the region . Starting with the rustic log siding that makes up part of the exterior walls, the lodgings here let guests know that this hotel is in perfect harmony with nature. This is a true eco-resort, and its wonderful accommodations make that abundantly clear."
Boquete Garden Inn
011 (507) 720-2376
http://boquetegardeninn.com
Pretty setting by the Palo Alto river.  A very popular and highly rated choice.  Less than 5 minutes to downtown.
from their website: "Your unique Boquete experience…at an affordable price. With its excellent worldwide reputation, Boquete Garden Inn is unlike conventional hotels: We offer a unique experience and personalized service you would expect from a more exclusively-priced boutique hotel. Our competitive rate includes a healthy continental breakfast, wireless Internet, complimentary drink at social hour and more. Boquete Garden Inn hotel has a limited number of rooms, in cabañas nestled within some of Panama's most beautiful gardens, home to more than 70 species of birds. This unique concept creates a warm, intimate setting while offering privacy. Lovingly designed and featuring local artwork, our rooms have the amenities and comforts you expect, while still capturing—what we feel is—the essence of Boquete Panama. Boquete your way. Our friendly staff will plan your unique Boquete Panama experience with you—selecting the best Boquete tours, Chiriqui day trips and Boquete restaurants to help you value all the treasured moments you spend in Boquete. Located in the mountains of Boquete Panama, yet only a 3-minute drive to town, we may not be able to offer some of the facilities of large, franchised hotels in major cities: What Boquete Garden Inn does offer is an abundance of natural beauty in an eco-friendly setting…and much more. Escape the ordinary and share a little piece of paradise with us!"
Value or Budget,  downtown
Hostel Mamallena
011 (507) 720-1260
www.hostelsinboquete.com
A hip hostel right in the middle of downtown on the central park.
from their website: "Located in the middle of the beautiful little mountain town of Boquete, the hostel is in an old wooden hotel with heaps of character that we`ve infused with the same Hostel Mamallena atmosphere. The hostel building is big, bright and full of colour. From the moment you walk into reception you´ll feel right at home with the bright colours, friendly staff and great atmosphere. Inside we have some of the best social areas of any hostel in Boquete or Panama, a big kitchen that´s open 24 hours, a lounge and dining room with cable TV and 100s of Movies, a quiet reading area, a balcony and 2 garden areas with tables and chairs and hammocks."
Hotel Rebequet
011 (507) 720-1365
www.rebequet.com
An old style small hotel with character downtown at budget prices.
from their website: "Since 1984, travelers around the world have chosen The Rebequet and found in our hotel the perfect starting point to the many adventures, colors, aromas, flavors and sounds that you may find in the Boquete Valley and Chiriqui in general."
 We would appreciate it if you would let your hotel or vacation rental know where you found out about them on the Casa Solution website.  Also, we would also be happy to assist you with booking any of the below accommodations for your convenience.  Just let us know your dates and preferences.  Gracias.
Other Resources

Boquete is a wonderful town with great places to stay and an incredible number of high quality restaurants and other resources.  We used to keep a restaurants review, but with so many high quality new restaurants opening it seems every month, we couldn't keep it current and do the list justice.  Suffice it to say that Boquete has become a great destination for vacationers and residents who appreciate outstanding food options.