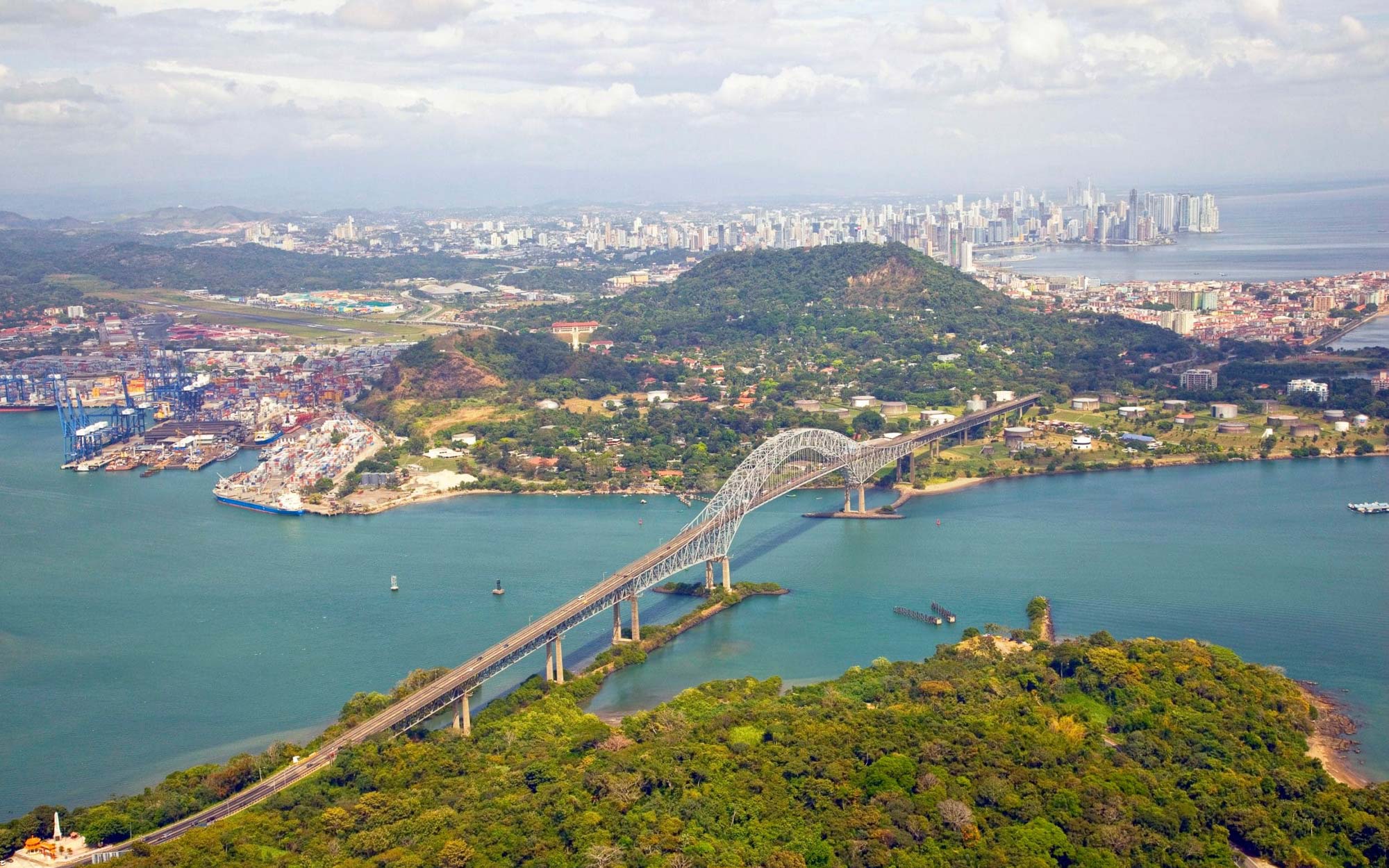 The Jewish community is thriving in Panama City, Panama. 
With over 30 kosher restaurants in Panama City, the metropolis is a model of contemporary Jewish life with multiple synagogues and schools.   Panama has even had two Jewish presidents in the 1900s.  There has been Jewish life in Panama since the 16th century when the first Jews arrived from Spain and Portugal. 
Today, Panama is home to 14,000 Jews who do not fear anti-Semitism and can live a full Jewish life with economic opportunities and political stability.   
The kosher restaurant scene in Panama is extremely diverse and international, attracting many non-Jewish customers with its appealing decor and tasty food.

The Jewish Community of Panama has a Promising and Delicious Future
"A safe place where you can live a full Jewish life.
If you want to witness a Jewish community outside the United States and Israel that not just survives, but thrives, visit Panama City, Panama. With 30 kosher restaurants, a community that is 85% kosher, with multiple synagogues and schools, Panama City is truly a model of contemporary Jewish life.


There has been Jewish life in Panama since 1501 when the first conversos arrived from Spain and Portugal. Conversos are Jews who converted to catholicism but continued to practice Judaism in secret. Even in Panama, they initially had to pretend to be Catholic to survive.
Thirty years later, a hidden synagogue was established inside a private home. Only after 1700 were Jews able to openly practice their religion. Caribbean Jews founded a reform congregation in 1876.In the 1940's, Jews fleeing Eastern Europe and Syria arrived and created their own separate congregations and synagogues. Today the Syrians comprise the majority of Panamanian Jews. More recently, the 1990's and 2000's brought Jews to Panama from Colombia, Venezuela and Argentina due to political and economical unrest in their countries.
Today, Jewish presence in Panama is 14,000 people strong as well as safe. Panama has had two Jewish presidents in the twentieth century. Panamanian Jews do not fear antisemitism; Jewish people are comfortable wearing kippot and other garb identifying them as Jews. Unlike in many Jewish communities in Latin America, young Jewish people return home after attending university abroad. They know that they can live a full Jewish life in Panama with economic opportunities and political stability. Most Jews in Panama are traditional and about 85 percent of households keep kosher.
There are currently over 30 kosher restaurants in Panama City. I asked Ezra Cohen, Executive Director of the Jewish Community in Panama, to explain this marvel. Ezra explained that Rabbi David Peretz arrived in Panama eight years ago with a goal to create a hashgacha, kosher certification, that would be recognized around the kosher world. Rabbi Peretz worked with rabbis in Israel and the United States to create high standards that would meet all of their approval. Ezra said that "the goal of community leaders is to make it easier to be kosher than non-kosher."
Panama City currently has the largest kosher supermarket in the world. Ezra Cohen is also the brainchild behind the first Kosher Fest, which I attended. It featured tastings by most of the kosher restaurants and companies around the city, with activities for children, a concert and Jewish prayers services throughout the day. It was scheduled during the American yeshiva week holiday and attracted thousands of observant travelers. The highlight was a chicken tamale from the Chief restaurant.
The flourishing kosher restaurant scene was also influenced by people seeking job opportunities; Rabbi Peretz told them that if they opened restaurants and met his stringent standards, they would be certified kosher. Once again, the goal was to make it easy for community members to be kosher. After a few people opened successful restaurants that many deemed better than existing kosher restaurants, other community members opened more. What is extraordinary about the kosher restaurant scene in Panama is that the food and decor is typically so appealing that non Jews eat in them too.
Although the community is largely Syrian, the restaurant choices are extremely diverse and international. The best kosher restaurant is Blame Kiki, which is also considered one of the best in general in Panama City. The decor is stunning and chic with walls of greenery and ceilings covered with pink flowers and blossoms, and pink and green chairs to complete the garden vibe. The extensive menu leans towards Italian with other local-influenced fish dishes. Most outstanding were the pizza with vodka sauce, the creamiest cacio e pepe pasta, tuna tartare with avocado, and a snapper over rice with a lime cream sauce. Even the desserts, a pistachio cheesecake and a quatro leches cake, impressed me, a French-trained pastry chef. On some nights, after 10:00 pm, they bring in a DJ and the restaurant becomes a nightclub, something quite unusual for a kosher restaurant anywhere. Another favorite was Yoss Burger, but do not let the name convince you that this is simply a burger joint. I enjoyed a bowl of ramen soup with tofu, chicken and egg and a generous pile of noodles simmering in a tasty broth from the separate Asian menu, delicious sweet and spicy chicken wings, a roasted cauliflower and tahini salad as well as a giant mushroom burger – a beef patty with sauteed mushrooms as well as a layer of truffle mayo. The place feels like a casual sports bar, but with higher end food. It is a restaurant where every member of your family, of any age, would enjoy the food and experience. For lighter food, I would recommend Vitali, which is a restaurant after my own heart. Everything on the menu is made with natural ingredients and the offerings are mostly gluten-free. I enjoyed the perfect seared tuna and avocado salad with a passion fruit dressing for lunch one day, and an avocado toast for breakfast another day. The extensive menu includes delicious smoothies. The best coffee bar is Cafein, located in a strip mall that also features Vitali and the casual kosher cafe, Pita Pan. Among the milk options for your espresso drink is cholov yisroel, for those who follow that custom.
Another breakfast option is Jeffrey's Bakery, which has a full assortment of baked goods and cakes, and a cafe. I enjoyed a breakfast arepa sandwich, filled with eggs and cheese that was tasty, a perfectly crispy croissant and good coffee. You can also enjoy breakfast and wraps, sandwiches and salads for lunch. The kosher food infrastructure is so extraordinary that when you travel to Panama, you can arrange for kosher meals to be delivered to your hotel and to bring on excursions. On a day trip to an indigenous community accessed only by canoe, a chef/mashgiach (person who assures the food is kosher) cooked fried fish and plantains for lunch for 60 kosher travelers. I was truly sad to leave as there were still many restaurants I didn't get to try.
Now that I am in on the secret of this extraordinary Jewish community, I will definitely return. It warmed my heart to experience a city that is not only safe for Jews, but one where Jews can live full Jewish lives."