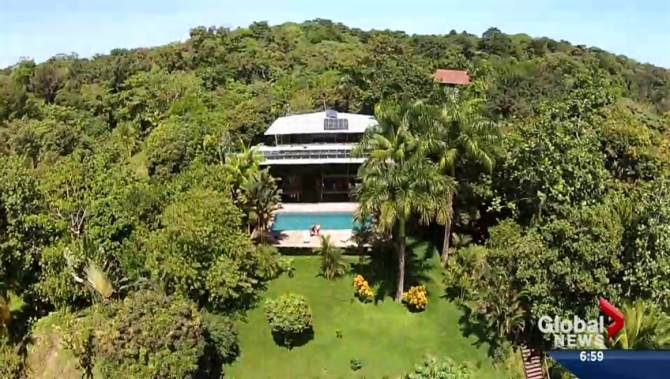 Have you ever thought about what it would be like? People spend huge parts of their lives in cubicles or small offices gazing out the window (if they have one) or staring at screen savers and calendars of tropical paradise. They think about what it would be like to live in a place like that, where the warm breezes stir your drink and the palm trees sway overhead.
Now, many are realizing that such a life is within reach. Most of them are reaching retirement and seeking the joys and adventure of life abroad. A much smaller number bravely step out of the cubicle at relatively young ages, forgoing lucrative careers to live a fuller life. Here's one of those who took a deep breath and …. This could be you.
Global News, Canaaa, May 18, 2015, By Dallas Flexhaug Anchor

Dan Adelman decided he wasn't going to let fear of failure hold him back, and made a huge change that meant walking away from a successful career in finance. Dallas Flexhaug reports.
CALGARY- Dan Adelman was a successful financial advisor until one day he decided he wanted to make a big change.
Adelman sold his house, left his job, and began traveling the world in 2010. In three and a half years, Adelman went to 41 countries. Near the end of his journey, he arrived in Panama.
"I got to Bocas del Toro by accident and I really like the area," he said.
"I emailed some of my best friends back home and I said, 'You guys all need to quit your jobs. Let's move to the Caribbean. Let's buy some land and let's do something fun.'"
Tom Oman, Adelman's best friend from middle school, was the only one who took him seriously, and took him up on the offer. They found an abandoned house in the middle of the jungle and saw its potential.
"It needed a lot of work. Keep in mind that both Tom and I never had any job to do with electricity; we weren't plumbers, we've never done construction, we've never ran a hotel, worked in a hotel, ran a bar, [or] restaurant," said Adelman. "And here we are in a country where we don't speak the language, don't know anybody, and we are on an island and we have to somehow turn this into a functioning resort."
After a number of challenges, the two men opened Bambuda Lodge in the summer of 2014.
"We have the largest solar system in the whole area. We survive on our solar, we survive on our rain water with filtered rain catch, we have our own septic systems," he said.
The lodge includes a large swimming pool and a coral reef off the dock. Adelman says there are 40 varieties of fruit growing on the property and, all the houses are made of natural wood.
"We even made the beds ourselves with wood on the property, we have a large botanical garden, trails through the jungle that are untouched…It's a really, really cool place."
Adelman's day-to-day work is very different from his life in Calgary. His former boss at Investors Group, Brian Mennis, says Dan was very successful, but knew he wanted more out of life.
"I think we were all a little envious of him, that he had the confidence to step away from it all and follow his dreams," said Mennis. "He's got something there: The ability to step out of his comfort zone time and time again. It's confidence, it's crazy, it's a lot of factors."
Life coach Cathy Anderson says she is inspired by Adelman's story, and thinks others should be, too. She teaches people to listen to their gut and go after what they want.
"Dreams can be as small or large as you want them to be," said Anderson. "Sometimes people will start small and work bigger just to test the waters because not everyone is going to move to Panama—because that's a big leap of faith—but they can start small."
She adds people shouldn't let a fear of failure hold them back.
"Not necessarily will success look how you think it will look. It may look entirely different than the way you envisioned it, and sometimes it's even better."
Watch an extended interview with financial advisor-turned-world-traveller Dan Adelman above
Adelman returns to Calgary a few times each year to visit family, but has no regrets about leaving everything behind.
"Every major decision in life I look at if I was 50 years older or 60 years older and I was looking back on my life: What decision would I rather take? And if I had never tried this long trip or started this business in Panama, maybe 50 years from now I would always be wondering what could have been. Even if I failed, it doesn't matter. At least I know the answer to the question."
Adelman says he has no plans of leaving his island paradise anytime soon. "I'm going to be there until it's no longer fun. Everything I do, I do it until it's not fun anymore. Right now it's a lot of fun, so I can't see myself leaving anytime soon.""