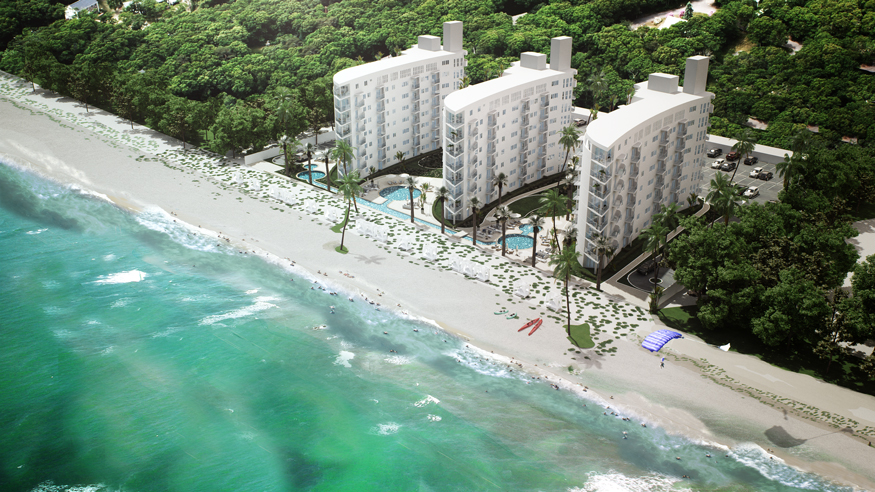 Entering a new phase of development for this pristine region of Panama is this three building condominium landmark within the Las Olas resort area.
This project begins what is sure to be a long-term trend on the highly desirable Pacific beaches of Chiriqui Panama.   Las Olas is the largest and most complete beach resort in the region.  It is less than 30 minutes from David, Panama's third largest city.  Previously, Las Olas had some three story condo buildings. This condo is located in a new much larger apartment development within the same area.  The buildings have 24 hour security.
The first of three condos is already completed and ready to occupy.
More La Barqueta Las Olas condos and houses for sale here.
Current pricing and availability for Las Olas Towers Building One as of May 9, 2018:
Note: $5,000 credit toward appliances currently being offered on these units from the developer. 
All units are 2 bedrooms, 2 bathrooms unless otherwise specified
UNIDADES DISPONIBLES LAS OLAS TOWER
Inmueble
PRECIO
ESTATUS
METRAJE DE LA UNIDAD
METRAJE TERRAZA / BALCON
METRAJE TOTAL
1
3 bedrooms
AP-100-000-001
183,000.00
Libre
83.47
50.72 (T)
134.19
2
AP-100-000-010
$95,275.00
Libre
46.66
11.91 (T)
58.57
3
3 Bedrooms
AP-100-100-101
173,040.00
Libre
83.67
12.98
96.65
4
AP-100-100-109
92,000.00
Libre
44.46
6.89
51.35
5
AP-100-300-307
94,000.00
Libre
43.13
3.79
46.92
5
AP-100-300-309
99,000.00
Libre
44.46
6.89
51.35
6
AP-100-400-402
92,700.00
Libre
41.46
3.79
45.25
7
AP-100-400-403
94,500.00
Libre
42.18
3.79
45.97
7
AP-100-400-405
99,225.00
Libre
42.41
3.79
46.20
8
AP-100-400-408
95,275.00
Libre
43.01
4.13
47.14
9
AP-100-400-409
102,000.00
Libre
44.46
6.89
51.35
10
AP-100-500-504
96,305.00
Libre
41.89
3.79
45.68
11
AP-100-500-505
98,000.00
Libre
42.41
3.79
46.20
12
AP-100-500-507
98,000.00
Libre
43.13
3.79
46.92
13
AP-100-500-508
102,375.00
Libre
43.01
4.13
47.14
14
AP-100-500-509
105,000.00
Libre
44.46
6.89
51.35
15
AP-100-600-604
185,325.00
Libre
42.68
40.59
83.27
16
AP-100-600-605
111,500.00
Libre
44.10
4.07
48.17
**********************
El proyecto Las Olas Towers Ocean front Playa La Barqueta, consta de tres torres, situadas frente al mar, donde todos los apartamentos contarán con Vista al Océano, además contemplan 2 y 3 recámaras, 2 baños, salón-cocina, terraza o balcón y un estacionamiento, así mismo el área social del proyecto está compuesta por garita de seguridad 24 horas, estacionamientos de visitas, grandes y amplias zonas verdes, piscina de niños, piscina de adultos, importante zona de juegos infantiles y un club de playa; donde disfrutar del sol y de la buena compañía o dejarse invadir por la belleza de un atardecer rodeado por la quietud de la naturaleza.
En los alrededores del proyecto se ubica un hotel, restaurantes, cafeterías, canchas de tenis, ríos naturales y senderos, y a tan solo 20 minutos, la Ciudad de David que alberga restaurantes internacionales, tiendas, centros comerciales, bancos y mucho más.
El óptimo aprovechamiento de los espacios centra un diseño cuidado hasta el último detalle y que resulta especialmente apreciable desde cada rincón
Las Olas Towers Ocean front Playa La Barqueta es una gran oportunidad para la provincia de Chiriquí, ya que es una opción para poder adquirir su apartamento de playa, con vista al mar al mejor precio del mercado. Una gran oportunidad de Inversión que se debe de aprovechar. No te quedes sin adquirir tu apartamento de playa, en el único proyecto de diseño y clase en CHIRIQUÍ.
Está ubicado en la provincia de Chiriquí, Distrito de Alanje, en la Playa La Barqueta.
Las Olas Towers Ocean front Playa La Barqueta es la forma más placentera de inversión y diversión, donde la belleza natural se combina con nuestro diseño pensando en el disfrute de las actividades físicas al aire libre, creando el entorno perfecto que invita a la relajación o por qué no, vivir la aventura de su vida.
Sabemos cómo quieres vivir por eso creamos Las Olas Towers Ocean front Playa La Barqueta.
Obtenga lo que siempre soñó tener, un apartamento en la playa, en un residencial FRENTE AL MAR al mejor precio del mercad