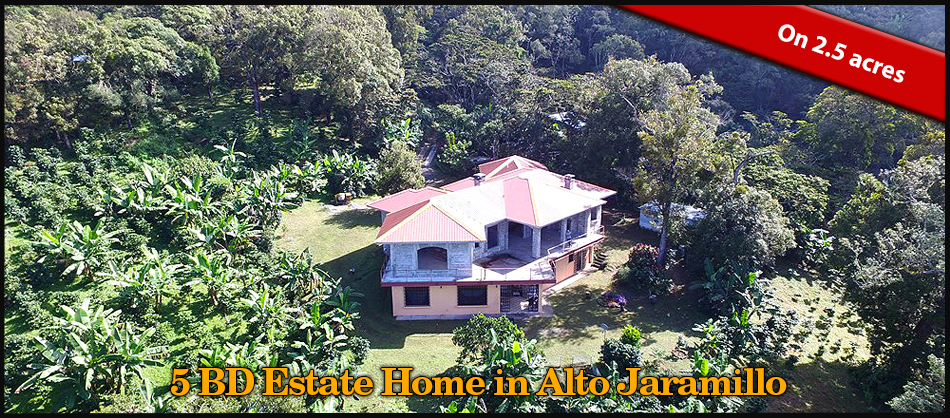 Alto Jaramillo 5 BD Estate Home in Boquete, Panama – 2 BD Downstairs Apartment Complete — Choose Your Finishes on the First Floor – Alto Jaramillo 5 BD Finca en Boquete, Panamá – 2 BD Apartamento en Planta Baja Completo – Elija sus Acabados en el Primer Piso
House Size
: 4,875.00 Sq.Ft
453.70 Sq.M
Lot Size
: 10,273 Sq.M
2.54 Acres
Location
: Jaramillo, Boquete, Panama
Property Features
: Coffee plants, Fruit Trees, Mountain View
On 2.5 acres, near the top of the paved loop road in Alto Jaramillo, Boquete is this gorgeous coffee farm property with a large unfinished house.
The home has the potential to be mind-blowingly wonderful when completed.  With 3 bedrooms and 3 baths upstairs, the house has a total of 5 bedrooms and 5 bathrooms.
The views from the upstairs are wonderful and facing both westward Baru as well as South to the ocean.
Trees and fruits on the property include Bananas, Oranges, Loquat/ Nispero, Berries, Guayaba, Mangoes,w  Guanabana, and Lemons.
The 2 bedroom downstairs apartment is finished and occupied with working utilities so it could provide your temporary residence while the home is completed to your design specifications. Later it could provide a guest quarter's, caretaker quarters or given the location and two bedrooms, could be a good second income rental unit.
The downstairs apartment is now available for rent.
Please contact Casa Solution if you would like to view this property or have questions about this Alto Jaramillo 5 BD Estate Home in Boquete, Panama.
---
Alto Jaramillo 5 BD Finca en Boquete, Panamá – 2 BD Apartamento en Planta Baja Completo – Elija sus Acabados en el Primer Piso
 En 2.5 acres, cerca de la parte superior de la carretera asfaltada en Alto Jaramillo, Boquete es esta hermosa finca de café con una gran casa sin terminar.
El hogar tiene el potencial de ser increíblemente maravilloso cuando se complete.  Con 3 dormitorios y 3 baños arriba, la casa tiene un total de 5 dormitorios y 5 baños.
Las vistas desde el piso de arriba son maravillosas y se enfrentan tanto hacia el oeste de Barú como hacia el sur hasta el océano.
Los árboles y las frutas en la propiedad incluyen plátanos, naranjas, níspero / níspero, bayas, guayaba, mangos, guanábana y limones.
El apartamento de 2 dormitorios en la planta baja está terminado y ocupado con servicios públicos para que pueda proporcionar su residencia temporal mientras la casa se completa según sus especificaciones de diseño.  Más tarde, podría proporcionar un cuarto de invitados, cuartos de cuidador o la ubicación y dos dormitorios, podría ser una buena unidad de renta de segundo ingreso.
El apartamento de abajo está ahora disponible para alquilar.
Por favor comuníquese con Casa Solution si desea visitar esta propiedad o si tiene preguntas acerca de  esta casa de Alto Jaramillo 5 BD Estate en Boquete, Panamá.