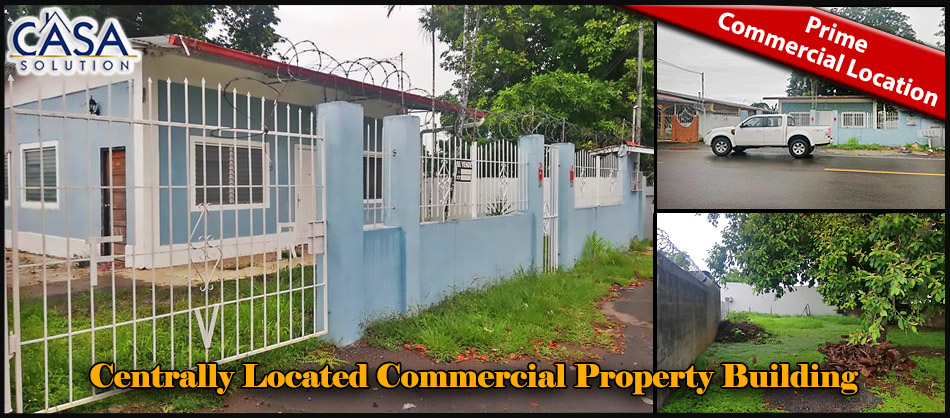 Centrally Located Commercial Property Building for Sale in Dolegita, David, Panama – Edificio Comercial de Propiedad Céntrica en Venta en Doleguita, David, Panamá
83.61 Sq.M
Lot Size
: 632 Sq.M
0.16 Acres
Location
: Doleguita, David, Panama
This property is in a prime commercial location in rapidly growing David Panama.  It is a residence which could easily become an office or business location.
The property could also host a larger commercial building, possibly with storefronts and offices downstairs and residences upstairs.
Fruit trees on the property are Mamey, Mango and Nance.
Please contact Casa Solution to learn more about or to visit this Commercial Property for Sale in Dolegita, David, Panama.
*******************
Edificio Comercial de Propiedad Céntrica en Venta en Doleguita, David, Panamá
Esta propiedad se encuentra en una ubicación comercial privilegiada en el rápido crecimiento de David Panamá.  Es una residencia que fácilmente podría convertirse en una oficina o ubicación comercial.
La propiedad también podría albergar un edificio comercial más grande, posiblemente con escaparates y oficinas en la planta baja y residencias en la planta superior.
Los árboles frutales en la propiedad son Mamey, Mango y Nance.
Por favor  comuníquese con Casa Solution si desea visitar esta propiedad o si tiene preguntas acerca de esta Propiedad Comercial en Venta en Doleguita, David, Panamá.