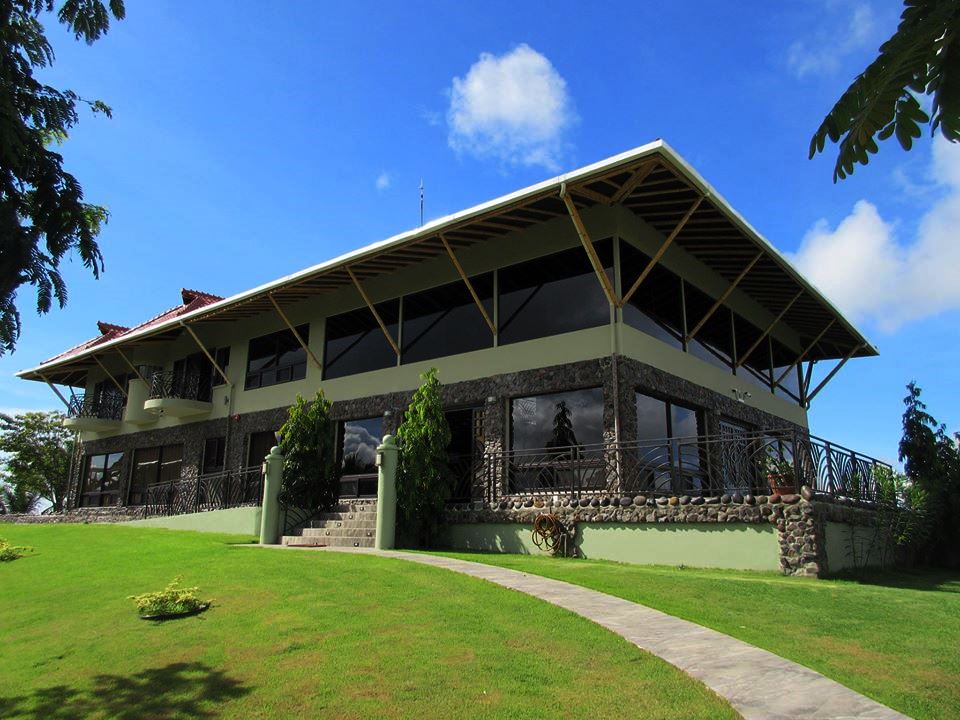 Enormous Estate with Superior Residence or Hotel on 50 Hectares with Landing Strip, Boating Facilities, Bamboo Farm & Estuary Access in Chiriqui Province, Panama
House Size
: 9,300.00 Sq.Ft
864.00 Sq.M
Lot Size
: 500,000 Sq.M
123.55 Acres
Location
: Chorcha, Pacific Beaches Chiriqui, Panama
This enormous estate offers a superior residence with a sprawling farm and estuary property in the most beautiful province of all Panama.
The entire Finca (estate or farm), is approximately 50 Hectares (5,381,955ft²) encompassing four titled contiguous properties with frontage on the deep water estuary around (3/4 mile), with a floating boat dock, a concrete boat launching ramp, solar lighting and gated entry, opening onto our 1,600 foot long STOL aircraft landing strip (dirt and grass).
There are currently 5 completed boat hangars and a plan to build 22 more. An environmental approval exists.
Six well water sources exist, 2 drilled and four hand dug, all covered with security houses and three electrified.
Growing on the finca is over 20 hectares of commercial bamboo from Dendrocalamus Asper to Guadua to several rare species near the main house. A 2000 meter bamboo treatment building is located below near the bamboo.
The main house is a mansion, considered one of the finest homes in the state of Chiriqui visited by the Governor, federal ministers in Government, Police Generals, and people of Business, Doctors and professionals.
It is built to hotel specifications and also fully fire alarms, extinguishers, signage, emergency lighting etc. for rental purposes. Rental income is between $700 to $1,000 per night. The roof is built of our treated bamboo with roof sheathing in Plycem (5/8″) and Class A roofing paper, and a metal roof in Indonesian Modern Style. Italian
Cabinetry used throughout is modern style Scavolini with European and USA highest end appliances. AC is SEER 31 in all rooms.
It also has a large office, bocci ball court, solar night lighting, and state of the art water treatment and ozonator.
There is a full sized infinity swimming pool.
There is lots of parking both under cover and outdoor.
Security cameras are installed on all exterior sides.
The main house and garage are surrounded 360 degrees by 8 foot tall cyclone fencing.  The garage has space for four vehicles under cover.
The "Club House" has 360 degree views.
There is a custom built, electrified, and lighted main gate with two keypads and remotes (Italian motor).
The Marina finca of 7.5 hectares borders the marine estuary.  It has security fencing and solar lighting along with the five boat hangers, floating dock and completed environmental study for marina, gas and diesel, hangers, repair building and more.  It also has five cleared areas accessible fronting on the estuary.
The Bamboo fincas of 25 hectares and 4 hectares have thousands of culms of mature harvestable bamboo.
The 50 hectares consists of 4 separately titled fincas:
1)            10 hectares where the main house and garage are located at the entry Titled
2)            25 hectares below parcel 1 where bamboo bodega is located Titled
3)            5.48 hectares below parcel two and fronting on the estuary (lots of manglar)  Titled
4)            7 hectares across the servi-dumbre alongside parcel 3. The marina development  Titled
Please contact Casa Solution if you would like to view this property or have questions about this Enormous Estate with Superior Residence in Chiriqui Province, Panama.