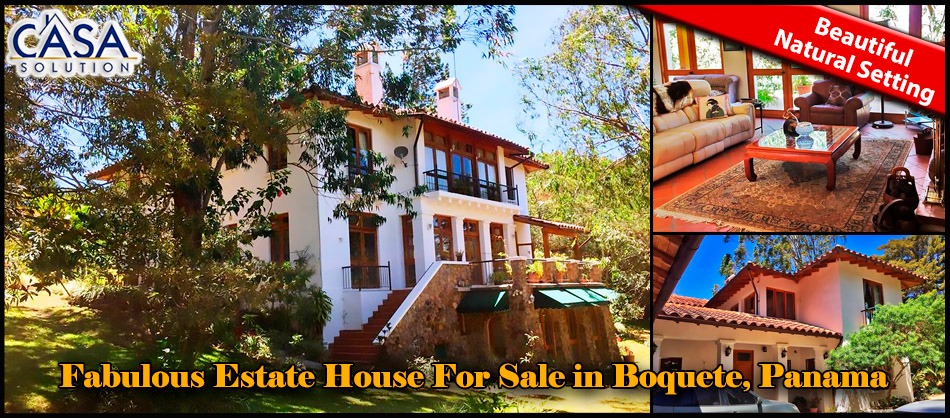 Fabulous Estate House with Guest House in Beautiful Natural Setting For Sale in Boquete, Panama
House Size
: 6,815.00 Sq.Ft
633.13 Sq.M
Lot Size
: 6,611 Sq.M
1.63 Acres
Location
: Jaramillo, Boquete, Panama
This fabulous estate house presents as a grand manor in a deeply beautiful natural setting.
It is located just 10 minutes from downtown Boquete, yet feels well removed from the hustle and bustle of the growing downtown.
The home's exterior is wonderful to look upon.  It's tasteful integration of wood trim features and pretty windows framed by white and stone make for a sense of richness and calm.   It's the ideal luxury country home.
The grounds are spacious and lovely with tall trees alongside beautiful tropical plants.
The luscious architectural design featuring classic roof tiles and double chimneys is wonderful.
Inside, the high ceilings coupled with extensive windows bring brightness to the setting.  The wood accent theme continues inside with light colored wood beams, windows and doors.  The doors invite you to gently venture once again outside to the year-round spring like weather and sparkling beauty of a well-tended forested scene.
A large stone fireplace is a great feature and useful for warming the lovely living room on cooler evenings.
The residence is spacious with lots of large rooms inviting one to breathe freely.
You enter the three level house on the middle floor.  This makes access to each level and to the primary floor easy.   The middle floor has the kichen, living room, office, patio and a bedroom with an en-suite bathroom.
The master bedroom and two guest bedrooms are upstairs.
The lower level has access from the outside of the house only.  It has its own full bathroom on that level.  This provides rental options or a sense of separation for guests or rental clients staying there.
The master bedroom is particularly expansive.  The wood ceiling is gorgeous. There is another fireplace here for your comfort and visual delight.
For the occasional warm afternoon, there is some air conditioning in the home.  Many would have no use for it though in the comfortable climate.
There is a large garage for multiple vehicles and versatile other options.
The house comes with a diesel electric generator.
The 6,611 square meter property has its own mountain spring, lush vegetation and beautiful gardens.   This sanctuary would serve well for a spa or meditation retreat.
The transferable tax exemption on this property is through August 21, 2027.
This is a wonderful home.
Please contact Casa Solution for more information or to view this Fabulous Estate House For Sale in Boquete Panama.