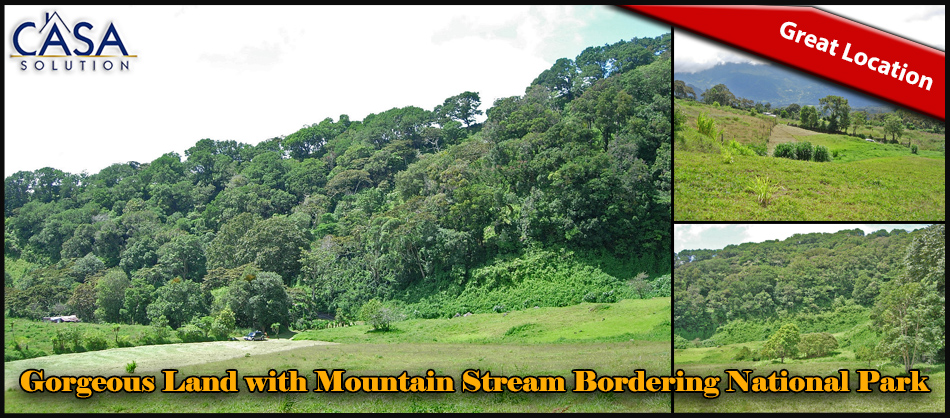 Gorgeous Land with Mountain Stream Bordering Volcan Baru National Park Very Close to Park Ranger Station Entrance – 2 Lots Offered at One Price Together
Lot Size
: 19,003 Sq.M
4.70 Acres
Location
: El Salto, Boquete, Panama
One of the most famous places in all of Panama is Volcan Baru, the majestic mountain that is Panama's highest peak.   Volcan Baru is also home to one of the most beautiful National Parks in Panama.  To reach the summit, tourists and mountaineers go up the paved El Salto area road and come to the Park ranger station.  Just a short walk from the station and adjacent to the Park boundaries are these two gorgeous lots offered together as a package.  The area here is called Camiseta, a part of high altitude Boquete just above El Salto, Boquete.
The lots boast 4.7 acres of luscious land, most of it relatively flat with a gentle grade.   The lots have wonderful views of the Talamanca mountain range.  One of them has a mountain stream running through it.
This is beautiful property and is easily accessible.  There is a short gravel road leading from the main paved road that goes to these lots for sale.
This property package is ideal for an eco retreat with multiple cabins or for a lovely home built with ecologically beneficial materials.  That there are two lots provide versatility for future sales.  One could for example build a house on one lot and cabins, another house or a guest house on the other.
The high altitude makes for great farming – coffee for example.  And enjoy the cool weather year-round.
Please contact Casa Solution for more information or to visit this Gorgeous Land with Mountain Stream Bordering Volcan Baru National Park Very Close to Park Ranger Station Entrance – 2 Lots Offered at One Price Together in Panama.