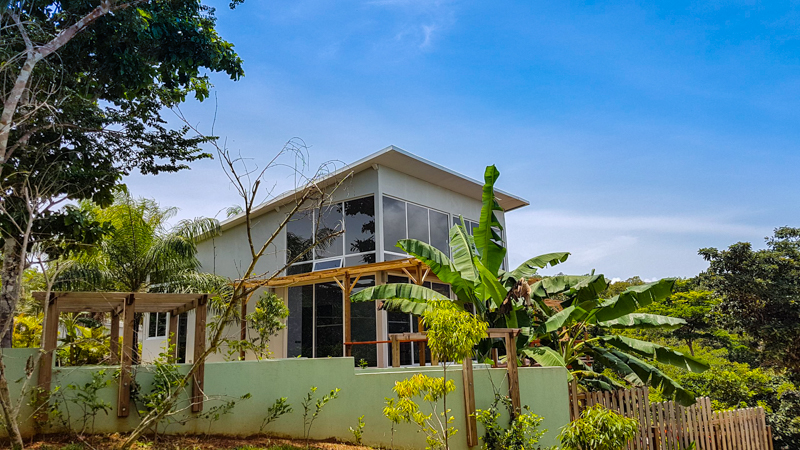 High Quality Ocean View House for Sale in Boca Brava, Boca Chica, Panama
House Size
: 2,000.00 Sq.Ft
185.81 Sq.M
Lot Size
: 1,221 Sq.M
0.30 Acres
Location
: Boca Chica, Pacific Beaches Chiriqui, Panama
Enjoy your modern tropical lifestyle in this high quality house for sale in Boca Brava, Boca Chica, Panama with an ocean view.
This 3 bedroom, 4 bath home, located on Boca Brava island in fabulous Boca Chica offers the up-to-date comforts while providing the joys of island life right outside your door.
The enormous windows and tall ceiling of the home ensure you won't miss any of the setting's many visual delights.
A large wrap-around deck further ensures enjoyment of the outdoors.
The modern kitchen is well-appointed.
The master bath is particularly stylish with pretty double bowl sinks, unique color scheme and glass enclosed shower with tall windows.
A well-placed tub between master bed and bath adds to the fun.
This house has a walk-in closet.
This home comes with the added benefit of a shared pool, social area and 2 docks.  Possibility of private dock if desired.
About Boca Chica
Boca Chica is the launching point for many Pacific Island excursions into the Gulf of Chiriqui. The best known beaches around Boca Chica are at sea on small islands where it is typical to find yourself soaking in the rays on white sand, swimming waters of perfect bath-like temperatures and snorkeling all day among scores of tropical fish species without seeing another soul on your little spot of paradise. The area is a favorite of sport fishermen and occasionally you will see a fishing boat trolling in the distance.
Boca Chica is an easy and fantasy-like island day trip from Boquete. Either sign up for a tour with transportation with one of Boquete's many tour companies or get directions for the approximately one and a half hour scenic drive to the dock at Boca Chica.
Boca Chica is the subject of much development speculation. The attractiveness of the Boca Chica region as a whole, the proximity to Costa Rica and so many unspoiled islands rich in picture postcard scenery have prompted new hotels and some residential development.
This house is one of three models already complete and for sale in this sweet enclave.  Here are the other two:
Modern 4 Bedroom Boca Brava, Panama Island Villa for Sale
Fantasy Island 2 Bedroom House with Huge Windows for Sale
Please contact Casa Solution if you would like to view this property or have questions about this High Quality Ocean View House for Sale in Boca Brava, Boca Chica, Panama.