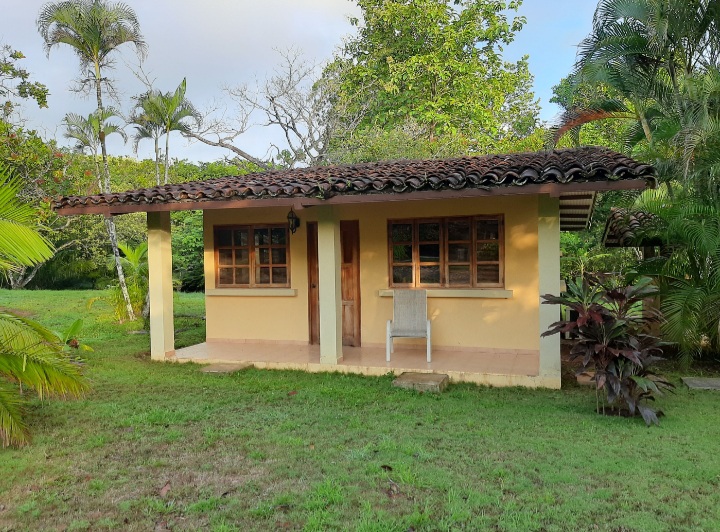 Casita De Vaqueros for Rent in Boca Chica, Panama
37.16 Sq.M
Location
: Boca Chica, Pacific Beaches Chiriqui, Panama
You can also rent 2 casitas for the price of $1,150 per month.
This is a great casita for rent in Boca Chica.  Live the unique beach lifestyle possible in this truly beautiful paradise.
This adorable cottage is air-conditioned and comes with a living room, bedroom, full bath, and kitchenette.
A short distance from the pristine sands of Playa Hermosa, and Boca Chica, Casitas de Vaqueros – Units are located in what is known locally as the valley of the moon. This one bedroom unit includes a combined living & dining area, kitchenette, bathroom & hot water shower, covered porch on the front & back, a shared laundry facility, and lots of open space & green area.
This property is located inside a gated community and a short distance from Playa Hermosa, and Boca Chica, the local hot spot.
Helicopter access is available.
Boca Chica is where you can hire a boat to Isla Bolanos, Isla Gamez, Isla Paridas, and others … all of which are awesome. You can also hire a boat to see the whales or fish off the side of the boat. You can rent Kayaks and four wheel drive vehicles in Boca Chica or from there you can go offshore fishing.
Boquete is about an hour and fifteen minute drive from here. It's up in the mountains, a big tourist area, with lots of restaurants, nightlife, and shopping.
Wildlife common to this area include monkeys, anteaters, green parrots & parakeets, neque, and conejo pintado.
With an adventurous spirit and reliable transportation you will find tons to do.
Security Deposit: $100; Cleaning Fee: $50
Also available on the same property is this larger Villa Montana Boca Chica house for rent.
Please contact Casa Solution if you would like to view this property or have questions about this House for Rent in Boca Chica, Panama.