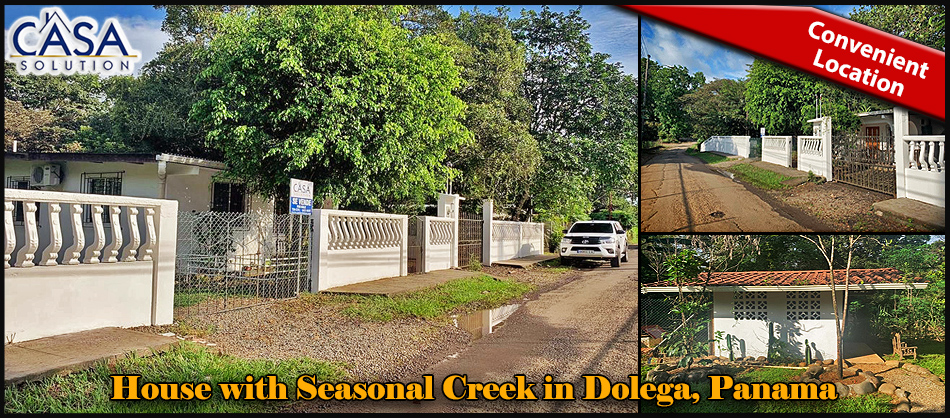 Great Deal! Price Reduction! and New Painting! House with Seasonal Creek for Sale Near Boquete in Dolega, Panama Between Boquete and David – ¡Reducción de Precio y Nueva Pintura más Nuevas Fotos! Casa con Arroyo Estacional en Venta cerca de Boquete en Dolega, Panamá entre Boquete y David
House Size
: 2,170.00 Sq.Ft
201.60 Sq.M
Lot Size
: 2,608 Sq.M
0.64 Acres
Location
: Dolega, Boquete, Panama
This house is located in Dolega, a mostly quiet and country style town between David and Boquete.  The location is extremely convenient.  Not nearly as hot as David and close enough to David for either an easy commute or for easy access to all of David's stores and amenities.
The house has a large yard ideal for having pets and a hen house.   Also, there are several fruit trees with avocados, lemons, tangerines, mangoes and bananas.
The house has 3 bedrooms and 3 bathrooms.
The living-dining room area is next to the kitchen.
In the courtyard there is a children's house with a large cage next to it for domestic animals.  It also has a storage area.
The property has an annex that can be used as a guest house, an extra bedroom or for any other purpose that you may have.
A creek is on the property.
Listed under Boquete due to proximity.
Please contact Casa Solution if you would like to view this property or have questions about this House for Sale in Dolega, Panama Between Boquete and David.

¡Reducción de Precio y Nueva Pintura más Nuevas Fotos! Casa con Arroyo Estacional en Venta cerca de Boquete en Dolega, Panamá entre Boquete y David
Esta casa está ubicada en Dolega, una ciudad principalmente tranquila y de estilo rural entre David y Boquete.  La ubicación es extremadamente conveniente.  No tan caliente como David y lo suficientemente cerca de David para un viaje diario o para acceder fácilmente a todas las tiendas y servicios de David.
La casa tiene un amplio patio ideal para tener mascotas y un gallinero.  Además, hay varios árboles frutales con aguacates, limones, mandarinas, mangos y plátanos.
La casa tiene 3 dormitorios y 3 baños.
El salón-comedor está al lado de la cocina.
En el patio hay una casa para niños con una gran jaula al lado para animales domésticos. También tiene un área de almacenamiento.
La propiedad tiene un anexo que se puede utilizar como casa de huéspedes, un dormitorio adicional o para cualquier otro propósito que pueda tener.
Un arroyo está en la propiedad.
Enumerado en Boquete debido a la proximidad.
Por favor comuníquese con Casa Solution si desea visitar esta propiedad o si tiene preguntas acerca de esta casa en Venta en Dolega, Panamá, entre Boquete y David.
Annex