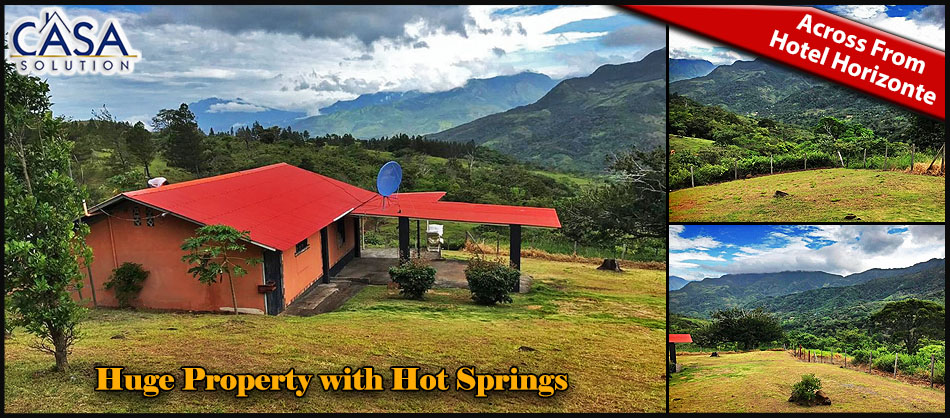 Hot Springs – Huge Property Right Across From the Big New Hotel Horizonte with Hot Springs & Casita Now For Sale
Lot Size
: 430,842 Sq.M
106.46 Acres
Location
: Gualaca, Boquete, Panama
Traveling between Boquete, Panama and Bocas del Toro, two of Panama's most beautiful and sought-after destinations, you pass high in the mountains through a graceland of properties.  Built here near Gualaca, is a grand new resort hotel and spa called the Horizonte.  It is a "build it and they will come" scenario as the impressive property is forging new ground in the area.
This property is right in front of the new resort.  Properties like this one for sale in front of the hotel are bound to see new opportunities for appreciation now that the hotel is in operation.
This property has an enormous 430,842 square meters of land.
Hot Springs – the property has its own hot springs – a potential enjoyment for you as the new owner or a tourist attraction for those passing by or staying in the hotel.
Views – The mountain views here are as big as the property.
The property already has a casita home on it.   It could be your new home, a temporary house, for caretakers or a rental.
From the Horizonte Resort website:
"At the Horizonte Resort, Hotel and Spa, health, happiness, and a pure lifestyle are encompassed in every aspect of this property. The hotel integrates natural features, with luxury rooms to maximize the view and accentuate natural lighting. We have a year around mean temperature of 75º Fah. or 23º Celsius.
One does not need A/C just the cool mountain air fresh and free from pollution!The resort is dedicated to guests' personal well-being with offerings of a first-class spa, beauty salon, exercise facilities, indoor and outdoor jacuzzi whirlpools and three swimming pools.
Further, the guests can take early morning nature hikes, horseback riding rentals are available along with ATV, UTV and Motorcycle rentals for tours in the surrounding resort grounds of 129 hectares or 322 acres of rainforest mountain terrain and on its East bordered by the River Esti and the beautiful waterfalls on the same called "The Cuatro Saltos De Gualaca" or Four Falls of Gualaca.
This perpetual nature theme is especially highlighted in the Hotel and Spa, dedicated to blending the native attributes, with rooms designed to maximize light and accentuate natural views. When it comes to Mountain getaways, not all destinations are the same. When you visit Horizonte Resort, Hotel and Spa, it is like a breath of fresh air. The Luxurious Boutique hotel will offer standard rooms, junior suites, master suites, and a pent house with a large salon for meeting rooms, weddings, banquets, quinceañeras, birthday parties, and etc. The rooms of the Hotel have stunning views of the Pacific, River Esti, Lake Esti and or the surrounding Mountains.
Horizonte Resort, Hotel and Spa will provide first class service to its patrons with availability of swimming pools, exercise area, spa with daily massages and a full service beauty salon.​
Your visit to Horizonte Resort, Hotel and Spa will be a breath of fresh air and cool temperatures. Visit us and relax in the middle of nature. We are ready to provide you with first class service so you can enjoy the comfort and attractions of this magnificent beautiful area of Bella Vista Del Mundo, (Beautiful View of the World)."
The location as described by the Horizonte Resort Hotel and Spa
"Gualaca, is our nearest town, in the Province of Chiriqui. It has service stations, Mini- supers and a medical clinic. It is only 20 minutes by car, from Horizonte Resort, Hotel & Spa. The City of David, is only 45 minutes from the resort and has restaurants, hotels, casinos, supermarkets, pharmacies, clinics and hospitals. All the comforts and needs of a modern society while residing among the cool rainforest mountains in fresh air without pollution."
Some photos below are from the neighboring resort.  They provide an idea of what can be enjoyed nearby.
Please contact Casa Solution to visit or for more information about this Huge Property Right Across From the Big New Hotel Horizonte with Hot Springs & Casita Now For Sale.