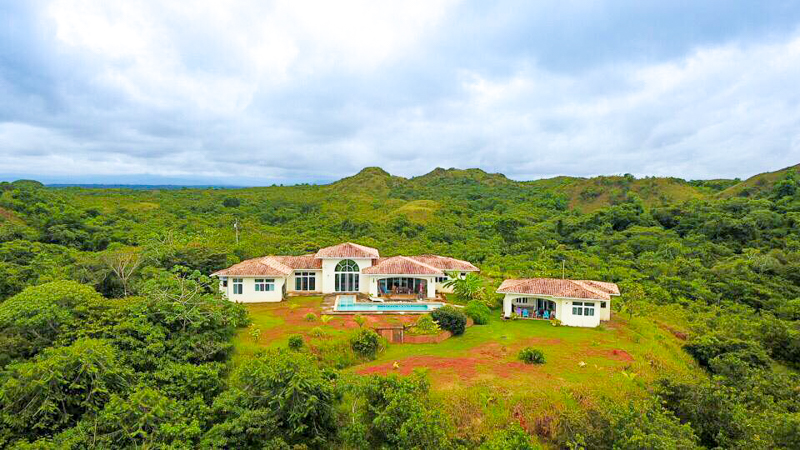 Sold by Casa Solution! Incredible Oceanfront House Plus Guest House in Playa Hermosa, Boca Chica, Panama
House Size
: 4,850.00 Sq.Ft
450.58 Sq.M
Lot Size
: 6,916 Sq.M
1.71 Acres
Location
: Boca Chica, Pacific Beaches Chiriqui, Panama
This house is sold.
For more properties currently for sale that are similar to this one, Houses for sale in the Pacific Beaches of Chiriqui from $300,000 – $800,000
We would appreciate the opportunity to be of service to you.  Please visit, call 011-507-720-1331 or email us today.
---
This is a large and impressive house plus guest house in up and coming Boca Chica, Panama.
With a large lot, an ocean view pool, and luxurious finishes, this house is primed to be one of the most incredible on the Chiriqui coast.
From the house, enjoy the fabulous islands nearby that are mostly undeveloped yet easily accessible providing the feeling of having discovered a secret everyone could discover at any moment.
Breath-taking views and a lifestyle yours for the taking.
Some stats on the property:
74.443 ft2 (6.916 m2) LAND SIZE
3.229 ft2 (300 m2) MAIN HOUSE
1.141 ft2 (106 m2) CASITA
861 ft2 ( 80 m2) POOL
474 ft2 ( 44 M2) GARAGE
MAIN HOUSE
Very open designed with ocean and mountain views.
The house has hand made cabinets/kitchen.
2 bedrooms/baths each with walk in closet ,big living/dining room/kitchen.
Marble floors all over the house and patio.
Each room has air conditioning as well as a ceiling fan.
CASITA
2 bedrooms, one bath.
Nice living/kitchen
Bedrooms have air conditioning as well as a ceiling fan.
Living room has a ceiling fan.
Marble floors all over the Casita and patio.
This one of a kind property is located in LOBSTER COVE.
Lobster Cove is a small development (approx. 10 ha.(24,7 acres) and is situated above PLAYA HERMOSA/Boca Chica, with beautiful views over the Beach, Bay and Pacific.
The region is designated by Panama as a Natural Water Preserve with 23 islands, lots of snorkeling, whale watching and beachcombing on untouched islands all at your fingertips!
One of the five best sport fishing destinations in the world!
The main house is 2 bedrooms, 2 baths.  The guest house is 2 bedrooms, 1 bath.
Appliances included.

Reducción de Precio! Increíble Casa Frente al Mar más Casa de Huéspedes en Playa Hermosa, Boca Chica, Panamá
Esta es una casa grande e impresionante, más una casa de huéspedes en Boca Chica, Panamá.
Con un gran lote, una piscina con vista al mar y lujosos acabados, esta casa está preparada para ser una de las más increíbles en la costa de Chiriquí.
Desde la casa, disfrute de las fabulosas islas cercanas que están en su mayor parte sin desarrollar pero de fácil acceso, lo que brinda la sensación de haber descubierto un secreto que todos pueden descubrir en cualquier momento.
Impresionantes vistas y un estilo de vida tuyo para tomar.
Algunas estadísticas sobre la propiedad:
74.443 pies2 (6.916 m2) TAMAÑO DEL TERRENO
3.229 pies2 (300 m2) CASA PRINCIPAL
1.141 pies2 (106 m2) CASITA
PISCINA de 861 pies2 (80 m2)
474 pies2 (44 M2) GARAJE
CASA PRINCIPAL
Muy abierto diseñado con vista al mar y montaña.
La casa tiene armarios hechos a mano / cocina.
2 dormitorios / baños cada uno con vestidor, gran salón / comedor / cocina.
Suelos de mármol en toda la casa y patio.
Cada habitación tiene aire acondicionado, así como un ventilador de techo.
CASITA
2 dormitorios, un baño.
Bonita sala de estar / cocina
Las habitaciones tienen aire acondicionado y ventilador de techo.
La sala tiene un ventilador de techo.
Suelos de mármol en toda la Casita y patio.
Esta propiedad única se encuentra en LOBSTER COVE.
Lobster Cove es un pequeño desarrollo (aprox. 10 ha. (24,7 acres) y está situado sobre PLAYA HERMOSA / Boca Chica, con hermosas vistas sobre la playa, la bahía y el Pacífico.
La región está designada por Panamá como una Reserva Natural de Agua con 23 islas, mucho snorkel, observación de ballenas y paseos por la playa en islas vírgenes, todo al alcance de tu mano.
¡Uno de los cinco mejores destinos de pesca deportiva del mundo!
La casa principal es de 2 dormitorios, 2 baños. La casa de huéspedes es de 2 dormitorios, 1 baño.
Electrodomésticos incluidos.
Por favor comuníquese con Casa Solution si desea visitar esta propiedad o si tiene preguntas acerca de esta Reducción de Precio! Increíble Casa Frente al Mar más Casa de Huéspedes en Playa Hermosa, Boca Chica, Panamá