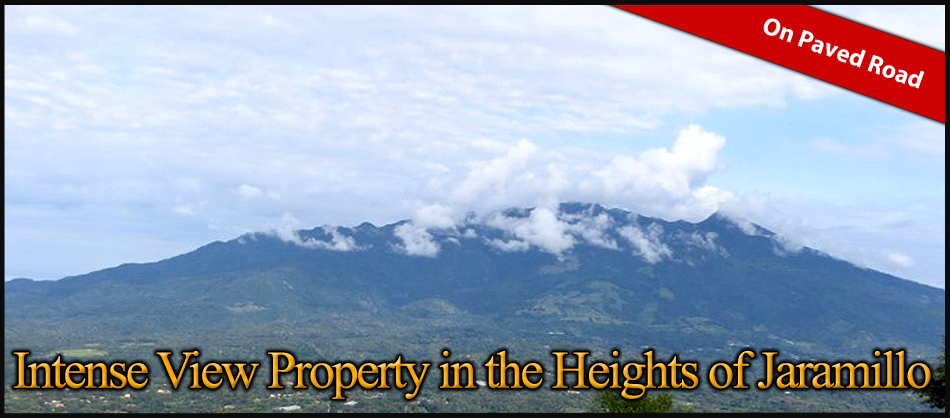 Intense View Property in the Heights of Jaramillo, Boquete – Propiedad con Vista Intensa en las Alturas de Jaramillo, Boquete
Lot Size
: 3,621 Sq.M
0.89 Acres
Location
: Jaramillo, Boquete, Panama
This is a property with a super Wow view.  It is near the top of the paved Jaramillo loop road and has an unobstructed incredible view of Volcan Baru.
This lot would make for a house site that would provide incredible views.
Next to this lot is a large and impressive house for sale. For those interested in that house, but who desire more land, this could be the solution. Across the street and a few steps away is a sweet coffee shop also with incredible views.
The property is nearly an acre and consists of two separately titled properties.
Please contact Casa Solution if you would like to view this property or have questions about this Intense View Property in the Heights of Jaramillo, Boquete in Panama.

Propiedad con Vista Intensa en las Alturas de Jaramillo, Boquete
Esta es una propiedad con una vista súper Wow.  Está cerca de la parte superior de la carretera circular pavimentada de Jaramillo y tiene una vista increíble sin obstáculos del Volcán Barú.
Este lote sería un sitio para una casa que proporcionaría vistas increíbles.
Junto a este lote se vende una casa grande e impresionante.  Para aquellos interesados en esa casa, pero que deseen más terreno, esta podría ser la solución.  Al otro lado de la calle ya unos pasos se encuentra una cafetería dulce también con vistas increíbles.
La propiedad tiene casi un acre y consta de dos propiedades tituladas por separado.
Por favor comuníquese con Casa Solution si desea visitar esta propiedad o si tiene preguntas acerca de esta  Propiedad con Vista Intensa en las Alturas de Jaramillo, Boquete en Panamá.