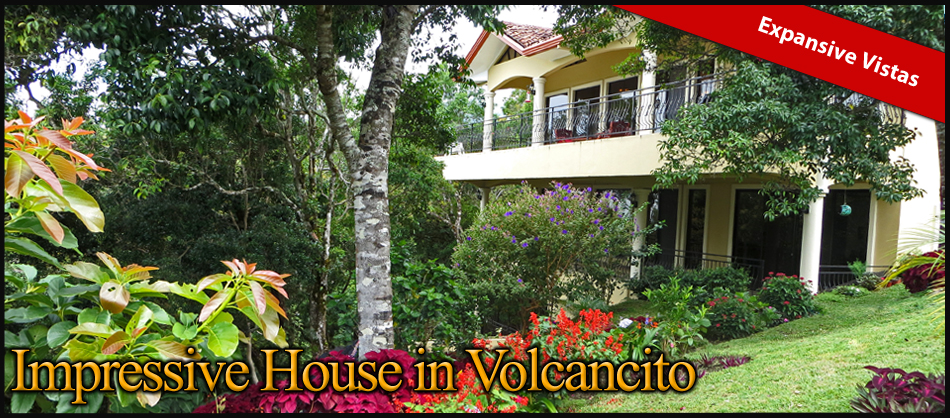 New Photos! Incredible Volcancito, Boquete, Panama Residence for Sale – Las Estrellas Del Mundo – Increíble Residencia en Venta Volcancito, Boquete, Panamá
House Size
: 6,000.00 Sq.Ft
557.42 Sq.M
Lot Size
: 1,345 Sq.M
0.33 Acres
Location
: Volcancito, Boquete, Panama
Rare opportunity to own one the most spectacular custom made properties in the highlands of western Panama, located in the Volcancito section of Boquete.
Beautiful panoramic views of the lights of David, Pacific coastline, and Vulcan Baru (Panama's highest peak) from a 4,000 ft + elevation.
Blessed with a temperate micro climate temperatures rarely vary from 65 degrees to 75 F, making air conditioning unnecessary.
Surrounded by lush vegetation, coffee plantations, exotic birds and flowers.
Easily accessible to the city of David, Pacific beaches, Enrique Malek International Airport, and the Pan-American Highway, by a new 30+ km. four lane divided highway.
Located 3.5 miles from the center of Boquete, Chiriqui, Republic of Panama, considered by many sources to be in the top 5 of the most desirable places in the world to live.
Size: approximate 6000 sq feet, built in end of 2009, corporation owned.
20 years property tax exemption
Security alarm system for all floors.
6 interior and exterior security cameras on 2 monitors
Finished attic, extra room ready to use.
Two Propane gas tanks, 3 septic tanks, two 660-gallon capacity water tanks with advanced water filtration system including UV and carbon filters, large drainage system around the house and drive way, Spanish tile roof.
Landscaped garden front and back, 3 car carport and extended driveway.
Electrified security fence around outer perimeter of the property, stone wall and lighted electronic gate and intercom on street level.
Cable Onda internet connection, TV and landline phone.
4 levels as follows:
First floor
Main bedroom with on suite full bathroom, big walk in closet, living room with stone fire   place, powder room ,(half bathroom).Large Spanish tiled kitchen with cedar custom cabinets, granite counter tops, Frigidaire appliances., large pantry.
Hard Wood floors in master bedroom, living room and dining room.
Large expansive covered outdoor terrace, fully tiled, wrapping around the house.
Second floor
Second bedroom with on suite full bathroom walk in closet, Living room surrounded by custom hard wood library, third bedroom with built in closet, and full bathroom (including bath tub)
Utility room (laundry) with more storage cabinets, GE washer and dryer, second floor extended covered terrace, tiled floors, and stair case.
Third floor
Game and bar room with half bathroom and ample storage room. Large outdoor wood deck.
Landscaped garden front and back 3 car outdoor carport and extended driveway.
Two 660 gallon water tanks, with UV water filtration systems.
Chain link security fence around outer perimeter of the property, stone wall and lighted electronic gate and intercom on street level.
5 ceiling fans, extra large, full wall picture windows on all floors.
Interior security alarm system, exterior motion sensor security lighting system
Finished attic, extra room ready to use.
Furnishings negotiable.
Please contact Casa Solution for more information or to schedule a visit to this fine residence for sale in Boquete Panama.
*******************
Increíble Residencia en venta Volcancito, Boquete, Panamá – Las Estrellas Del Mundo
Rara oportunidad de poseer una de las propiedades personalizadas más espectaculares en las tierras altas del oeste de Panamá, ubicadas en la sección Volcancito de Boquete.
Hermosas vistas panorámicas de las luces de David, la costa del Pacífico y Volcán Barú (el pico más alto de Panamá) desde una elevación de más de 4,000 pies.
Bendecido con un micro clima templado, las temperaturas rara vez varían de 65 grados a 75 F, lo que hace innecesario el aire acondicionado.
Rodeado de exuberante vegetación, cafetales, pájaros exóticos y flores.
Fácilmente accesible a la ciudad de David, las playas del Pacífico, el Aeropuerto Internacional Enrique Malek y la Carretera Panamericana, por un nuevo 30 km. Autopista dividida en cuatro carriles.
Ubicado a 3.5 millas del centro de Boquete, Chiriquí, República de Panamá, considerado por muchas fuentes como uno de los 5 mejores lugares del mundo para vivir.