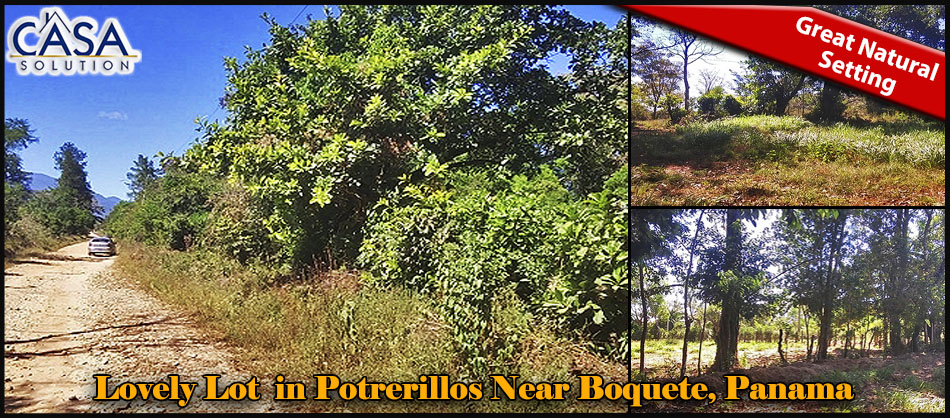 Lovely Lot for Sale in Potrerillos Near Boquete, Panama
Lot Size
: 3,000 Sq.M
0.74 Acres
Location
: Potrerillos, Boquete, Panama
This lot for sale is in an excellent location on a quiet street just 3 minutes off the main Potrerillos Abajo road providing easy access to Boquete, Volcan, David and the glorious local beaches.
It is a perfect home site for those who find Boquete a bit too cold and David too warm.  The elevation here is aproximately 700 meters over sea level.
Enjoy the rural and quiet setting while having the flexibility of accessing so many amenities within a reasonably short drive.
Want animals? You can have them here.  Chickens, goats, dogs would all prosper on this property.
About Potrerillos Arriba
The beautiful little town of Potrerillos Arriba has been a well-kept secret. Potrerillos is just a short drive away from Boquete's great restaurants and shopping. Also it is close to David, one Panama's largest cities where there are excellent restaurants, an airport, very modern hospitals, new shopping malls, theaters and a casino. It is also an easy day trip from the property to the beaches and the protected harbor of Boca Chica on the Pacific Ocean. From Boca Chica many beautiful tropical islands are within just a few minutes boat ride.
The  Ruta Sur road runs through the area of Potrerillos making this zone a central point between three key areas of Panama – Boquete, Volcan and David. The Ruta Sur is the fastest way to travel between Boquete and Volcan. This property benefits greatly from this addition as well as the highway between Boquete and David.
Please contact Casa Solution if you would like to view this land for sale or have questions about this Lovely Lot for Sale in Potrerillos Near Boquete in Panama.