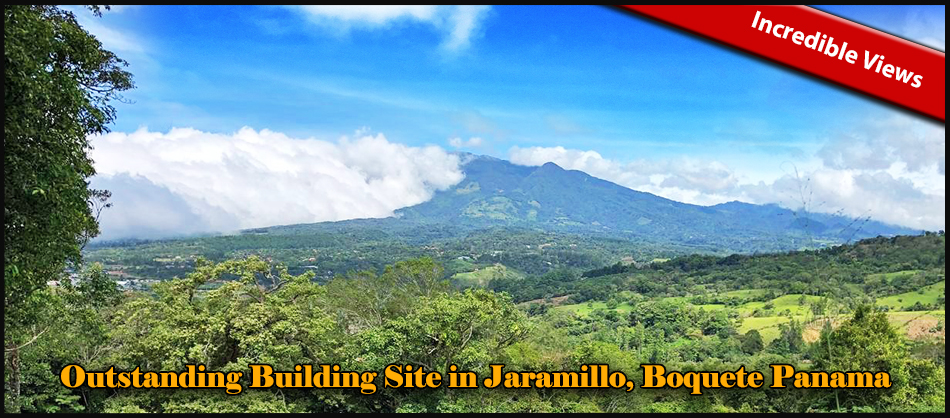 Outstanding Building Site Lot in Jaramillo, Boquete Panama for Sale Next to Montana Verde Development and Luxury Homes – Over 5,300 Square Meters!
Lot Size
: 5,370 Sq.M
1.33 Acres
Location
: Jaramillo, Boquete, Panama
This outstanding building site lot has intense views of Volcan Baru. Bordered by a stream on one side and Montana Verde development, this impressive house site is over 1.3 acres of beautiful land.  It's a lot of property for a low price.  The lot is adjacent to Montana Verde and has a quality concrete access road right up to the lot.
The lot borders a number of large quality homes so the neighborhood has already been established as quality location. This lot offers you a large house site close to Boquete at a low price.  Likely to sell soon.
More about the location:  As you ride up the road from David to Boquete, and you are about to enter the charming, high altitude, Boquete downtown, one can't help but wonder about the large group of homes up on the right with incredible views on the hillsides.
In Jaramillo 10 minutes to downtown, and surrounded by large luxury homes, this location has larger than usual home sites (3/4 acre to 1.5 acres or two sites combined for 3 acres or more) with mountain streams close to downtown in the hills above Boquete.
Please contact Casa Solution to visit this Outstanding Building Site Lot in Jaramillo, Boquete Panama for Sale Next to Montana Verde Development.
---
Sobresaliente Terreno en Venta en Jaramillo, Boquete Panamá Junto al Desarrollo de Montana Verde y Casas de lujo – ¡Más de 5,300 metros cuadrados!
Este terreno de construcción excepcional tiene vistas intensas del Volcán Barú.  Bordeado por un arroyo a un lado y el desarrollo de Montana Verde, este impresionante sitio de casa tiene más de 1.3 acres de hermosa tierra.  Es una gran cantidad de propiedad por un precio bajo.  El lote está adyacente a Montana Verde y tiene un camino de acceso de concreto de calidad hasta el lote.
El lote limita con varias casas de gran calidad, por lo que el vecindario ya se ha establecido como una ubicación de calidad.  Este lote le ofrece una casa grande cerca de Boquete a bajo precio.  Es probable que se venda pronto.
Más sobre la ubicación: mientras recorre la carretera de David a Boquete, y está a punto de ingresar al encantador centro de Boquete a gran altura, uno no puede evitar preguntarse sobre el gran grupo de casas a la derecha con increíbles vistas sobre las laderas.
En Jaramillo, a 10 minutos del centro de la ciudad y rodeado de grandes casas de lujo, esta ubicación tiene terrenos más grandes de lo habitual (3/4 acre a 1.5 acres o dos sitios combinados para 3 acres o más) con arroyos de montaña cerca del centro en las colinas de arriba.
Por favor comuníquese con Casa Solution si desea visitar esta propiedad o si tiene preguntas acerca de este Sobresaliente Lote en Venta en Jaramillo, Boquete Panamá, Junto al Desarrollo Montana Verde.