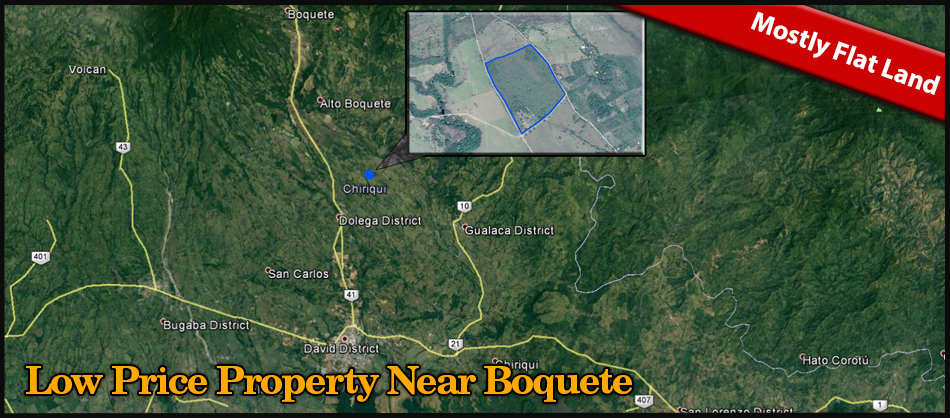 Outstanding Value Property for Sale Near Boquete and David, Panama – Over 44 Acres of Relatively Flat Land
Lot Size
: 179,364 Sq.M
44.32 Acres
Location
: Macano, Boquete, Panama
This outstanding value large property for sale near Boquete and David Panama is nearly all flat.
There is ready access to water aqueduct and electricity.  The property is a short distance from a well-paved road.
It is ideal for farming, cattle, development or a large ranch estate property.
Please contact Casa Solution for more information or to see this great property for sale in Boquete, Panama.
Buy all of this property or buy 1/2.  Note: This property was originally offered with over 50 acres; 6 acres was recently sold in 2019.
The incredible price for 22 Acres here.
*********************
Propiedad de valor excepcional en venta cerca de Boquete y David, Panamá – Más de 44 acres de terreno relativamente plano
Esta gran propiedad de valor excepcional en venta cerca de Boquete y David Panamá es casi plana.
Hay un acceso fácil al acueducto de agua y electricidad. La propiedad está a poca distancia de una carretera bien pavimentada.
Es ideal para la agricultura, el ganado, el desarrollo o una gran propiedad de rancho.
Contáctese con Casa Solution para obtener más información o para ver esta excelente propiedad en venta en Boquete, Panamá.
Compre toda esta propiedad o elija su tamaño de 5 a 44 acres.