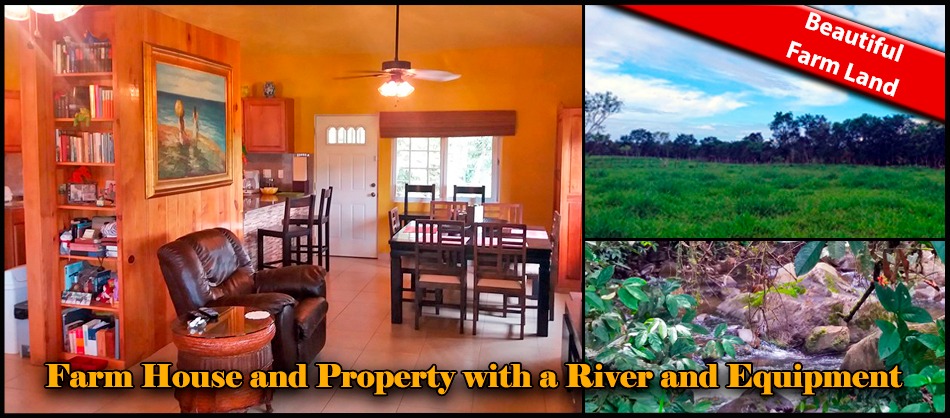 Price Reduction! Panama Farm House and Property for Sale with a River, Springs, Equipment and More – Casa de Finca y Propiedad en Venta con un Río, Equipos y Más
House Size
: 3,000.00 Sq.Ft
278.71 Sq.M
Lot Size
: 97,500 Sq.M
24.09 Acres
Location
: San Vicente, Volcan, Panama
This is truly beautiful farm land with cool weather living.
They started with a bucket, milking stool and ten cows and a can.  Now the farm is an impressive and producing Panama farm property for sale.
All of the property is newly fenced and cross fenced.  Every separate parcel is bordered by a river.
This parcel with the house and meat processing plant is available separately, but is part of a larger dairy farm that has the following features as described by the owner: There are two large rivers and 5 springs on the whole property. The property is green year round with plenty of pasture, water and rain.  The farm currently has about 150 head of cattle;  60 dairy – 50 red angus – 40 calves. The farm is being sold turnkey.  It is returning $130,000 a year but has the potential of easily 180,000  with adding more milking cows.  I add about 5 a month. We are milking 45 now with 15 in the "bull pen" and can easily handle 75 or more milking with the brand new 10 stall milking station and refrigerated holding tank.  We have refrigerated hanging for the processing of our beef cows and are sold as tender steaks.
This parcel of the farm is being sold with the following:
New one year old gringo house. 1,600 sq. feet. 2 large bedrooms – 2 baths – utility room – large great room. The kitchen has all new appliances, lots of cabinets. It comes fully furnished with 60 inch TV, Direct TV satellite from the states so you never miss any football, news, or NCIS.  BBQ grill.  The porch in the back over looks the larger river.  There are plenty of fish and fresh water shrimp.  The furniture new was about 60,000.  Internet satellite.  Air conditioned – but never used.
Pick up Truck
Meat processing plant ($4,000/month income)
Coolers and additional equipment
Listed under Volcan due to proximity. Also close to David and less than an hour to Boquete.
Ask about owner financing now available.
This is a great opportunity to have a farm in Panama.  Please contact Casa Solution for more information or for a visit.
Photos shown in gallery below are included in this parcel of the property.
**********************
Casa de Finca y propiedad en venta con un río, equipos y más
Esta es realmente una hermosa tierra de cultivo con una vida fresca.
Comenzaron con un cubo, un taburete de ordeño y diez vacas y una lata. Ahora la granja es una impresionante y productiva finca en venta en Panamá.
Toda la propiedad está cercada y vallada. Cada paquete separado está bordeado por un río.
Este paquete con la casa y la planta procesadora de carne está disponible por separado, pero es parte de una granja lechera más grande que tiene las siguientes características descritas por el propietario: Hay dos ríos grandes y 5 manantiales en toda la propiedad. La propiedad es verde durante todo el año con mucho pasto, agua y lluvia. La granja actualmente tiene alrededor de 150 cabezas de ganado; 60 lácteos – 50 angus rojos – 40 terneros. La granja se vende llave en mano. Está devolviendo $ 130,000 por año pero tiene el potencial de fácilmente 180,000 con la adición de más vacas lecheras. Agrego alrededor de 5 por mes. Estamos ordeñando ahora 45 con 15 en el "corralillo" y podemos manejar fácilmente 75 o más ordeños con la nueva estación de ordeño de 10 puestos y el tanque de almacenamiento refrigerado. Tenemos colgantes refrigerados para el procesamiento de nuestras vacas de carne y se venden como carnes tiernas.
Esta parcela de la granja se vende con lo siguiente:
Nueva casa gringo de un año. 1,600 pies cuadrados. 2 dormitorios grandes – 2 baños – lavadero – gran sala grande. La cocina tiene todos los electrodomésticos nuevos, muchos gabinetes. Viene completamente amueblado con TV de 60 pulgadas, satélite Direct TV de los estados para que nunca te pierdas ningún fútbol, ​​noticias o NCIS. Parrilla de barbacoa. El porche en la parte de atrás parece el río más grande. Hay muchos peces y camarones de agua dulce. El mobiliario nuevo era de aproximadamente 60,000. Internet satelital Aire acondicionado, pero nunca utilizado.
Camioneta
Planta de procesamiento de carne ($ 4,000 / mes de ingresos)
Enfriadores y equipo adicional
Listado bajo David debido a la proximidad. También cerca de Volcán y menos de una hora a Boquete.
Pregunte sobre el financiamiento del propietario ahora disponible.
Esta es una gran oportunidad para tener una granja en Panamá. Contáctese con Casa Solution para más información o para una visita.
Las fotos que se muestran en la galería a continuación están incluidas en esta parcela de la propiedad.