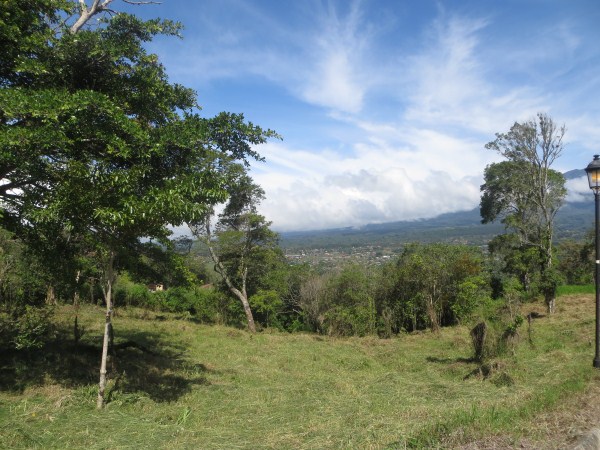 Another Property Sold by Casa Solution – Inspiring View Lot 1 in Jaramillo
Lot Size
: 3,629 Sq.M
0.90 Acres
Location
: Jaramillo, Boquete, Panama
Property Features
: Mountain View, River or Stream Along Border, Volcan Baru View
A Very Special Feature
: Price for the View
This property is sold though several other lots like this one are available in this fine community.  Casa Solution handles more property sales in the Boquete area than all other agencies combined.  We would appreciate the opportunity to be of service to you.  Please visit, call 011-507-720-1331 or email us today.
A freshly paved road finished in August 2013 suddenly comes to within a 100 yards of this development.  That makes this lot a scoop-it-up opportunity.  The lot has intense views of Volcan Baru and the Boquete Valley. Bordered by a stream on one side and a paved road in Montana Verde development on the other, this impressive house site is nearly an entire acre. It's a lot of property for a low price and the grade is gently sloped for an incredible home site.
In addition to the recently built and refined homes in Montana Verde, on the other side of the stream bordering the property there are a number of large quality homes so the neighborhood has already been established as quality location. This lot offers you a large house site close to Boquete with established infrastructure at a low price. Likely to sell soon.
More about Montana Verde
As you ride up the road from David to Boquete, and you are about to enter the charming, high altitude, Boquete downtown, one can't help but wonder about the large group of homes up on the right with incredible views on the hillsides.
In Jaramillo 10 minutes to downtown, and surrounded by large luxury homes, Montana Verde is the best choice for those who desire larger than usual home sites (3/4 acre to 1.5 acres or two sites combined for 3 acres or more) with mountain streams and completed infrastructure close to downtown in the hills above Boquete.