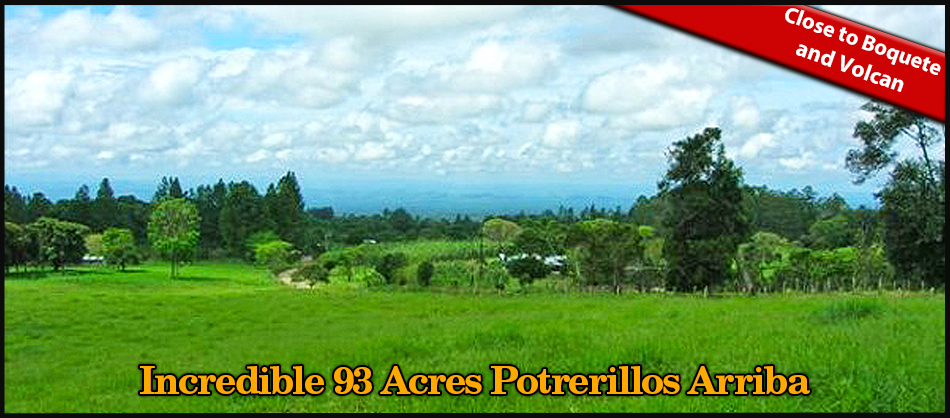 Incredible 93 Acres Potrerillos Arriba, Panama Property Close to Boquete – Buy All or a Part
Lot Size
: 380,000 Sq.M
93.90 Acres
Location
: Potrerillos, Boquete, Chiriqui, Panama
Property Features
: Mountain View, River or Stream Runs Through Property, Volcan Baru View
A Very Special Feature
: A previous approval to divide into 24 building sites
Hacienda Bella Vista is situated at an elevation of approximately 3,800 feet. The weather is very similar to Boquete and Volcan, The property has an excellent climate, wonderful views and some special characteristics making it well-suited to build a residential development or an estate home.  A portion of the property also could be used for hydroponic or greenhouse growing.
Located on the property are two canyons with beautiful tropical plants, exotic birds & butterflies, wild parrots, a stream with pools and several cascading waterfalls.
Hacienda Bella Vista has a very gentle sloping terrain and has excellent views to the majestic volcanic peak, Volcan Baru and also ocean views.
The beautiful little town of Potrerillos has been a well-kept secret.  Potrerillos Arriba is just a short drive away from Boquete's great restaurants and shopping. Also it is close to David, one Panama's largest cities where there are excellent restaurants, an international airport, very modern hospitals, new shopping malls, theaters and a casino.  It is also an easy day trip from the property to the beaches and the protected harbor of Boca Chica on the Pacific Ocean.  From Boca Chica many beautiful tropical islands are within just a few minutes boat ride.
The new Ruta Sur road runs through the area of Potrerillos making this zone a central point between three key areas of Panama – Boquete, Volcan and David.  The Ruta Sur is the fastest way to travel between Boquete and Volcan.  This property benefits greatly from this recent addition as well as the new highway between Boquete and David.
The beautiful estate next to Hacienda Bella Vista formerly was the summer home of the former president of Panama.
Hacienda Bella Vista consists of 2 fincas (parcels) totaling 38.94 hectares. Each parcel has two globos (lots). One of the lots, Globo B, has a previous government approval for a 24 lot subdivision.  The lots in the subdivision would range from approximately 1/3 to 1 acre each and have views of the ocean and the famous Volcan Baru volcano.  The 4 globos can be purchased separately or all together.  Please see pricing below.
Electricity and water are in the street and a new water well is on the property.
Buy All or Just a Part of This Beautiful Property…
Pricing and Options
Entire Property – $1,500,000
Lot A of 128,211 square meters = 31.67 Acres or 12.82 Hectares – $480,000
Lot B of 74,695 square meters = 7.47 Hectares  – $450,000
Lots C and D totaling 186,524 square meters = 96.19 Acres  – $700,000
Please contact Casa Solution for more information or to view this incredible development or estate property in Potrerillos, Panama.