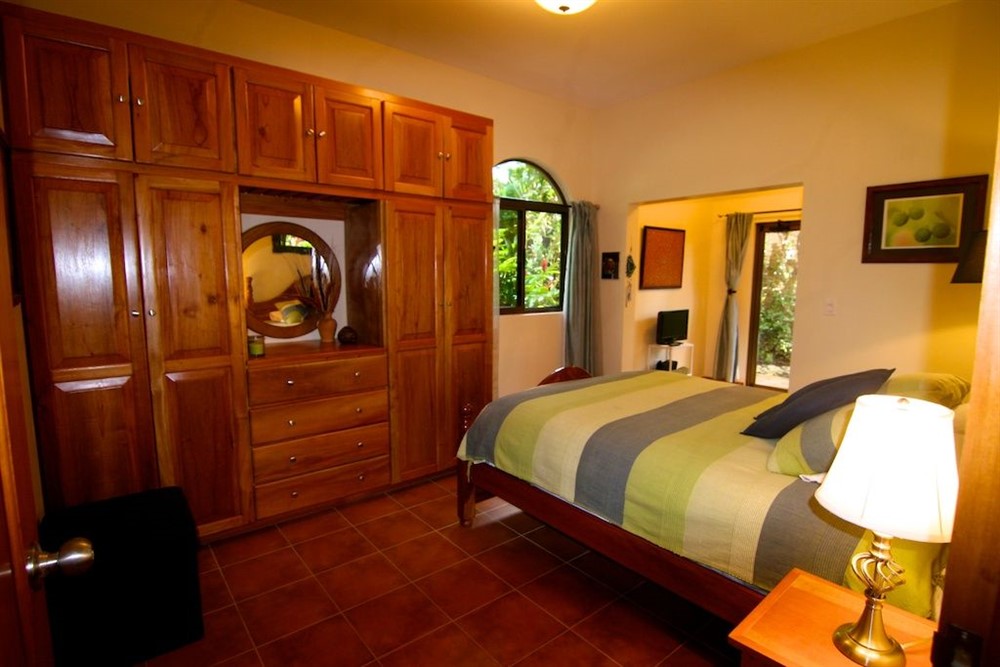 Short Term Rental – The Hacienda in Boquete, Panama – Entire First Floor with 2 Bedrooms – B & B Service
Location
: Jaramillo, Boquete, Panama
This is a great option for your stay in Boquete.
The owners are wonderful people and deeply knowledgeable about Boquete's attractions, activities, restaurants and amenities.
They are also an excellent resource for relocation purposes should you have any thoughts about living in our precious town.
Rental price shown is approximate.  Reduced rate options are also available at The Hacienda. 2 night minimum stay.
About the Hacienda Bed and Breakfast:
The Hacienda– privacy for a couple or a family vacation
Both Hacienda rooms, The Terrace Bedroom and The Garden Suite, can be rented separately or combined for ultimate privacy for a couple, friends traveling together or a family.
When you reserve The Hacienda you have the entire lower floor of this beautiful space exclusively for your use. There are the 2 beautiful bedrooms with queen size beds, the two bathrooms with hot water rain showers and a comfortable family room with couches and chairs to gather and be served a sumptuous morning meal. No sharing your space as it is all for your personal enjoyment.
We have one adult sized single bed that can be brought in to accommodate an extra person. There is a $20 charge for the extra bed which includes breakfast. We can accommodate up to 5 people in The Hacienda.
In each room there is wireless internet, a TV, a DVD player and a library of DVD's. During your visit you have access to a local cell phone, umbrellas, flash light, area maps, yoga mats and area brochures. The Hacienda is a 10-minute drive from downtown Boquete. Walk downhill from The Hacienda to the village center in 20 minutes. A taxi is generally $6 per trip.
The Breakfast Lounge
The Breakfast Lounge is adjacent to The Garden Suite and The Terrace Bedroom in the main house. There is a small wood dining room table perfect for 4 for breakfast and for family board games. We have a comfortable couch and chairs, book cases, coffee table and breakfast station. We provide yoga mats, board games, a lending library and many DVD's to make your stay more enjoyable. There are local maps and brochures. We have a small refrigerator, electric hot pot to heat water, toaster and a microwave for guest use.  Bed and Breakfast guests are served breakfast each morning on platters and are presented an array of local and fresh foods family style. Guests serve themselves using dishes, silverware and glassware stored here for guest use. We provide tea and locally grown Panama coffee and a French press with instructions. We have spring water that we bring to you in ample amounts to make coffee, tea and to enjoy all day. There is ice in the freezer area of the refrigerator. You are welcome to store leftovers in the refrigerator for late night snacks. There is also an open family room with a small wood game table, a couch, chairs, book cases, coffee table and breakfast station with microwave, electric kettle and a toaster. We provide yoga mats, board games, a book lending library and many DVD's to make your stay fantastic and fun.
The Breakfast
We shop the local markets daily to bring to our table fresh, natural and organic food whenever possible. Boquete is famous for its coffee and we encourage you to make your own by providing local Panamanian coffee and a French Press. We have instructions if you are a novice or we can bring you a carafe of freshly brewed drip coffee. Either way it is a divine way to begin your day.
A lovely array of local, fresh, tropical fruit starts each day. (papaya, bananas and pineapple). We deliver rich Panamanian yogurt, a variety of whole grain bakery breads, and free-range eggs. There is creamy, grass-fed butter. We are cautious with sugar and use only French "fruit only" jellies, no sugar added orange juice and the only syrup in Panama that does not use corn syrup.  Each day varies. There can be whole hot oats with brown sugar, raisins and nuts, cold cereals, frittatas, quiches, waffles or French toast.
Each morning breakfast is brought to The Breakfast Lounge at a pre-arranged time from 7:00 am to 9:00 am. You can take your breakfast at the dining table in The Breakfast Lounge or fill your plate and take it to your room or to one of the lovely spaces outside in the gardens.
The Gardens and Walkways
The Hacienda is a very lush and you are encouraged to wander the gardens, walkways and stairways. We have a variety of orchids, bromeliads, ferns, cacti and succulents. There are flowering plants and trees that draw in hummingbirds and butterflies. Many avid birders have had a great time discovering new species to add to their lists right in our backyard. As you walk you'll discover many small niches created specifically for observing the extraordinary mix of wild jungle and manicured gardens that attract the wide diversity of tropical birds that flourish in the Boquete highlands. There is a mixture of banana plantation, wild jungle and planned garden beds. There is an assortment metal and ceramic suns framing special nooks throughout the property. Colorful concrete benches, comfortable outside furniture, couches, swings and hammocks are discovered as you investigate the grounds. Walk down the winding concrete steps to the stream area where jungle abundance surrounds you. In certain seasons the small stream becomes a trickle but the path it cuts into the banana jungle is always peaceful and prefect for sharing long conversations, reading that great book or simply sitting in quiet contemplation.
$100-$130, 2-day minimum
Other great options at the Hacienda Bed and Breakfast for your deluxe Boquete vacation:
The Casita – Your Own Cottage near the Main House
Please email, call or stop in to the Casa Solution office for more information or to schedule your visit.