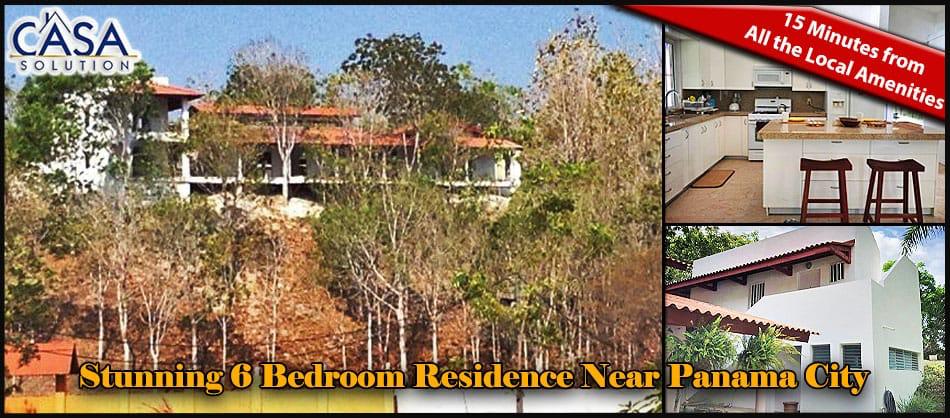 Stunning 6 Bedroom Estate Residence on 19.5 Acres near Panama's Pacific Gold Coast Beaches Just 1 Hour from Panama City
House Size
: 5,300.00 Sq.Ft
492.39 Sq.M
Lot Size
: 79,137 Sq.M
19.56 Acres
Location
: San Carlos, Pacific Beaches near Panama City, Panama
The region just outside of Panama City know as the Gold Coast is one of Central America's most coveted retirement and vacation destinations.
This stunning six bedroom estate on such a large property offers a unique opportunity for enjoyment of the Panama lifestyle.
So convenient! Less than 15 minutes from all of the local amenities at the Coronado shopping malls including Riba Smith supermarket, Arrocha and a movie theatre complex, the location offers a wonderful combination of city and beach accessibility (only 3 kilometers away).  Panama City's thriving metropolis is only an hour or so away.  And the town of San Carlos is also 5 minutes away with restaurants, a health center, banking and more.
This property also enjoys frontage along a beautiful river and so much land for this area.  It also has a very long road frontage, irrigation system, electronic entry gate, well water for dependable water, security system and more.
Bed and breakfast or Airbnb in style! The combination of several existing houses, the river frontage and so much land in a desirable beach community makes this property ripe for your hotel or b and b destination.
The main house has three bedrooms (1 master plus two guest bedrooms).  Each bedroom has its own bathroom and there is an extra and half bathroom for a total of three and half baths in this house.  The main house has a nature lover's feel with access to the tropical forest right outside.
There is a guest house or apartment across from the main house that could be used for a rental, guests, in-law or as you wish.  It has one bath.
The third house has two bedrooms, 2 bathrooms.  This third house is located below the enclosed courtyard that encompasses the first two houses.
Please contact Casa Solution if you would like to view this property or have questions about this Stunning 6 Bedroom Estate Residence on 19.5 Acres near Panama's Pacific Gold Coast Beaches Just 1 Hour from Panama City  in Panama.