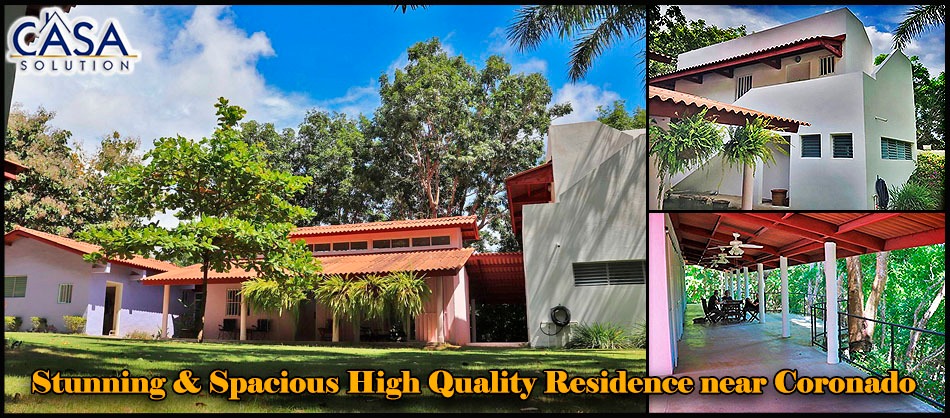 Price Reduced! Stunning 6 Bedroom Estate Residence on 19.5 Acres near Panama's Pacific Gold Coast Beaches Just 1 Hour from Panama City – Impresionante Residencia de 6 Dormitorios en 19.5 Acres cerca de las Playas de la Costa Dorada del Pacífico de Panamá a solo 1 hora de la Ciudad de Panamá
House Size
: 5,300.00 Sq.Ft
492.39 Sq.M
Lot Size
: 79,137 Sq.M
19.56 Acres
Location
: San Carlos, Pacific Beaches near Panama City, Panama
This stunning estate features three residences on over 19.5 acres.  The property has ample security features, and was built with privacy in mind.  It is perfect for a multi-family living situation, or as a B&B for investment income.
So convenient!  Located in the town of San Carlos, you will have nearby access to all of the local amenities  like restaurants, a health center, banking, Coronado shopping malls including Riba Smith supermarket, Arrocha and a movie theatre complex.  This location offers a wonderful combination of city and beach accessibility with the nearest beach located three kilometers away, and Panama City's thriving metropolis only about an hour away.
This property also enjoys frontage along a beautiful river and so much land for this area.  It has excellent road access, an irrigation system, an electronic entry gate, a well for dependable water, a security system and more.  Over 6,000 valuable trees have been planted on the property consisting of mostly Teak, but also many Mahogany that are all around 15 years old.
Bed and breakfast or Airbnb in style! The combination of three existing houses, the river frontage, and so much land in a desirable beach community makes this property ripe for an income-generating investment.
The main house has three bedrooms (one master plus two guest bedrooms).  Each bedroom has its own bathroom and there is an extra half bathroom for a total of three and half baths in this house.  The main house has a nature lover's feel with access to the tropical forest right outside via the large patios.
There is a guest house or apartment across from the main house that could be used for a rental, guests, in-law or as you wish.  It has one bath.
The third house has two bedrooms and two bathrooms.  This third house is located below the enclosed courtyard that encompasses the first two houses.
A caretaker who was involved with building the houses has been working on this property for over a decade, and is willing to continue maintaining the property if desired.
This property was originally listed for $800,000
Please contact Casa Solution if you would like to view this property or have questions about this Stunning 6 Bedroom Estate Residence on 19.5 Acres near Panama's Pacific Gold Coast Beaches Just 1 Hour from Panama City  in Panama.
---
Impresionante Residencia de 6 Dormitorios en 19.5 Acres cerca de las Playas de la Costa Dorada del Pacífico de Panamá a solo 1 hora de la Ciudad de Panamá
La región a las afueras de la Ciudad de Panamá, conocida como Gold Coast, es uno de los destinos de retiro y vacaciones más codiciados de América Central.
Esta impresionante propiedad de seis dormitorios en una propiedad tan grande ofrece una oportunidad única para disfrutar del estilo de vida de Panamá.
Tan conveniente! A menos de 15 minutos de todos los servicios locales en los centros comerciales de Coronado, incluidos el supermercado Riba Smith, Arrocha y un complejo de salas de cine, la ubicación ofrece una maravillosa combinación de accesibilidad a la ciudad y la playa (a solo 3 kilómetros de distancia). La próspera metrópolis de la ciudad de Panamá está a solo una hora más o menos. Y la ciudad de San Carlos también está a 5 minutos con restaurantes, un centro de salud, bancos y más.
Esta propiedad también disfruta de un frente a lo largo de un hermoso río y mucho terreno para esta área. También tiene un frente de carretera muy largo, sistema de riego, puerta de entrada electrónica, agua de pozo para agua confiable, sistema de seguridad y más.
Cama y desayuno o Airbnb en estilo! La combinación de varias casas existentes, la ribera del río y tanta tierra en una comunidad de playa deseable hace que esta propiedad sea ideal para su hotel o destino de byb.
La casa principal tiene tres habitaciones (1 principal más dos habitaciones de invitados). Cada habitación tiene su propio baño y hay un baño adicional y medio para un total de tres baños y medio en esta casa. La casa principal tiene una sensación de amante de la naturaleza con acceso al bosque tropical justo afuera.
Hay una casa de huéspedes o un apartamento frente a la casa principal que podría usarse para alquiler, invitados, suegros o como lo desee. Tiene un baño.
La tercera casa tiene dos dormitorios, 2 baños. Esta tercera casa se encuentra debajo del patio cerrado que abarca las dos primeras casas.