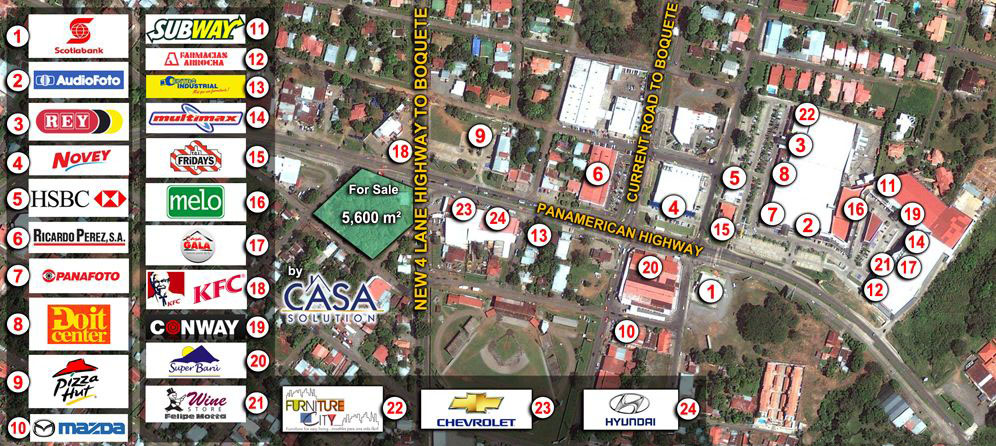 The Best Commercial Property Available in David – Near New Baseball Stadium & On Pan American Highway – La Mejor Propiedad Comercial Disponible en David Via Panamericana
Lot Size
: 5,600 Sq.M
1.38 Acres
Location
: David on PanAmerican Highway, David, Chiriqui, Panama
A Very Special Feature
: On the corner where the Pan Amercian Highway meets the Highway to Boquete
This property is nearly 5,600 square meters directly on the Pan American Highway and on the corner where the new highway to Boquete will meet the Pan American. There is no property of this size in David more prime than this.
Within a few hundred meters of:
• Plaza Terronal
• a new three story high Super 99
• Doit Center
• Arrocha
• Conway
• Toyota (Perez)
• new McDonald's location
• Audio Foto
• Panafoto
• Casa Gala
• Mulimax
• Lumicentro
• Super Baru
• TGI Friday's
• Hyundai
• Mitsubishi Motors
• Furniture City
• Rey
• Scotia Bank
• Mazda
• directly across from KFC.
All of these companies identified this location as the new center of commercial activity in David. Consider this property for your next project. Another great option for mall, condominum, hotel or a major retail operation.
*******************************
La Mejor Propiedad Comercial Disponible en David Via Panamericana
Esta propiedad es de casi 5.600 metros cuadrados directamente en la Carretera Panamericana y en la esquina donde se une con la nueva carretera a Boquete y la Panamericana. No hay ninguna propiedad de este tamaño en David que posea la ubicación y que cuente con esto.
Dentro de unos pocos cientos de metros de:
• Plaza Terronal
• una nueva de tres pisos de alto Super 99
• Doit Center
• Arrocha
• Conway
• Toyota (Pérez)
• ubicación nueva McDonald
• Audio Foto
• Panafoto
• Casa Gala
• Mulimax
• Lumicentro
• Súper Baru