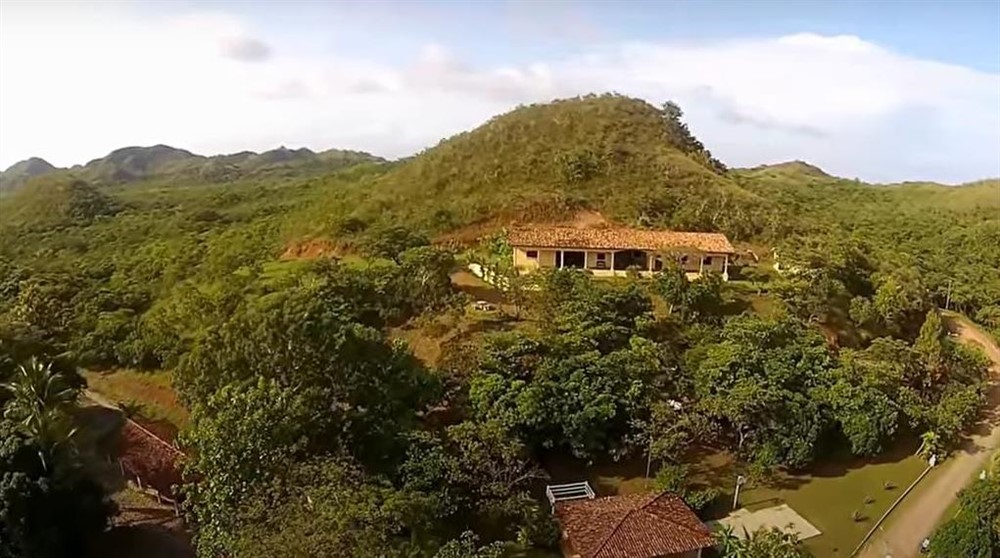 Three Bedroom Large House for Rent in Boca Chica, Panama – Casa grande de tres dormitorios en renta en Boca Chica, Panamá
Location
: Boca Chica, Pacific Beaches Chiriqui, Panama
This property is located inside a gated community and a short distance from Playa Hermosa & Boca Chica, the local hot spot.
It sits inside the Valley of the Moon & offers distant views of the Pacific Ocean, Cordillera Central, Volcan Baru, & Chorcha Falls.
Amenities include a full kitchen & dining, large & spacious covered veranda with an expansive view of the surrounding area, a laundry facility, outside bathroom & shower, and lots of open space & green area.
Helicopter access is available.
The place is big. It sits perched on a hillside with great 180 degree views. It enjoys it's own private entry, driveway, and parking area.
Boca Chica, the local hot spot, is 12 kilometers away. There are a few bars & restaurants there, water taxis to offshore islands for hire, and a public marina.  There is also a small kiosk there for gasoline and basic necessities.
A larger mini-super is located in the village of Horconcitos, 15 kilometers away (It is closed from 12-3pm every day). There is an even larger mini-super located on the Pan American Highway at the Horconcitos turn-off and 2 full service gas stations located in San Lorenzo – approximately 20 kilometers away.
Also available for rent on the same property is this casita guest house for rent.
Please contact Casa Solution if you would like to view this property or have questions about this  Three Bedroom House for Rent in Boca Chica Panama.
---
Casa grande de tres dormitorios en renta en Boca Chica, Panamá
Esta propiedad está ubicada dentro de una comunidad cerrada y a poca distancia de Playa Hermosa y Boca Chica, el lugar de moda local.
Se encuentra dentro del Valle de la Luna y ofrece vistas lejanas del Océano Pacífico, la Cordillera Central, el Volcán Barú y las Cataratas Chorcha.
Las comodidades incluyen una cocina y comedor completos, una terraza cubierta grande y espaciosa con una vista amplia de los alrededores, una instalación de lavandería, baño y ducha exteriores, y una gran cantidad de espacios abiertos y áreas verdes.
El acceso en helicóptero está disponible.
El lugar es grande. Se encuentra encaramado en una ladera con excelentes vistas de 180 grados. Disfruta de su propia entrada privada, entrada para auto y área de estacionamiento.
Boca Chica, el lugar de moda local, está a 12 kilómetros de distancia. Hay algunos bares y restaurantes allí, taxis acuáticos a las islas de la costa para alquilar y un puerto deportivo público. También hay un pequeño quiosco para gasolina y artículos de primera necesidad.
Un mini-super más grande se encuentra en el pueblo de Horconcitos, a 15 kilómetros de distancia (Cierra de 12 a 3 pm todos los días). Hay un mini-súper aún más grande ubicado en la Carretera Panamericana en el desvío de Horconcitos y 2 estaciones de servicio completo ubicadas en San Lorenzo, aproximadamente a 20 kilómetros de distancia.
También disponible para alquilar en la misma propiedad se encuentra esta casa de huéspedes casita para alquilar.
Comuníquese con Casa Solution si desea ver esta propiedad o si tiene preguntas sobre esta Casa de Tres Dormitorios en Renta en Boca Chica Panamá.