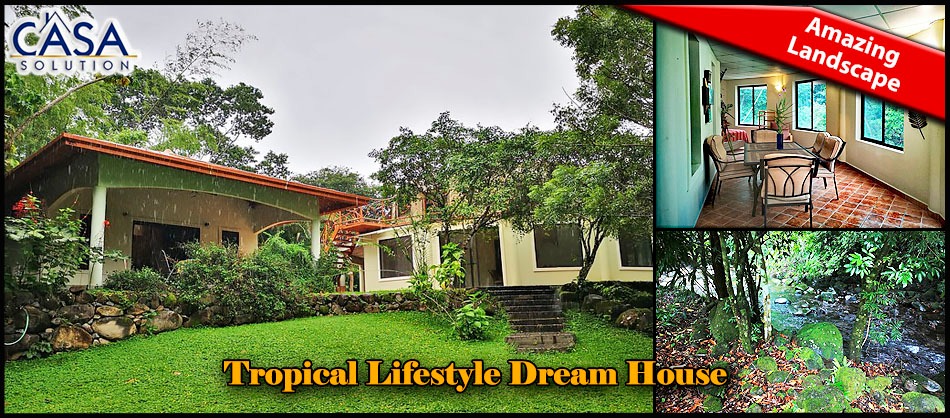 Tropical Lifestyle Dream House plus Casita Guest House with River Frontage on Nearly 5 Acres in River Ranch, Panama Near Boquete
House Size
: 2,200.00 Sq.Ft
204.39 Sq.M
Lot Size
: 19,809 Sq.M
4.89 Acres
Location
: Macano, Boquete, Panama
This property presents a unique opportunity for a dream-like tropical lifestyle.  The gorgeous and secluded landscape here hosts a very nice house with an accompanying ultra-sized yurt along with 1,000 feet of river frontage, a seasonal stream and an amazing nearly 5 acres of land.
It is located in lovely River Ranch Farms located just next to Boquete, Panama in Macano de Cochea.   It is 20 minutes or less to downtown Boquete.
The house and yurt sit well above the beautiful river through the yard and gardens down below.  There is also a guest house / casita which can be rented out or used for guests, an office or whatever you can imagine.
The property has a well that produces approximately 30 gallons per minute.
Appliances as well as some furnishings are included.
Please note that River Ranch is not a home owners association community so no restrictions or hoa rules.
About the fruit trees and other wonderful vegetation on the property:
As you come down the driveway from the gate, on the right, there are two different Avocado trees and a Mamey tree.  All the trees along the right side of the driveway are flowering trees of different colours.  The Ylang Ylang tree blossoms almost all year and is amazingly fragrant!   There's also a Barbados Cherry bush, and a Rambutan tree, which people call a Mamochino (Lychee family), just before you get to the river….
On the left side of the driveway are Cashew trees on the upper level, and several different Bananas and Plantains and Coconuts. There are 8 Moringa trees, that are also called the "Tree of Life," two "Mantequilla" Avocados, an Achiote tree and a couple of Papayas.
Behind the original casita are: Avocado, Lime, a few varieties of sweet Oranges, and a Sour Orange.
Down below the casita, towards the river, are Pineapples, a Mango, two Pink Grapefruit, Lemons and Limes, Pitaya or "Dragon Fruit," Papaya, and several varieties of Banana; also Plantain, sweet Orange, Avocados, Coconuts, Cherymoya which are called "Torettas", Blackberries and a Passion Fruit Vine, growing on the chain link fence around the vivero, or greenhouse.
Beside the river, close to the edge of the property are two Mangosteen trees.
Throughout the property are many Milkweed plants, which are the host plant for the Monarch Butterflies and many varieties of Heliconias and other flowering trees and bushes, to attract the birds and butterflies.
Owner financing considered with at least a 50% downpayment.
The property has ample space for cabins or additional homes.
This property is a fantastic option on its own, but you can also purchase another property next to it with 3 acres of land https://www.casasolution.com/listing/3-acres-of-beautiful-land-with-river-frontage/
Please contact Casa Solution if you would like to view this property or have questions about this Tropical Lifestyle House with River Frontage on Nearly 5 Acres in River Ranch, Boquete, Panama.