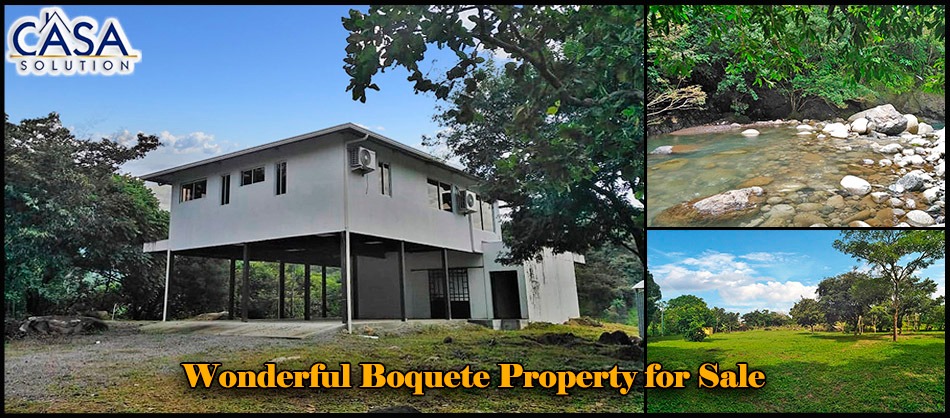 Wonderful Boquete Property for Sale with Incredible Views, River Frontage and More – Maravillosa Propiedad en Venta en Boquete con Increíbles Vistas, Frente al Río, una Casa Parcialmente Terminada, Casa del Cuidador y Más
Lot Size
: 33,981 Sq.M
8.40 Acres
Location
: Caldera, Boquete, Panama
This wonderful property accessed by paved roads in the Caldera area of Boquete has many super features.   The over 33,000 square meters (more than 8 acres) has three plateaus with much of it flat and a hilly section rolling down towards the river.
There are two houses on the property.  The main house has been elevated to ensure enjoyment of the incredible mountain views.  It is located set well back inside the land from the road providing privacy as well as proximity to the Caldera river canyon which borders the property.
The main house is partially completed.  It already has cork flooring.  The cabinetry has been delivered and paid for as well as the granite countertops.  The lower floor of the home is designed for storage and parking.
There is a caretaker's house also partially completed near the entrance to the property set well away from the main house.
The current owners had planned to utilize the property as an horse ranch.  It is perfect for that.  Rock fencing and gates have already been installed here for that purpose.
There is plenty of space here for horses to roam, for lots of cabins or for whatever suits you.
Please contact Casa Solution if you would like to view this property or have questions about this Wonderful Boquete Property for Sale with River Frontage, Great Views, a Partially Finished House, Caretaker's House, and More in Panama.

Maravillosa Propiedad en Venta en Boquete con Increíbles Vistas, Frente al Río, una Casa Parcialmente Terminada, Casa del Cuidador y Más
Esta maravillosa propiedad a la que se accede por caminos pavimentados en el área de Caldera de Boquete tiene muchas características excelentes.   Los más de 33.000 metros cuadrados (más de 8 acres) tienen tres mesetas, gran parte de ellas planas y una sección montañosa que desciende hacia el río.
Hay dos casas en la propiedad.   La casa principal se ha elevado para garantizar el disfrute de las increíbles vistas a la montaña.   Se encuentra muy lejos dentro del terreno desde la carretera, lo que brinda privacidad y proximidad al cañón del río Caldera que bordea la propiedad.
La casa principal está parcialmente terminada.  Ya tiene suelo de corcho.  Se han entregado y pagado los gabinetes, así como las encimeras de granito.  La planta baja de la vivienda está destinada a trastero y aparcamiento.
También hay una casa del cuidador parcialmente terminada cerca de la entrada a la propiedad, alejada de la casa principal.
Los propietarios actuales habían planeado utilizar la propiedad como un rancho de caballos. Es perfecto para eso.  Aquí ya se han instalado vallas de roca y puertas para ese propósito.
Aquí hay mucho espacio para que los caballos deambulen, para muchas cabañas o para lo que más le convenga.
Por favor comuníquese con Casa Solution si desea visitar esta propiedad o si tiene preguntas acerca de esta Maravillosa Propiedad en Venta en Boquete con Increíbles Vistas, Frente al Río, una Casa Parcialmente Terminada, en Caldera, Boquete