Main Content
Prime Hotel & Tourism Business Opportunity for Sale with High-end Guest Houses Near Main Road to Boquete
Dolega, Chiriqui
Remarkable property, a hidden gem of a tourism opportunity with high-end guest houses close to David & Boquete nestled in Santa Rosa Dolega. This beautiful piece of real estate has enormous potential, is in the path of development, less than 30 minutes to downtown Boquete and awaits your vision and creativity.
As you enter through the iron gate surrounded by a stone wall, a charming stone pathway leads you to the spacious parking area, providing ample space for up to 60 vehicles.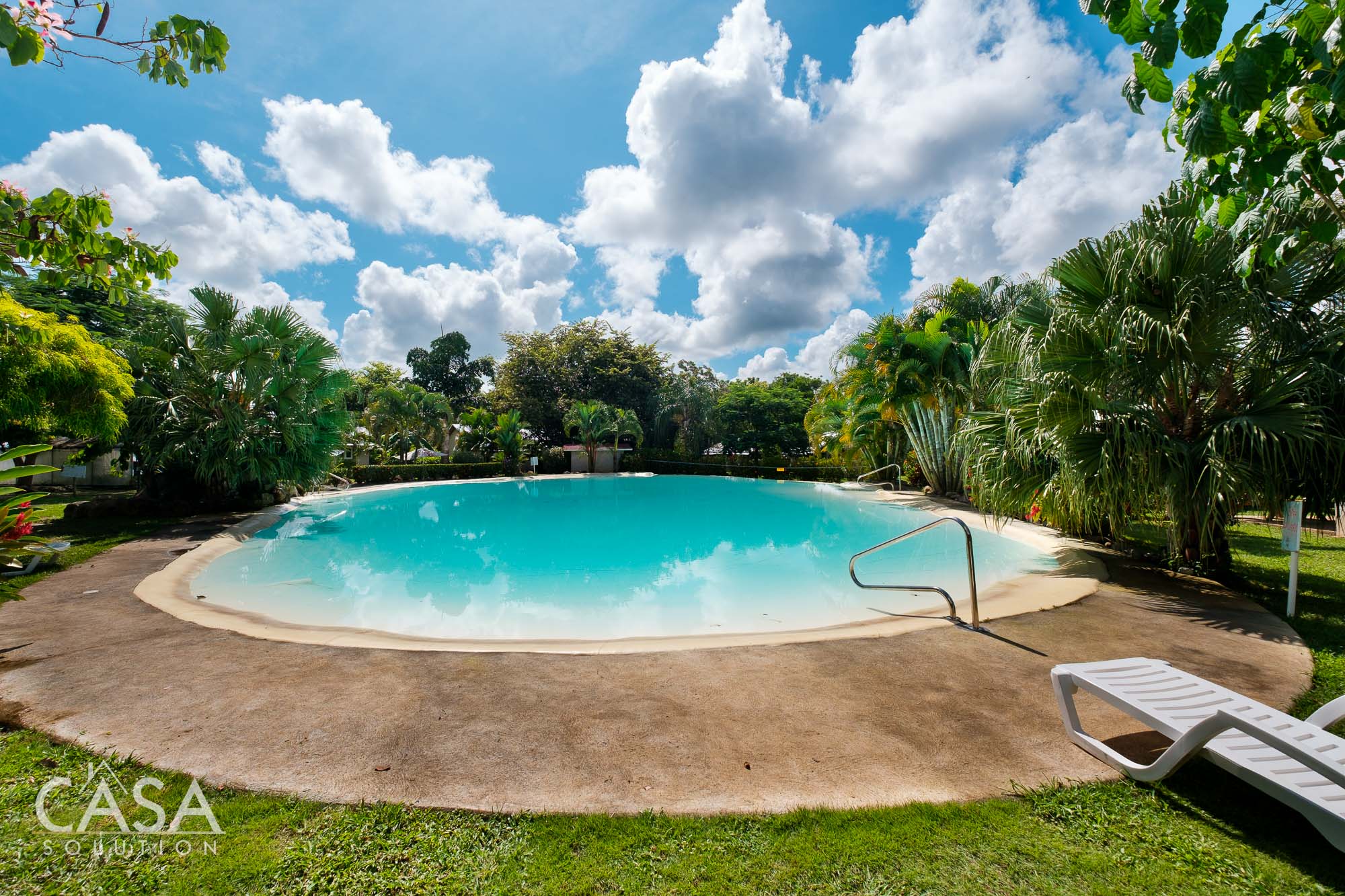 A Tropical Dining Experience
Just a few steps from the parking area, you'll discover the restaurant area, a vibrant tropical haven. Equipped with a functional kitchen, wooden tables, and a distinctly tropical ambiance, it's a place where dining transcends into an experience. Overhead, tropical lamps and lavender-style hanging plants create a unique atmosphere.
The restaurant also features a cozy cafe corner with comfortable pallet sofas and matching tables. This inviting space encourages relaxation and socialization.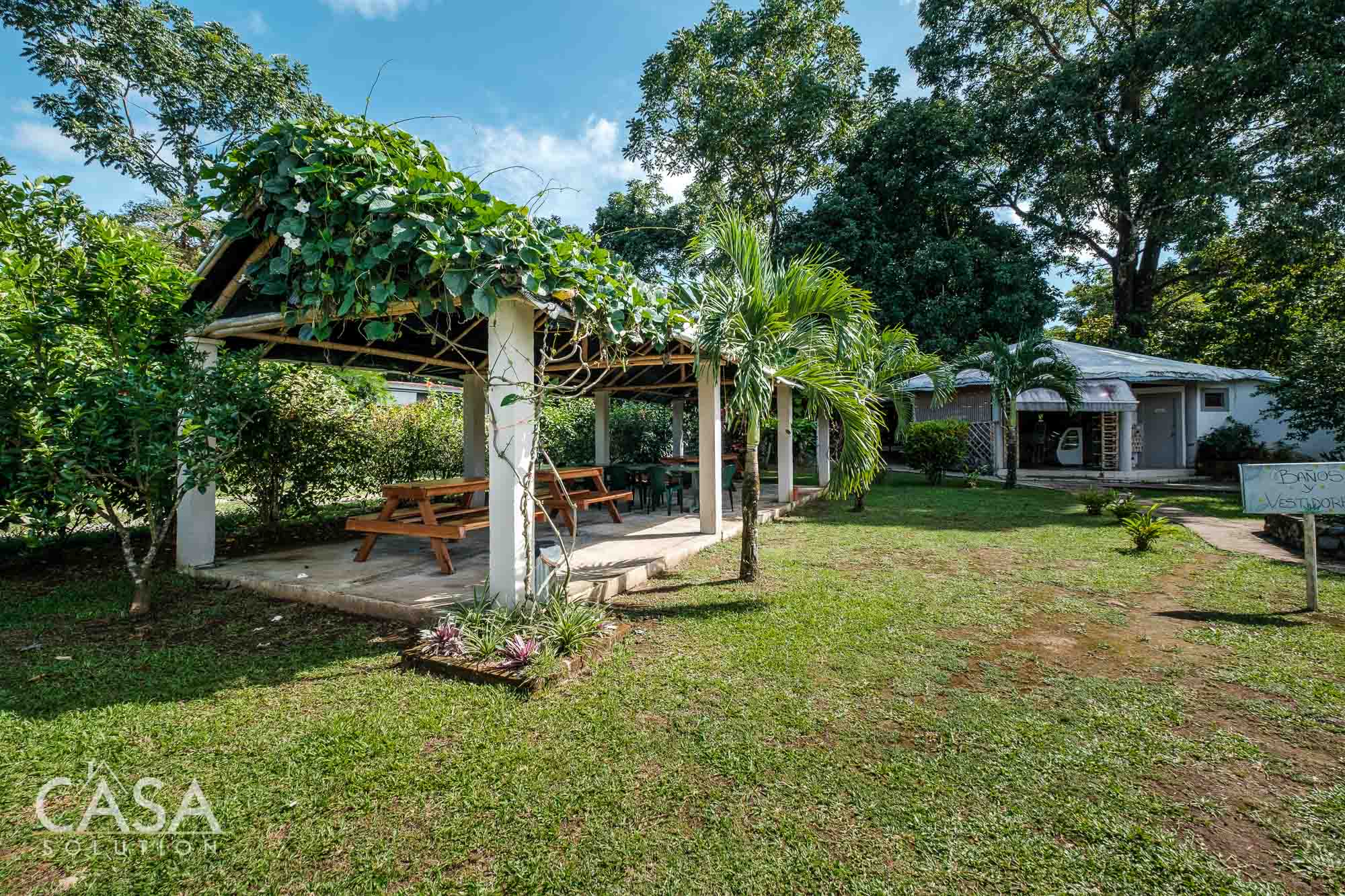 Poolside Paradise
Near the pool, a covered bar area and shaded picnic-style tables add to the charm. Here, guests can savor the contrasting views of the mountains and the tropical design elements that surround them. Lush vines and plants adorn the roofs of these shaded areas, providing a touch of character and style.
The centerpiece of the property is undoubtedly the pool, which boasts the dimensions of a small lake. It's a place where guests can cool off and unwind while soaking in the tranquil ambiance of the surroundings.

Cabins and Casitas for Comfort
The property features eight cozy cabins and four charming casitas, all strategically placed around the pool area. Each cabin offers a unique experience with its palm-thatched roof and meticulously decorated bedroom, complete with a private bathroom. There's a closet, a small refrigerator, as well as a chair and a table.
Among the cabins, three are duplex-style, while two are individual units. All the accommodations come with hot water, ensuring guests have a comfortable stay.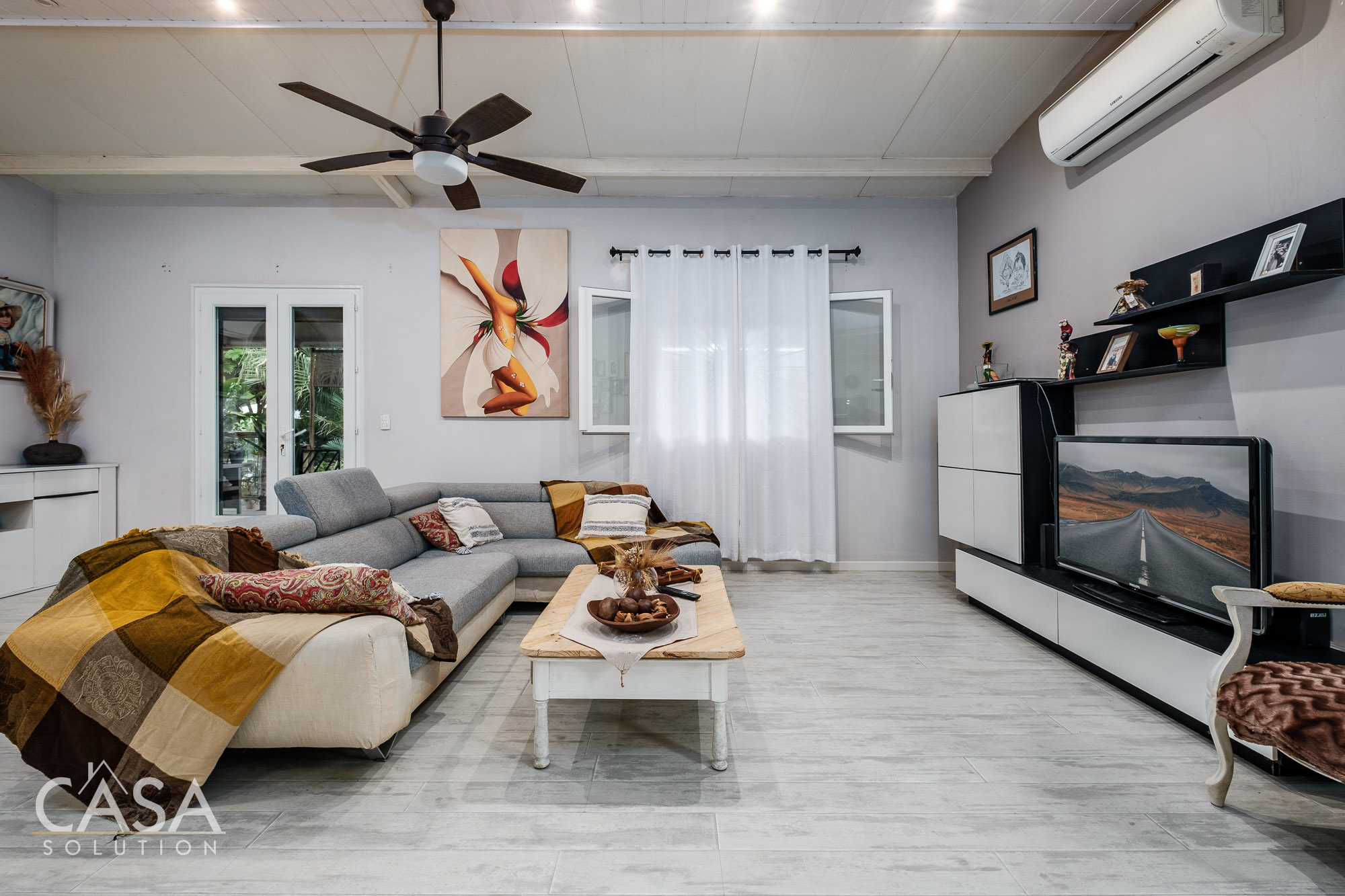 Spacious Residences for Long-term Living
This Prime Recreational Business Opportunity also includes four spacious houses, each with two bedrooms and boasting a generous 107 square meters of living space. One of these houses is just two years old, while the other three have been around for a bit longer, offering 1.5 bathrooms each.
Inside these lovely homes, you'll find an open-concept living space with a modern kitchen and a dining area. The bedrooms are thoughtfully designed, with dedicated desk space and large windows that flood the rooms with natural light and fresh air. Additionally, there's a secondary bedroom in each house, adding to their versatility and appeal.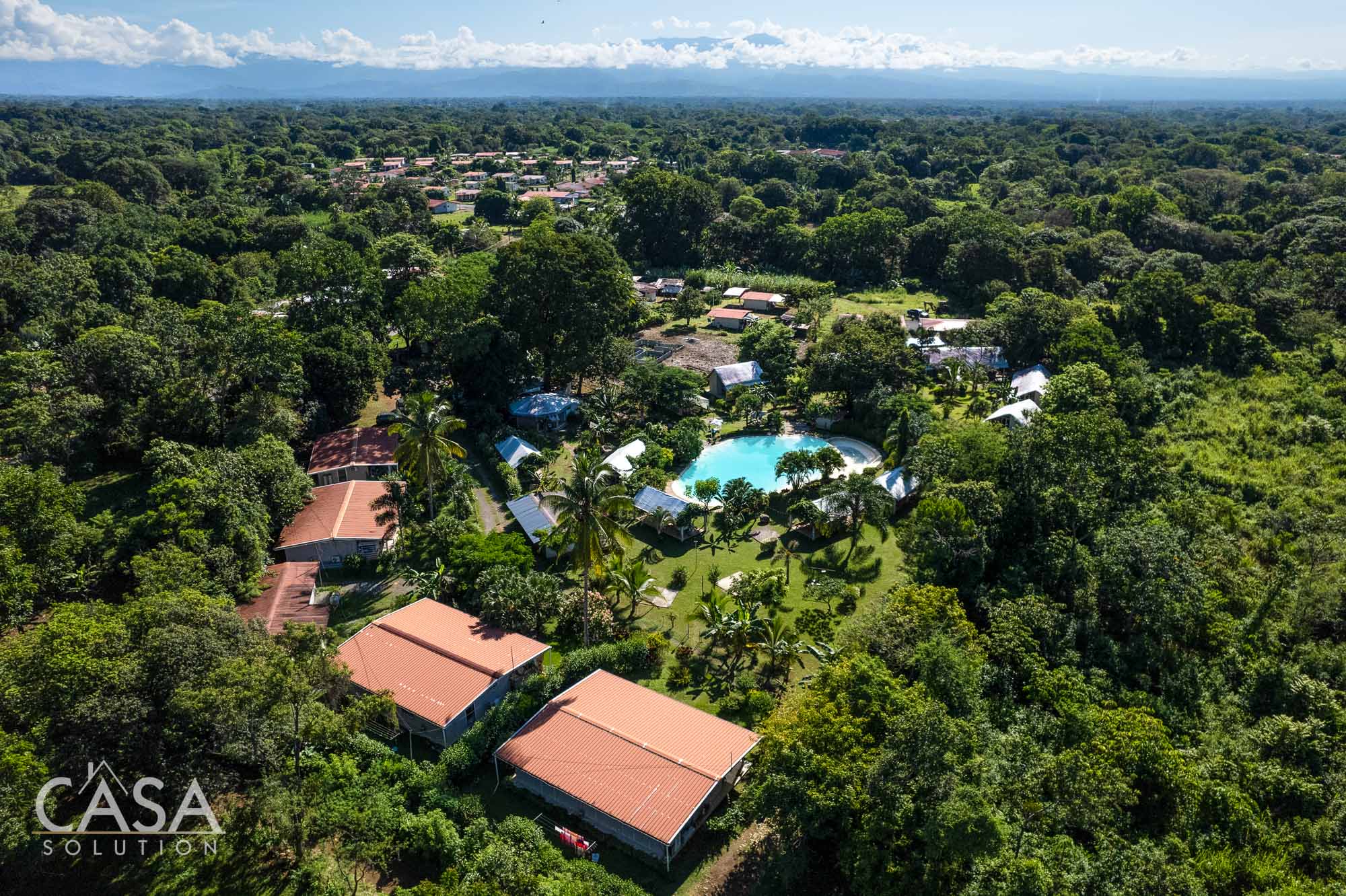 Amenities and Infrastructure
Additionally, this property is well-equipped with essential amenities, including a 100-foot deep well, electricity, water supply, and internet connectivity through Tigo. There are also five charming ranch-style structures that enhance the property's appeal.
The terrain is flat and adorned with citrus trees, including oranges and lemons, along with various ornamental plants, palm trees, and shrubs. The property's roof features thermo-panels, and it has a backup generator to ensure uninterrupted operations.
Residential Area Details 
First Residence 
Closed Area: 81.22 m2
Portal: 21.52 m2
Sidewalk: 26.06 m2
Second Residence 
Closed Area: 104.19 m2
Portal: 29.92 m2
Sidewalk: 29.41 m2
Third Residence 
Closed Area: 104.19 m2
Portal: 29.92 m2
Sidewalk: 29.41 m2
Fourth Residence 
Closed Area: 104.19 m2
Portal: 29.92 m2
Sidewalk: 29.41 m2
Tourist Complex
Restaurant

Closed Area: 64.64 m2
Terrace: 166.54 m2
Showers and Dressing Rooms: 10.85 m2

Cabins (1 and 8)

Closed Areas: 57.76 m2
Portals: 18.18 m2

Cabins (2-3, 4-5, and 6-7)

Closed Areas: 172.72 m2
Portals: 54.00 m2

Workshop
Bar

Closed Area: 42.5 m2
Service Area: 30.69 m2

Bohíos

Bohíos (Thatched Huts): 182.89 m2

Pool

Pool: 1.00
Pump Room: 7.94 m2

Other Constructions

Greenhouses and Well: 43.85 m2
This unique property offers endless possibilities. With its strategic location and well-thought-out amenities, it's a canvas ready for your masterpiece. Explore the potential, live the dream, and make this property your own. Contact us today to schedule a viewing and envision the endless possibilities of this Prime Recreational Business Opportunity for Sale in Santa Rosa, Dolega, Just 15 Minutes from David, Chiriqui.
Follow us on Facebook, Instagram. Subscribe to our Youtube channel . Keep up to date on new listings and area information.
For inquiries,
please contact casa solution, or
fill out the form below.
I'm interested in Prime Hotel & Tourism Business Opportunity for Sale with High-end Guest Houses Near Main Road to Boquete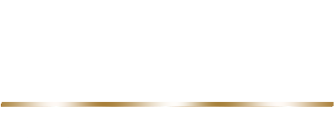 CONTACT US
Casa Solution is now Open. The staff are working full time and are available in the office, by phone and email.
Please call 011.507.720.1331 or email info(at)casasolution(dotted)com with any questions. We are happy to help.
The Casa Solution office hours are 8:30am – 5:30pm Monday through Saturday. The offices are closed on Sundays and Panamanian National Holidays.
For assistance, please visit us in Boquete, call, text, fill out the below form or email and we will be happy to be of service. We look forward to helping you.
Thank you for the opportunity to be of service.
GET TO KNOW US MORE
Questions? Contact Us
Please let us know of any questions or how we may be of service to you.