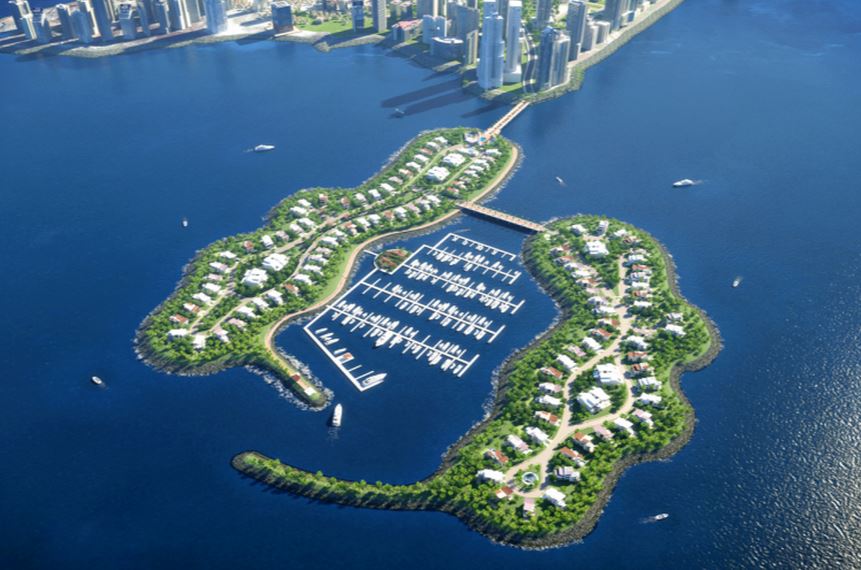 The first island is now complete and so the second comes right behind.
Dredging Today, April 1, 2015
Dutch Prime Minister, Mr. Mark Rutte will from Friday 10 to Sunday 12 April 2015 visit Panama, having been invited by President Juan Carlos Varela to attend the Summit of the Americas, the triennial summit of the Organization of American States.
Mr Rutte's visit will also focus on strengthening the Netherlands' economic ties with Panama.
He will visit the Panama Canal's Miraflores locks and will lay the foundation stone for the second artificial island that Dutch company Boskalis is creating off the coast of Panama City.
This project follows the successful construction of the first island by Boskalis, which was handed over to client, Compañía Insular Americana, S.A. in early 2013.
With a contract value of more than €55 million the project is expected to last for two years. Nine hectares of land will be created by using approximately 600,000 cubic meters of rock to form a perimeter and filling it with 1.3 million cubic meters of sand. A bridge will be built to connect the second island to the first island.
Mr Rutte will also kick off a Kingdom-wide trade mission for the maritime and logistics sectors led by Prime Minister Mike Eman of Aruba."