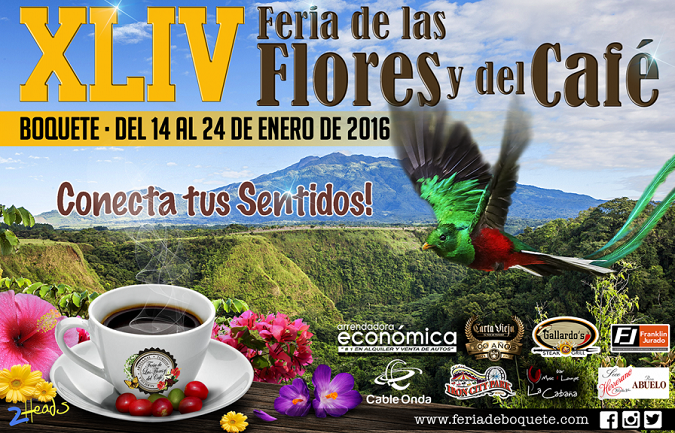 The Boquete Flower and Coffee Fair is a fun cultural event that provides an annual windfall to the town. Boquete was quite busy this year as over 144,000 people attended. Boquete Tree Trek even brought in a zip line to promote their nearby world-class zip line experience. See the person hanging in mid-air over the Fairgrounds?
Next comes the 10th anniversary of the Boquete Jazz & Blues Festival on February 25 – 28, 2016.  Super performers come to town. Make sure to book your Boquete hotel well in advance for these dates.
The David, Panama International Fair comes March 10 – 20, 2016. This is a major event and cultural experience at the David fairgrounds.
And soon thereafter … The Boquete Orchid Expo from March 24 – April 3, 2016. The Orchid Expo is a slightly smaller version of the Flower and Coffee Fair with a different theme. It is also held at the Boquete fairgrounds.
La Estrella de Panama, Sábado 23 de enero de 2016 – 11:01 a.m.
"En la feria de Boquete también los visitantes pueden disfrutar el sabor del buen café producido en tierras Altas
La Feria de las Flores en Boquete avanza en sus últimos días recibiendo a miles de visitantes nacionales y turistas extranjeros, procedentes de Centroamérica, Suramérica, Norteamérica y Europa.
Los visitantes han podido disfrutar el clima fresco, la naturaleza, el calor humano de los chiricanos y panameños que cada año presentan la primera feria del país con las exhibiciones de flores en sus jardines, explosiones de los artesanos nacionales y extranjeros, mucho de ellos procedentes de Ecuador, Perú Colombia, Bolivia y Centroamérica.
En la feria de Boquete también los visitantes pueden disfrutar el sabor del buen café producido en tierras Altas de este distrito y que en muchas ocasiones ha participado en competencias internacionales logrando importantes premios.
La Feria de las Flores de Boquete culmina mañana domingo, donde se espera durante este fin de semana la visita de muchos turistas. Este sitio puede ser visitado durante cualquier día del año.
El presidente del Patronato de la Feria, Reynaldo Serracin manifestó que se espera superar los 150 mil visitantes durante este evento que permite positivos ingresos económicos a la provincia. En este sentido al sector comercial, transporte, restaurante, hotelería y otras actividades de la región."
Note: Zipline photo is Casa Solution copyright.