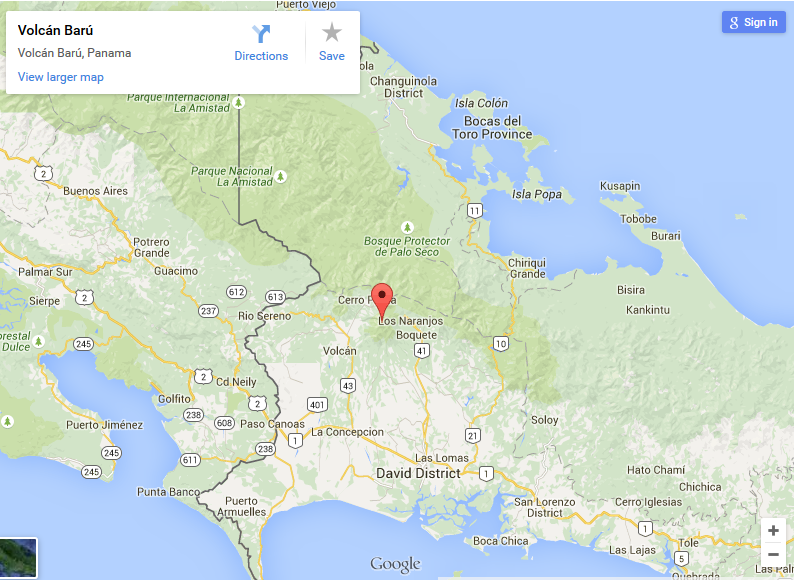 A defining characteristic of Boquete is majestic Volcan Baru, Panama's tallest peak at 11,397 feet. (3,474 meters). Thousands of tourists descend upon Boquete each year to reach the summit. They enjoy incredible views and, weather permitting, the site of both oceans from the peak.
The trail is accessible to the novice hiker in good shape with proper preparation. Supplies, warm clothes for the surprising cold at the top, the right shoes and an early start will make for a thrilling life experience. While the meandering trail up is pretty straightforward, a guide will help make sure your trek is a good one.
However, if you plan to hike one of Boquete's many other tropical trails with waterfalls, towering trees, birdsong, incredible vistas and wildlife, a guide is a very good idea. Even experienced hikers can become disoriented in the towering cloud forests.
Condé Nast Traveler, August 24, 2015, by Ken Jennings
"From atop Volcán Barú, the views are hard to match.
In this week's Maphead column, Ken Jennings takes us to a mountaintop in the Americas where you can see both oceans at once. Magic not required.
To hike to the highest peak in Panama, head for the upland town of Boquete, just 35 miles from the Costa Rican border. You'll want to leave town with your guide before midnight, because the steep dirt road up the stratovolcano can take up to seven hours to travel. Once you emerge from the rainforest, the view is worth the effort. You'll see the sun rising out the Caribbean to your east, if the coast isn't fogged in, as well as the Pacific Ocean to your west. The Atlantic and the Pacific, in one panorama photo!
Bring a jacket, even in the tropics.
At 11,398 feet, Volcán Barú is the 14th highest peak in Central America. (There are other, higher peaks in Costa Rica where a hiker can also see both oceans at once, but they're all farther from the coasts.) This extreme altitude makes Barú the only place in tropical Panama where temperatures ever drop below freezing. Two people have even died of hypothermia there, surrounded by one of the continent's hottest climates.
You can head back toward the ocean of your choice.
On your way down, you might choose to head down the rambling trails on the volcano's west side to the town of Volcán, passing through lush rainforests and mountain meadows. You might catch a glimpse of the elusive Resplendent Quetzal, the region's most famous (and most beautiful) bird. Or head straight back down the Boquete road to soothe your aching muscles in the nearby Caldera Hot Springs."