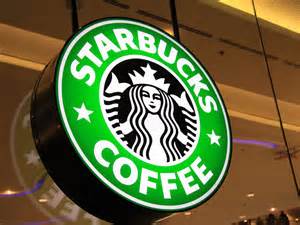 The first of twenty Starbucks locations in Panama has just opened. The first location is in Panama City. It is just a matter of time before you see the willing mermaid pop up throughout the country. Starbucks will open 19 more in the next five years.
Starbucks has long had coffee roots in Panama. After all, the world's top rated coffee is grown here. Within Starbucks stores in other countries you might have seen signs like this one featuring Panama.
From a prior post about Starbucks' entry to Panama : When our team visits the United States, what some of the staff and their family ask to have brought back to Panama are items from Starbucks – anything from Starbucks. Mugs with the logo, cups, coffee, whatever. This is a coffee loving culture and many have connections to or deep appreciation for the United States. This translates to love of some U.S. brands in particular. Given that Panama is also world famous for its coffees (Panama gets the highest prices in the world auctions for specialty coffees) and some Panamanian coffee producers already provide fine coffee to Starbucks, expanding into Panama is a natural move for the company. Expect Starbucks to be a big hit in Panama. Expect more American and World-wide brands to come here (think Walmart).
On a side note, when in Panama, consider visiting a Panama-bred coffee shop like Kotowa, Duran, Lerida or Ruiz. Even better, visit some of Panama's coffee beneficios and coffee farms where you can get a tour of the farms and see coffee production in process. In many cases, the beans are harvested and processed by the indigenous peoples, the Ngäbe-Buglé (actually two different tribes) so visiting a coffee farm can be a fascinating cultural experience.
"Starbucks Enters its 15th Market in Latin America with New Flagship Store in Panama"
MarketWatch, August 6, 2015
"20 stores expected to open in Panama City over next five years with Premium Restaurants of America, Starbucks long-term licensing partner in Central AmericaBuilding on over a decade of sourcing coffee from Panama, Starbucks® stores in Panama City will feature Starbucks® premium, single-origin Starbucks Reserve™ Panama Carmen Estate coffee, sourced from Panama's Volcán Chiriquí ValleyStarbucks Panama comes together with Municipality of Panama City and Glasswing International to restore local community center for youth
PANAMA CITY, Aug 06, 2015 (BUSINESS WIRE) — Starbucks Coffee Company SBUX, +0.16% together with Premium Restaurants of America (PRA), its long-term strategic licensing partner in Central America, today opened its first store in Panama, making it Starbucks 15th market in Latin America and 67th worldwide. Located in Panama City's Street Mall shopping center, the new store proudly features Starbucks Reserve™ Panama Carmen Estate coffee, part of the company's exclusive Starbucks Reserve™ collection of unique, small-batch coffees.
This Smart News Release features multimedia. View the full release here: http://www.businesswire.com/news/home/20150806006086/en/
"We are proud to bring the Starbucks Experience to customers in Panama and build our brand in a way that honors the coffee passion and traditions inherent to this region," said Rich Nelsen, senior vice president and general manager for Starbucks in Latin America, where the company now has more than 880 stores employing over 12,000 partners (employees). "By extending our relationship with Premium Restaurants of America, we are diligently positioning the brand for continued growth in Latin America as we enter our 15th market in the region."
Starbucks® stores in Panama are operated through a strategic licensing agreement with El Salvador-based Premium Restaurants of America (PRA), formerly named Corporación de Franquicias Americanas (CFA), which initially teamed up with Starbucks in 2010 for the opening of the company's first store in San Salvador. Since then PRA has opened 19 Starbucks® stores, with eight in El Salvador, five in Guatemala, five in Costa Rica and one opening today in Panama, employing more than 340 partners across the region. Together, Starbucks and PRA plan to open at least 20 stores in Panama City over the next five years.
"We are honored to be Starbucks strategic partner in Central America," said Francisco Alemán, General Director for Central America at PRA. "Our local market knowledge combined with our proven track record of operating Starbucks® stores will allow us to offer an exceptional experience to Panamanian customers. With the arrival of Starbucks in Panama, we are confident that we can continue to drive growth in the region by bringing customers a truly unique retail experience."
Starbucks Reserve™ Panama Carmen Estate Coffee, Now Available in Panama City
To mark the launch of Starbucks in Panama, Starbucks® stores in the country will feature Starbucks Reserve™ Panama Carmen Estate coffee, a bright and nutty-sweet coffee grown in Panama's Volcán Chiriquí Valley, where coffee producer Carlos Aguilera produces some of the world's most renowned specialty coffees on his award-winning, family estate. Starbucks has featured coffee from farms in Panama like Carmen Estate, Los Cantares Estate, La Florentina, San Benito and Hacienda La Esmeralda since 2000 for customers to enjoy in select locations in the U.S. and is now proud to offer Starbucks Reserve™ Panama Carmen Estate Coffee in its new stores in Panama City.
"Starbucks has a long history of working with coffee growers like Carlos Aguilera across Central America and we are thrilled to now share that story here," said David Batres, managing director for Starbucks Central America. "Our customers in Panama City have a strong appreciation for coffee and I believe we've created a unique destination between home and work where they can relax in our beautiful store, discover Starbucks® signature coffees from around the world, or enjoy a bag of our local Starbucks Reserve™ Panama Carmen Estate coffee to take home to share with friends and family."
Only three other markets in Latin America currently offer whole bean packaged Starbucks Reserve™ coffees in select stores for limited times, including Colombia, Mexico, and Brazil. From the mountains of Nicaragua, to faraway highlands in Papua New Guinea, to the valleys of Panama – these coffees are hand selected by some of Starbucks most experienced coffee buyers.
Starbucks Panama Celebrates Coffee Passion through Design
The Starbucks® store at Street Mall offers customers an inviting destination to relax, recharge, and connect in one of Panama City's most cosmopolitan commercial neighborhoods while enjoying Starbucks® signature brewed, espresso and blended beverages. Starbucks Latin America design team spent many months transforming the 3,304 sq. ft. space into a celebration of the Starbucks coffee journey, from its first location in Seattle's Pike Place Market, as highlighted in the store's artwork, to Panama's Paso Ancho and Los Cantares coffee-growing regions in the Volcán Chiriquí Valley, depicted across a large hand-painted mural on a locally-sourced, wood-clad wall.
With a 28 ft. high ceiling, the focal point of the store is a one-of-a-kind custom made hanging mobile, designed to represent the Geisha coffee plant, which signifies the birth of the coffee industry in Panama. The store is dotted with beautiful images of Panama's coffee farms and also features tile work resembling a hand painted style unique to the local culture. Starbucks also incorporated design elements from neighboring regions, including furniture from Colombia and wood slatted light fixtures from Brazil.
"Latin America has been part of Starbucks story from the very beginning," said Scott Mitchem, Starbucks director of design for Latin America. "Our store designs pay tribute to the region's heritage and culture by working with local inspirations, artists and designers. We wanted to bring that same passion to the design of our first store in Panama."
Supporting Opportunities for Youth in Panama City
As part of Starbucks global commitment to creating opportunities for young people in the communities it serves, Starbucks Panama is collaborating with Panama City's Municipality and nonprofit organization Glasswing International in a long-term project to renew and support a community center in Boca La Caja in Panama City. The first stage of this project will include restoring the center's infrastructure and refurbishing the building. Once the center is open, Starbucks Panama partners (employees) will continue to engage in community service, supporting various clubs and activities aimed at fostering youth leadership. The program is expected to benefit more than 2,400 youth in Panama City.
About Starbucks
Since 1971, Starbucks Coffee Company has been committed to ethically sourcing and roasting high-quality arabica coffee. Today, with stores around the globe, the company is the premier roaster and retailer of specialty coffee in the world. Through our unwavering commitment to excellence and our guiding principles, we bring the unique Starbucks Experience to life for every customer through every cup. To share in the experience, please visit us in our stores or online at www.starbucks.com.
About Premium Restaurants of America
With headquarters in El Salvador, Premium Restaurants of America –PRA- (previously Corporación de Franquicias Americanas – CFA) operates more than 500 restaurants in Mexico and Central America, employing more than 12,000 people. International companies such as Pizza Hut, KFC, Wendy's and China Wok have relied on CFA for the operation of their brands. With Starbucks, PRA operates eight stores in El Salvador, five stores in Costa Rica, five stores in Guatemala, and one in Panama, employing more than 340 partners."