–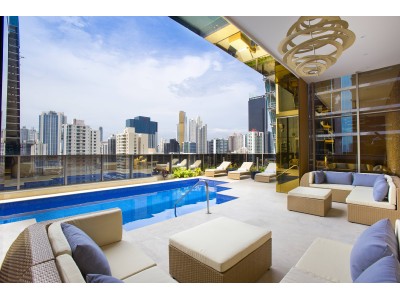 Thousands of new hotel rooms are coming on-line in Panama City and the Pacific beaches keeping the prices down. There was a notable spike in room prices from about 2006 to roughly 2010. But all the new hotels coming on line have subdued pricing in Panama City.  This month we have Hyatt Place and Grace.
The major hotel boom has yet to reach Chiriqui province. So far Chiriqui has seen most of the recent hotel growth in Boquete and David. It has been suggested that the shortage of hotel rooms in Chiriqui may be holding back direct flights from the U.S. to David. When the flights inevitably come, where will all the people stay? It is coming time for a big hotel brand to set up shop.  In the meantime, there are a large number of quality options in Boquete and more seem to open all the time. They are all small to medium hotels, hostals and bed and breakfasts.

Hospitality.net, 10/30/14
Hyatt debuts in Panama with Hyatt Place Panama City/Downtown
Hyatt Hotels Corporation (NYSE: H) and Immobiliare Real Estate Development Group today announced the opening of Hyatt Place Panama City/Downtown in Panama City, Panama. The hotel's opening marks the first Hyatt-branded hotel to enter the Panamanian market and the continued expansion of the Hyatt Place brand throughout Latin America.
"We are delighted with the opening of Hyatt Place Panama City/Downtown because not only does it represent the first Hyatt-branded hotel in Panama, it marks the continued growth and development of the Hyatt Place brand," said Myles McGourty, senior vice president, Latin America and the Caribbean for Hyatt. "Hyatt Place hotels have been extremely well received by our guests around the world, especially in the United States and Latin America. We have been on a path of meaningful growth in the region and being represented in Panama is important because our guests are traveling there for business and pleasure. We believe Hyatt Place Panama City/Downtown will bring a new standard of hospitality to the area and provide a perfect blend of style, service and amenities that exceed guest expectations."
About Hyatt Place Panama City/Downtown
The 165-room Hyatt Place Panama City/Panama is located in the city's financial zone, in the heart of the banking district. The hotel is conveniently located 25 minutes from Tocumen International Airport, and is near popular destinations in the banking district and the Atlapa Convention Center. Guests of this hotel will also enjoy easy access to local attractions such as Calle Uruguay, which offers a wide variety of cuisine and clubs. Additionally, a Panama Metro stop, a few steps from the hotel, can take guests directly to Albrook Mall.
Hyatt Place Panama City/Downtown offers guests:
165 roomy rooms, each featuring a swiveling 42-inch HDTV, the plush Hyatt Grand Bed®, and a Cozy Corner with sectional sofa-sleeper
Free Wi-Fi everywhere
Complimentary free hot breakfast buffet for guests, featuring freshly prepared hot breakfast items, a variety of fresh fruits, hot and cold cereal, yogurt, breads, premium coffee and an assortment of juices
Five meeting rooms totaling 4,500 square feet (418 square meters) of flexible, hi-tech meeting and function space
A Coffee to Cocktails Bar featuring specialty coffees and premium beers, as well as wines and cocktails
24/7 Gallery Menu serving made-to-order entrees and appetizers around the clock
24-hour Gym
A self-service laundry facility
An outdoor, rooftop swimming pool with panoramic views of Panama City
Valet parking
"We are very excited to bring Hyatt Place to Panama City/Downtown to Panama, and welcome new and existing Hyatt guests to our new hotel," said Manuel Villalobos, general manager of Hyatt Place Panama City/Downtown. "Hyatt Place was designed for a lifestyle, not a demographic, and as a result, we are confident that everyone from business travelers to students will appreciate the open, intuitive design, casual atmosphere and practical amenities, such as free Wi-Fi, free breakfast and 24-hour food and beverage availability."
Hyatt Place Panama City/Downtown is part of the Hyatt Gold Passport loyalty program. Frequent guests can earn and redeem Hyatt Gold Passport points for free nights at more than 560 Hyatt locations worldwide.
Hyatt Place Panama City/Downtown Leadership
Hyatt Place Panama City/Downtown is under the leadership of General Manager Manuel Villalobos and Director of Sales Jessica Oviedo. In his role, Manual is directly responsible for managing the day-to-day operations of the hotel, including overseeing the hotel's associates and ensuring guests encounter the purposeful service for which Hyatt Place is known. Jessica is responsible for providing sales service and support to travelers and meeting planners frequenting the Panama City area.

Hospitality.net, 10/24/14
Grace Hotels today announced the official opening of its hotel in Panama City, Grace Panama. Occupying the ground floor and six upper floors of the new, yet already iconic, 'Twist Tower' in the Obarrio District, grace Panama is a contemporary urban boutique hotel which promises a stylish new addition to the city's hotel landscape.
60 rooms and suites are spread throughout the 13th to 17th floors, affording sweeping views of the city's dramatic skyline through floor to ceiling windows, which can also be enjoyed from the hotel's lap pool perched on the twelfth floor. As with all grace hotels, each room incorporates the highest quality, contemporary fittings conveying elegance and simplicity.
The hotel, which expects to attract discerning business and leisure travelers, offers two distinct dining options. '54 East' is a modern, elegant brasserie serving Mediterranean cuisine created using local ingredients. It is set to become a vibrant, destination restaurant for hotel residents, visitors and city dwellers alike who are seeking a contemporary ambience with world class food from executive chef Pedro Masoliver. Its adjoining bar offers a wide selection of expertly crafted cocktails and international beers in a laid-back setting. Meanwhile, 'Meet@12' is a gourmet cafe and delicatessen with glorious views from its position on the twelfth floor, providing a light menu of salads and snacks to take away or to enjoy on the extensive terrace alongside the hotel's pool.
Marco Novella, Chief Operating Officer of grace Hotels, said: "We are proud to open the doors of our seventh grace hotel in this thriving, dynamic city full of promise and look forward to introducing the grace philosophy to a new audience."
Grace Hotels' expansion to Central America comes at a time of exciting growth for Panama City as it moves further towards completing the widening of the Panama Canal, which celebrates its 100th anniversary this year