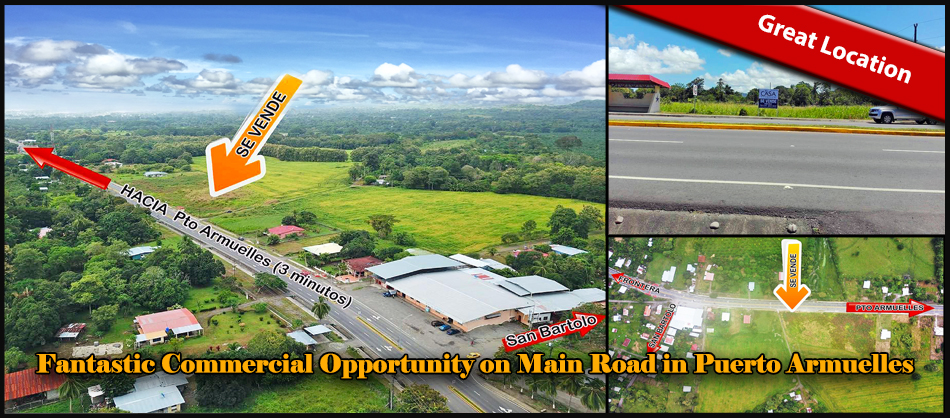 Fantastic Commercial Opportunity on Main Road in Puerto Armuelles, Panama – Fantástica Oportunidad Comercial en la Carretera Principal en Puerto Armuelles, Panamá
Lot Size
: 10,000 Sq.M
2.47 Acres
Location
: Puerto Armuelles, Pacific Beaches Chiriqui, Panama
This commercial property is right on the main road on the four lane road to Puerto Armuelles.
It is close to the entrance to the downtown of Puerto making it a prime commercial location.  Everyone will pass this property in the area regularly.
It is a corner lot providing lots of development and entrance exit options.
It is an ideal location for a commercial center, supermarket or other business location.
Recent road developments and improvements into this area are major bonuses.
This is a great investment property considering what is currently happening in the area.
This close to the ocean property is likely to benefit enormously from this incredible news – Think Bananas!
Please contact Casa Solution for more information or to visit this Fantastic Commercial Opportunity on Main Road in Puerto Armuelles, Panama.
******************
Fantástica Oportunidad Comercial en la Carretera Principal en Puerto Armuelles, Panamá
Esta propiedad comercial está justo en la carretera principal en la carretera de cuatro carriles a Puerto Armuelles.
Está cerca de la entrada al centro de Puerto, lo que lo convierte en una ubicación comercial de primera.  Todos pasarán esta propiedad en el área regularmente.
Es un lote de esquina que ofrece muchas opciones de desarrollo y entrada y salida.
Es una ubicación ideal para un centro comercial, supermercado u otra ubicación comercial.
Los recientes desarrollos viales y las mejoras en esta área son importantes bonificaciones.
Esta es una gran propiedad de inversión considerando lo que está sucediendo actualmente en el área.
Es probable que esta propiedad cercana al océano se beneficie enormemente de esta increíble noticia: ¡piense en plátanos!
Por favor comuníquese con Casa Solution si desea visitar esta propiedad o si tiene preguntas acerca de Fantástica Oportunidad Comercial en la Carretera Principal en Puerto Armuelles, Panamá.